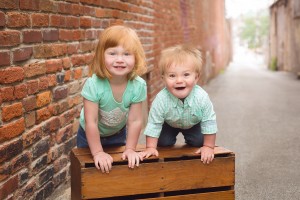 We are Jesse & Mary Faber, and this is Miss A and Mr. E.  They are a big reason we are here, because we want a better world for our kids to grow up in.  A world that has a greater understanding of and is better connected to the agriculture industry.  Not just because of food security and economic reasons; but for us, even more important, are the values and sense of community that come from an agricultural way of life.
This encompasses why Jesse and I work so hard. The same work ethic we both learned from our parents and grandparents.
The Excellence in Agriculture Award is for individuals or couples who do not have the majority of his/her income subject to normal production risk.  The application required us to discuss our background, agricultural involvement, impact on agriculture, goals and leadership experiences.  The largest part of the application asked us to identify and discuss three issues that agriculture needs to address in the next five years.  After some discussion and reflecting on what we do every day, we decided to focus on consumer outreach and education, workforce shortage and legislative affairs.
We left home on Friday and the Orlando sunshine felt great when we arrived that evening.  After a great dinner with the Young Leaders we put the final touches on our 25 minute presentation.  We presented to a panel of judges on Saturday afternoon regarding the content of our application in narrative form along with the judges answering questions.  It was then time to relax and wait.  Sunday evening, we were announced as being in the Top 10 which meant we got to go on stage the next morning when they would announce the 3 finalists and winner.  On Monday (1/11/16); Jesse and I were announced as one of the National Finalists for the Excellence in Agriculture Award at the American Farm Bureau Federation (AFBF) Convention in Orlando, Florida. Being named a finalist; we were awarded a Case IH Farmall 50A tractor from Case IH along with a cash prize and gift certificate from Stihl.  Thank you to Case IH and Stihl for supporting the AFBF Young Farmer and Ranchers (YF&R) Competition Awards.
This week was been a whirlwind and I am finally sitting down to compose our thoughts on the award.  Jesse and I would like to say thank you to several people:
Our Families – without your love and support, we would not be where we are today.
Our Kids – maybe someday you will read this and understand why Mom or Dad are not home every night. Everything we do is for you.  As we said in our presentation, what matters the most is not on our resumes—they are the ones we kiss goodnight.
Our Friends – to those of you that edited our application and those who gave us feedback on our presentation.
Young Leaders – in Illinois we call them Young Leaders. J  We want to thank the counties we have been involved with (Lee and Kane) and especially the group in Livingston County.  In Orlando, we had the opportunity to meet with several members of the Illinois Young Leader Committee and if you are involved with agriculture, this is a great organization to be a part of!
Illinois Farm Bureau Board & Staff – thank you for your support and guidance. Jesse and I were honored to represent Illinois at convention.
More articles about our award:
Photo Credit: Renee Deuth
Comments
comments