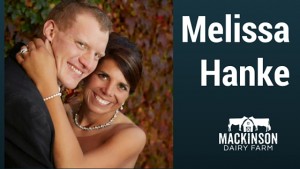 I would like to introduce Melissa Hanke from Marshfield, Wisconsin.  Melissa and her husband are incredible busy with 3 young children; Madison is 2, Marvin is 1 and Maverick is a newborn!  Melissa grew up on the farm and is proud to say that their farm has been in their family for 115 years!!  Growing up, she was active in 4-H and FFA and through these two organizations, she had the opportunity to do a lot of things she never thought she would be able to.  Melissa is a graduate of University Wisconsin – River Falls and earned her degree in Animal Science.  She then entered the Artificial Insemination (AI industry) working for Accelerated Genetics and Genex but came back "home" to farm with her father.  Melissa loves the Holstein breed but has fallen in love with Red & White Holsteins, especially Seisme!
Besides working on the farm, Melissa is attending nursing school at their technical college to give their family more options.  When Melissa is not working on the farm, going to school, or taking care of her young family, she enjoys playing softball and admits it's her way of getting "away" from the farm for some adult socialization.  In addition, she enjoys doing yard work and gardening and is busy in the fall canning everything she can get her hands on.  Melissa says it makes her meal prep so much easier when they are busy.
Melissa's favorite dairy product is of any kind cheese and shares her favorite cheesecake recipe with us today, Chocolate Truffle Cheesecake.  Thank you Melissa!
---
Melissa's Story in her own words:
When did you start farming?
I have been farming my whole life since I grew up on a farm but did not start farming full-time until 2002. I came back to the farm because I realized how much I loved it and how much I missed cows. My role on the operation is: I do a lot of the milking, pick out all the bulls to breed the cows too and also breed them all, I do all the herd health work, I take care of all the sick cows and vaccination of the animals. I take care of all the calves. I also help with field work and anything else that needs to be done.
Describe a typical/average day for you.
I wake up at 2:30 come to the farm get cows in, feed them and then begin milking; I feed calves once my dad comes in the barn to finish up. I then chase out the cows in the summer time and clean the barn up. I go home to watch the kids so my husband can go to work. Once the kids are up I haul them back up to the farm where I then make sure animals are fed, clean and bedded. Then between watching the kids and trying to get odds and ends done on the farm, we start over in the afternoon with getting in cows milking and so forth.
As a millennial mom what do you want to share with others about the dairy industry?
The dairy industry is a very unique industry; we work from sun up to sun down and rarely complain about it. We love our job and take great pride in doing it. My kids love coming in the barn and learning everything there is to know and it teaches them hard work and dedication.
What do you envision the future of the dairy industry looking like?
I envision it with lots of large farms and no more 50 cow dairies. As much as I dislike this since I grew up on a small farm and cannot see myself ever getting any bigger I do understand why it happens.
What are 3 things you want consumers to know about the dairy industry and/or the products you produce?
We love our cows.
We take excellent care of them. They are our lively hood and we would never do anything to harm it.
We take great pride in producing a quality product and do as much as we can to keep it that way.
---
Melissa, thank you for sharing your story with us!
Entire Women in Dairy Series:
Comments
comments