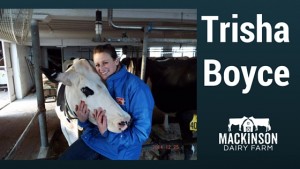 Trisha Boyce was raised on an 800 acre dairy farm in Airville, PA. Her family sold their cows about 7 years ago. Today, Trisha and her husband raise replacement heifers at her family's farm. Growing up, she was active in 4-H and FFA being a State 4-H Sentinel and County FFA President as well as being on state, national and collegiate dairy judging teams. After graduating high school, Trisha went to Penn State University majoring in nursing. Trisha says many people questioned why she was going for nursing instead of veterinary, but she says they are very similar being that both involve a lot of caring, compassion, and hard work. In addition, she knew that being a farmer almost always requires off-farm income and she wanted to have a secure job. Throughout college, Trisha and her father raised and sold heifers and after graduation, now Trisha and her husband continued that venture for a few years. Eventually they decided to keep their group of heifers and pursue buying their own milking herd and found a rental barn. They have now been milking on their own for a little over a year in a rented tie stall barn in Delta, PA. I am excited to hear that Trisha is working on making the time to become a more active advocate for this great industry.
---
Trisha's Story in her own words:
When did you start farming?
My husband and I have both worked in the dairy industry our entire life, so you could say it was just a matter of time until we took the leap and started on our own. Growing up on my family farm, certainly helped me build a foundation, love, and understanding for the dairy industry while 4-H/FFA gave me a network of resources that I will continue to utilize for the rest of my life. My husband and I pieced together a 45 cow herd of Holsteins and Jerseys from a few local farms a little over a year ago. My main role in that process was sorting through production and health records as well as going to look at the cows multiple times to try to make a healthy, balanced herd for us to start with. Currently, I manage the reproductive planning, sire mating, and calf/heifer protocols and management. However, both my husband and I have to work synergistically and be able to perform most tasks on the farm since many days one of us works away.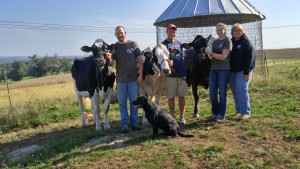 What are 3 things you want consumers to know about the dairy products you produce?
I spend a lot of time thinking about how to shine a better light on agriculture and the dairy industry. Working in the healthcare field, I deal with many food/nutrition questions every day and it is truly amazing how misinformed the consumers are. Three things that I try to get across to consumers are:
Take the time to get the REAL facts about milk dairy products from dairy farmers themselves. Create a relationship with your local farmers.
Milk is one of the most wholesome, safe, and nutritious products available. Every tank of milk that leaves a farm is thoroughly tested.
Give milk a try! Even if you are lactose intolerant, there are still delicious milk options such as Fairlife. Milk is free of additives unlike most milk substitutes.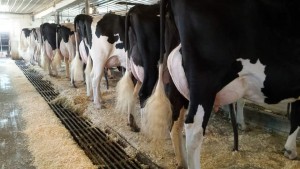 What is the most rewarding part of production agriculture? Challenging?
I find it hard to describe what the rewarding and challenging things about dairy farming are because many times they intertwine. Personally, I find the biggest reward in mating cows, bringing new life into the world, helping them grow, and hopefully seeing the improvement I created in the herd. My biggest challenge is maintaining farm life with family life. It is an ongoing struggle to make time for family and friends while not neglecting farm chores.
What is your favorite dairy product?
My favorite dairy product is cottage cheese. Cottage cheese is so underrated. It is an affordable source of protein that can be added to a variety of dishes, from spaghetti casseroles, macaroni and even smoothies (I promise it blends up nice and smooth!). This is my all-time favorite macaroni and cheese recipe and as an added bonus it has sour cream, butter and parmesan cheese in it as well! Enjoy!
---
Trisha, thank you for sharing your story with us!
Entire Women in Dairy Series:
Comments
comments