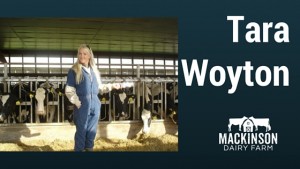 Today, it is my honor to introduce Tara Woyton from East Aurora, New York.  Tara serves the agriculture industry as a veterinary technician who specializes in large animals. She teaches large animal science and dairy science at a local college and trains new technicians to work in the industry. She says it was the producer that created her love of the dairy industry. Tara did an internship in tech school with a large animal veterinarian and fell in love with the work ethic and the sense of community from the producers. She has always loved the animal; the owners are truly what solidified it for her.
---
Tara's Story in her own words:
I grew up in a small farming town in Western New York. Although I didn't grow up on a dairy, I spent most of my time on one. My first job in agriculture was as a farm hand for an Angus outfit near my home. There I learned every aspect of raising a beef herd, and consequently found my passion, which is cattle. Trying to find my niche in the industry lead me to veterinary medicine.
I began my career in veterinary medicine in 1999 with Springville Veterinary Services, in Springville N.Y. as a large animal veterinary technician. While with Springville, my duties included, herd health monitoring, creating vaccination protocols, collecting and shipping diagnostic samples, surgery assistance, maintaining OSHA and MSDS information, client education, billing and data filing. In 2001, I was asked to teach large animal labs at Medaille College, where I graduated from with my A.S. in Veterinary Technology and B.S. in Biology.
I used my large animal experience to obtain a position with the United States Department of Agriculture in the Animal Plant Health Inspection Services, Veterinary Services division. Following along with their mission statement 'Keeping America's Livestock Healthy,' I have trained in Foreign Animal Disease with the University of Tennessee Knoxville, performed extensive work in zoonotic disease surveillance and specialize in necropsy.  Day to day operations included, setting up disease surveillance at livestock concentration points, slaughter surveillance for disease as well as serving on disease outbreak task forces across the country and at our international borders. Along with regular duties I served as the Veterinary Service Tribal Liaison, working with federally recognized Tribes in New York State to keep their livestock healthy. Working with the USDA has taken me across the country to work in livestock health while providing an opportunity to learn about herdsmanship across the United States.
In 2011, I decided to return to academia, and obtained my M.S. from Canisius College. I now teach full time at Medaille College in Buffalo N.Y., in their veterinary technology program. My classes include Large Animal Disease and Restraint, Advanced Large Animal, Zoonotic Diseases, Necropsy and Advanced Necropsy, as well as Parasitology and Equine Sciences and Nutrition.  I also serve as adjunct faculty, teaching Large Animal Science, for Medaille College Rochester.
I hold a License to practice Veterinary Technology in New York State and a Certification to practice in Florida. I am a member in good standing of the National Association of Veterinary Technicians and the American Association of Equine Veterinary Technicians, and served for seven years as the Western New York Chair of the New York State Association of Veterinary Technicians. I serve on the advisory board of Medaille College representing Large Animal and Regulatory Medicine. I have received specialized training from Cornell University in New York State which allows me to certify students to be 'Beef Quality Assurance' certified.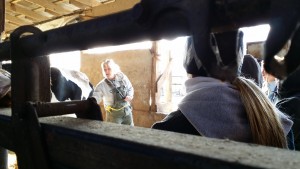 What are 3 things you want consumers to know about the dairy industry?
Three things I want consumers to understand about the industry are:
These folks work hard and love what they do. I wish everyone could truly appreciate the work that goes into making that glass or milk or ice cream cone you're eating. I feel this industry has some of the most unsung heroes of our time. I work seven days a week to take care of what I need to in the business, my theory is 'if the producer is working, we should be working', which as we know, is a seven day work week. This is one of my favorite things about the industry, these men and women are passionate about what they do and it shows in their work ethic. I hardly ever hear a complaint out there about the time spent working cattle or working ground. It is really a blessing to be surrounded by these folks.
The people who care for these animals really do care for them. I would never doubt for a minute that anyone in the farming industry would not care for their animals properly. I am not saying there aren't a few who aren't doing the right thing; unfortunately these types are everywhere and in every industry. But the majority of folks, and I mean 99.99999% care more about these animals then any activists group could, the proof is in the day to day life of a producer. These producers feed and water these animals, take care of their health issues and provide the best 'cow comfort' they can. I live in the Northeast where winters are not our friend and equipment breaks quite often due to weather issues, I don't know a producer who hasn't spent the better part of a day freezing in the elements to make sure gutter scrapers, water troughs and the like are working properly (all for the cows!), I challenge anyone to spend a week doing that!
We don't spend every waking minute pumping antibiotics and hormones into our animals. Think of it this way; we eat and drink what we produce and we want to be healthy too! I am always volunteering to give educational talks about the dairy industry. As of late I have spoken to numerous 'holistic' lifestyle seeker groups and had quite a time debunking the myths that surround our industry. It is amazing what some people believe. Contrary to popular belief, we only give our animals antibiotics when they are sick, not constantly. When the public understands the withholding times for meat and milk of antibiotics and the consequences they seem to have a new understanding. Also, I am a firm believer that when an animal is sick they need to be treated, think about being sick yourself, if I withheld any treatment and let you 'ride it out' (while expecting you to perform your day to day activities) you might find that a little cruel… Ah yes, 'cruel' is the word, when these animals get sick it is my responsibility to get the animal feeling better as soon as possible, withholding treatment so I can label them 'antibiotic free' just doesn't seem fair to the animal. When I tell these groups that we, as human beings, cannot synthesize the hormones they are so worried about in our animals, it also gives them pause. I encourage them to have a conversation about these concerns with folks in the industry. Knowledge is power and creating this knowledge will help them understand our industry as well as their health. Let's face it, I don't want to put anything bad in my body either, but I have done my research!
What do you want to share with others about the dairy industry?
I love the families of the dairy industry. Whether they are milking 40 cows and farming 100 acres of ground or milking 2000 head and farming more acres than that, there is such a sense of community and kindness. The producers and their families are what first drew me to the industry. Their passion and work ethic is unsurpassable by any industry. It is a great industry to be a part of and I will always call it my home.
What is your favorite dairy product?
There isn't a dairy product I don't like naming a favorite would be difficult. We go through two gallons of milk a week at my house and here, butter should be its own food group! (Kidding). When I am shopping I am very aware of supporting both the dairy and beef industry, our daily menus reflect that.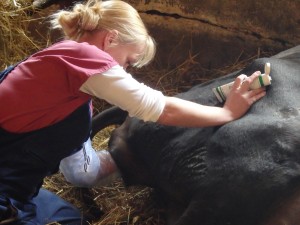 Who is your favorite cow?
My favorite breed has to be a Holstein. Being such a large dairy state (third/fourth in the Nation) we have quite a collection of them, due to their large milk production numbers. I think it is their calmness that I appreciate, I can sit on a mattress in a free stall and finish paperwork or mix vaccines in a crowd of lounging cows and it puts me in a peaceful state of mind. Don't get me wrong, they have their share of crazies, as do all breeds, but ultimately I enjoy them.
What is the most rewarding part of being in the dairy industry? Challenging?
The absolute most rewarding part of being in the dairy industry is working with the producers. These hard working folks have taught me more than I could have ever learned in a lifetime without them. They have given me an opportunity to learn at every visit, and I have tried my best to take it. It really is a great place to be.
I'm from the Northeast, so the most challenging has to be the snow! Last year we had 84 inches in one snow fall here, which made my day to day work a whole lot more interesting!
What advice would you give someone interested in the dairy industry?
My advice would be, find and opportunity and take it. Whether it is milking, working ground or cleaning pens. Start somewhere and learn every aspect of the industry you can. It will pay off one hundred fold in rewards of a job well done!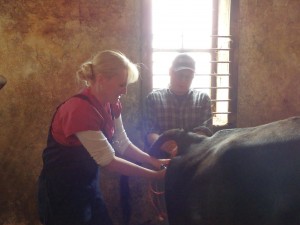 What are other roles and/or opportunities available to those in the dairy industry?
I encourage my students to work in a facet of the industry they enjoy. As licensed veterinary technicians they can be pretty handy in a sick pen, but some of them have ended up in the crop side of it. Many of my students have become large animal technicians, calf managers and sick pen managers. I enjoy seeing them love the industry like I do.
What do you envision the future of the dairy industry looking like?
I feel the future of the dairy industry is bright. I see my producers operating more and more efficiently. Although milk prices will always remain unstable, I see producers having the opportunity to make up those losses elsewhere, say for instance veterinary care. When I first started in this business 20 years ago we were called to the farm for almost everything. Now we are called in mostly for consultations. I spend a lot of time teaching farm hands and herdsmen how to do their own procedures, such as bottle cows, breed them, trim feet, etc. The technicians I teach will hopefully someday work in a herdsmen or calf manager capacity, which will allow them to do duel duty as farm hands, saving the producer at the bottom line. These students can pull calves, spot sick animals, and understand enough about milk production and nutrition to become some valuable players out there. Employing a technician provides my producers a money saving option.
---
Tara, thank you for sharing your story with us!
Entire Women in Dairy Series:
Comments
comments