Renee's Story in her own words:
I spent my childhood growing up on a dairy farm in north central Pennsylvania with my parents and two siblings. I attended Penn State and earned a degree in Animal Science. After college, I moved to Ohio to work as an assistant editor at a cow breed magazine and communications specialist for a cattle genetic company.
My husband, Clayton, and I were married in 2012 and I moved to his farm in western Pennsylvania. We own and operate a 200-cow Jersey dairy farm about an hour north of Pittsburgh. Day to day Clayton and I care for the cows and farm over 500 acres of crops along with Clayton's grandparents and a handful of employees. We welcomed a daughter into our family last fall and she joins us each day on the farm!
I enjoy cooking, being on our farm, Jersey cows and graphic design. I am a member of the American Jersey Cattle Association and Pennsylvania Jersey Cattle Association (PJCA). I serve as the youth coordinator for the Pennsylvania Jersey Youth. I am also a board of director for the Penn State Dairymen's Club and was a Young Dairy Leaders Institute Class 7 Graduate.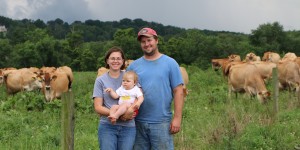 When did you start farming?
My husband began farming full-time in 2009 and became a partner in the farm in 2010 following his father's death. My husband was partners with his grandparents. I joined the operation in 2012 when we were married. Just this past year, my husband and I purchased the cows and equipment from his grandparents. Our passion for agriculture is what keeps us in the dairy industry!  My role in the dairy is calf caretaker, general labor which can be anything, record keeper for the herd information, bookkeeper, home cook and so many other things! I think we all overlook what we do each day for our farms.
Who is your favorite cow?
My favorite cow is ALL of our cows! And my favorite breed of cow is a Jersey of course! I grew up on Jersey farm and now also live on a Jersey dairy farm so the little brown cows mean a lot to us!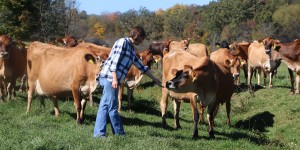 What is the most rewarding part of production agriculture? Challenging?
The most rewarding part of farming for me is watching a calf being born and knowing all the hard work we have put into that animal before it was even born! It also ignites a fire in me to know the future of that calf and what it will mean for our dairy herd! I look forward to seeing her calf in a few years with her own calf. One of the most challenging parts is loss. Like anyone else we deal with loss of an animal and it is hard to deal with! But it is a cycle of life and we say our hellos and goodbyes!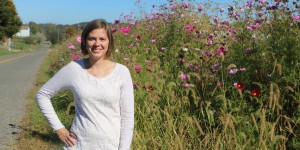 What is your favorite dairy product?
My favorite Dairy product is Ice Cream of course! One our fall favorite dairy recipe is Chicken Corn Chowder
What do you envision the future of the dairy industry looking like?
I vision a bright dairy industry for the future and for my own daughter. A dairy industry that speaks up for what we need and explains why we follow the practices we follow. A dairy industry that is supported by the consumers and that the consumers understand the practices we follow. This is why I recently started a blog because there is so much negativity and bad press. I am ready for positive news and to share my story and my vision for the dairy industry!
---
Renee, thank you for sharing your story with us!  Renee is very active on Social Media, I encourage you to check out her Blog – Eat Farm Love, "like" her Facebook page, and follow along on Twitter and Instagram.
Entire Women in Dairy Series:
Comments
comments