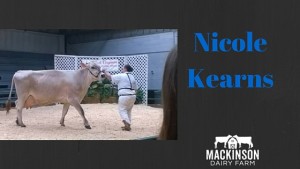 Nicole Kearns grew up on a dairy farm in Avella, Pennsylvania.  The dairy is run by her grandparents but her Dad and Uncle are involved.  The farm is a majority Holstein but after Nicole's Pap bought a herd from Maryland, they soon added a Brown Swiss which stole Nicole's heart.  Growing up, Nicole joined 4-H and her first two projects were named Nicky Mae and Annebelle.  Every year, they would buy Nicole one or two project calves so after a few years, she had her own herd!  Nicole's favorite dairy products are chocolate milk and cottage cheese.
---
Nicole's Story in her own words:
When did you start farming?
My grandparents, dad and uncle are dairy farmers on our family farm. So I can say it is in my blood to have cows and be involved in the dairy farming.  My role is to educate people about farming when I am at a local fair or show. Show the people of the world that farming is not bad and where their milk and dairy products come from.
What is your role in the dairy industry?
My family brought me into the industry and what keeps me in it. I LOVE my cows. My cows are my world. My role is to keep dairy farming alive. Keep the world involved and knowing what it takes to product dairy products and milk.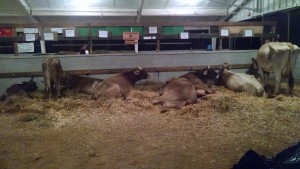 Who is your favorite cow?
My favorite breed is Brown Swiss. I like how laid back they are. They are an easy going cow and can handle the weather. They also handle the hills in Southwest PA and West Virginia very well. They are also a breed you do not see many farmers owning. So it is fun to have them.
What are 3 things you want consumers to know about the the products you produce?
It is hard work and long man hours to get that.
The cows are treated very well.
Dairy products do not just appear on the store shelves. It takes alot of work and different processes to get it there.
As a millennial what do you want to share with others about the dairy industry?
It is the best line of work you can do. You are working to feed the people of the world. It is an honest way of life. You get to see the great things of nature happen. You get to spend days and time with the animals you love.
What is the most rewarding part of production agriculture? Challenging?
Watching my cows grow and change through the years, it is wonderful to see my work progress every year. It feels good to see my family and I work to feed people. The most challenging is animal activists and negative people of farming because they can push you to your limit or cause real problems.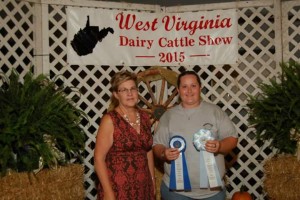 Describe a typical/average day for you.
Most of my days involve me going to work at a nursing home for 8 hours but I always take the opportunity to talk to people about farming or dairy. Then I come home and wait for my Dad to call saying he needs help or the cows are out. There is always something to do.
What advice would you give someone interested in the dairy industry?
It is hard work but honest work. It is challenging at every turn. It is not for the quitters.
What are other roles and/or opportunities available to those in the dairy industry?
There is so many ways where you can impact the dairy industry. You can sell a farmer cleaning supplies, be a milk hauler, work for the A.I. companies, dairy supply companies or feed stores.
What do you envision the future of the dairy industry looking like?
Not being very well. With all the regulations the government in forcing it is only hurting the little family farms. I hope more people will get into dairy farming but it is getting harder and harder with the economy.  Also not many people want to put in all the hard work that is necessary to run a farm. It's a 365/24/7 career. Maybe the future will prove me wrong on this.
---
Nicole, thank you for sharing your story with us.  Make sure you follow Nicole on Instagram.
Entire Women in Dairy Series:
Comments
comments