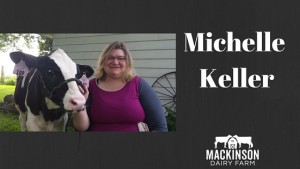 Michelle's Story in her own words:
I grew up on a dairy farm in central Wisconsin. Growing up, I was involved in 4-H and FFA, and held various offices and won numerous awards. I attended University of Wisconsin-River Falls and graduated in 2003 with a Bachelor of Science in Agricultural Marketing Communications. I started my own herd of registered Holsteins when I was 13 years old and showed on the local, district and state levels. My husband and I married in 2006 and began farming with his family near Mount Horeb, Wisconsin. In addition to working full time off the farm as an optical technician, I also help on the farm by keeping track of calf registrations and herd reports, mating cows and selecting bulls to use on the herd. My husband and I also keep busy since we welcomed our son in August 2015. I am also serving as Secretary of the Dane County Dairy Promotion Committee and am on the steering committee for the Young Cooperator Program for Farm First Dairy Cooperative. When I do have some down time, I enjoy gardening, especially hostas. I currently own over 100 varieties of hostas and continue to expand my gardens and grow my collection.
When did you start farming?
Like many other dairy farmers, I was born into the industry. My parents farmed, and from early on, I was very involved in the day-to-day operations, from feeding calves to filling water tanks for the heifers. As I grew older, my contributions to the family farm expanded to include fieldwork, milking and selecting sires to use on the herd. Now, in the herd that I own with my husband, I still select bulls to use on the herd, but my role also includes herd management, including keeping computerized records, and helping out on the farm when needed. Currently, my husband and I own about 50 head of registered Holsteins. We milk in a tie-stall barn on a conventional dairy farm. We sell our milk to Chula Vista Cheese Co.
As a mom what do you want to share with others about the dairy industry?
As a new mom, I want to teach others that the dairy industry is a rewarding career with many possibilities. Most people have their own perceptions about what they think the dairy industry is like, and I want to break this misconceptions. My involvement with the Dane County Dairy Promotion Committee has helped me to do that, but showing consumers that eating dairy is not a bad thing, but in fact is good and healthy for everyone.
What is the most rewarding part of production agriculture? Challenging?
For me, the most rewarding part of being in the dairy industry is that moment you watch an animal grow and mature. You go through the process of selecting a sire to use on a cow and watching the result of that mating being born. You watch that animal grow and mature and develop into a mature cow who will hopefully go on to transmit her genetic potential in her offspring. The most challenging part is making those hard decisions about an animal's future, whether to keep her or cull her. While we treat our animals almost as pets and realize they all have their own personality, we realize that dairy farming is still a business, and we have to do what is best and most profitable for the business.
Who is your favorite cow?
There are many cows that have graced the pages of many breed publications that have influenced my desire to be in the dairy industry, but the one that was my favorite was the first registered Holstein I purchased and the one that started my herd, a fall calf named Da-Ru Mattador Carrie. Because of her, I was exposed to more leadership opportunities and social networking than I ever could have imagined. I became involved in my county's Junior Holstein Association and was involved in Dairy Bowl and other events. I was able to attend the Wisconsin Junior State Fair with Carrie and we did very well our first year. Carrie will always be very special to me because was my first registered calf I owned and the one that started my Holstein herd. I have favored Holsteins, not only because of their production and profitability, but also because of their docile nature. I grew up with my Holsteins on my family farm, so I'm just keeping the tradition going.
What do you envision the future of the dairy industry looking like?
I envision the future of the dairy industry filled with innovation and endless possibilities. We have come so far when it comes to new technology and how it has improved the dairy industry, who knows what the future will be. I think of more technology being used to monitor animal health. I also see more technology being used to help aid farmers in crop production, such as more use of drones.
---
Michelle, thank you for sharing your story with us!
Entire Women in Dairy Series:
Comments
comments