Today, it is my honor to introduce my favorite Guernsey lover from Wahoo, Nebraska Melisa Konecky!
---
My name is Melisa Konecky and I'm a bit of an Agricultural wonder here in Nebraska. I was born and raised on a dairy farm here in Nebraska (Go Big Red!). Which if you know anything about Nebraska you know you can throw a rock in any direction and hit a beef cow; cows do outnumber people 2:1 in this state. So when you tell people you have dairy cows you might as well be telling them that you have a unicorn, the response is usually similar.  But in all seriousness I am lucky to have grown up surrounded by great people on our family farm where my dad, Tom, now runs the farm and my mom, Sharon, is Vice President of a local small town bank. I am the oldest of four kids with a sister, Andrea, and two brothers Vince and Nathan.  We are extremely blessed in that our farm has been in the family for almost 150 years. We currently milk about 70 head of Registered Guernsey's with a few registered Holsteins and Jerseys thrown in the mix. We raise our own heifers and in our "Free time" we also grow 400+ acres of corn, soybeans, alfalfa, and brome. I just recently graduated from the University of Nebraska-Lincoln with a degree in Animal Science and another degree in Ag Leadership. After graduation I spent a year at home with my dad farming and recently took a position with Nebraska Extension as a 4-H assistant. Spending my days working towards Positive Youth Development and throwing in some Ag Literacy wherever I can! I do enjoy my job but still miss my days of working on the farm, especially with the cows, which is where you can find me most weekends. I love spending time with my slightly dysfunctional yet always hilarious family.  Otherwise you'll find me cheering for the Huskers, watching my brothers do something stupid, watching Netflix or reading!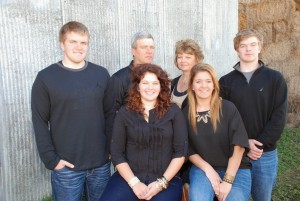 What is your favorite dairy product? 
Anybody who knows me know that my favorite dairy product is CHEESE!! I freaking love cheese, if it was up to me I would just eat cheese for most of my meals. My philosophy is that if a recipe doesn't include cheese then firstly that's silly, secondly that it should, and thirdly that I'm going add cheese! My dad has always been the one who would buy all sorts of different types of cheese and cheese curds and cottage cheese, etc. etc., and would share with anyone who wanted to try. So I blame him for my undying love of cheese. People always try and tell me that cheese isn't good or healthy for you, I point out that cheese offers you a great source of Calcium and I've yet to break a bone in my body so thank you Calcium. That and I'm going die sometime, so if I die eating cheese I'll be a happy girl!
The following recipe, chicken enchiladas with sour cream white sauce, is one that I LOVE!! Anytime you get to use cheese, Sour Cream and Butter in the same recipe then you know it's going to be a good one!
Who is your favorite cow?
Favorite cow… hmm… I think one of my favorite cows on our farm would be a little cow we call ""Cini"". Cini is this tiny little cow who's this deep red color, a very uncharacteristic color for a Guernsey. Cini was out of a cow named Mini because she was also very small; to be honest the whole family is small. Cini is owned by my brother and he would baby her tons when she was little, he would let her out while he would feed heifers and do chores and she would just follow him around. From that time on she just LOVED people, she actually became so friendly she became a pain if we were ever trying to move calves around because she was just stand right by you. To this day she's still down for a good scratch or pet.
To be honest though I think most at my house would say that their favorite breed was the Guernsey which surprises most people. What we've noticed at our farm is that our Guernsey's are so calm and have great dispositions. Almost all the Guernsey's you can walk right up to and pet or catch with a halter. Unfortunately we can't say the same about the Holsteins or Jerseys. They tend to be spookier and high strung, not all but a majority of them. Although I will say our Holsteins and Jersey's tend to be a little hardier in terms of dealing with the stresses that come with being a dairy cow.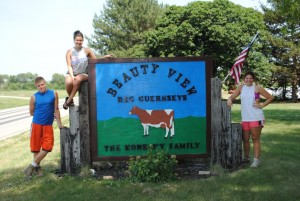 As a millennial what do you want to share with others about the dairy industry?
I want to share that the dairy industry is a way of life. It's a family oriented way of life! Behind the word "Dairy Industry" are thousands of dairy families and a lot of hard work. People seem to want to make farmers seem like bad people these days. In my short 25 years I don't think I've ever met a farmer whose main reason for farming was money, there are hundreds of easier, faster and less stressful ways to make money than farming. Farmers, especially dairy farmers, do it because of passion. Dairy farmers are busting their butts 365 days a year, 12+ hours a day because they love what they do! They love and appreciate their cows, their land and raising their families on the farm. That what they want most in life is to raise a happy family, give their kids the chance to be successful, and maybe even someday have a generation to hand down all their hard earned work and success too.
What is the most rewarding part of production agriculture? Challenging?
I think production agriculture has a lot of rewarding aspects. I think the best one is getting the opportunity to work with and around your family. I spent my childhood and even now spending time around my family…Parents, siblings, cousins, aunts, grandparents, ""adopted family"" as my grandma would call them. We worked together, we sweated together, we all got yelled at and we all did some yelling, we did stupid things, but we spent time together and we usually had fun! I think the other great thing is the opportunity to work outside and to get to work around nature at its finest, and sometimes it's not so finest. You get the opportunity and responsibility to care for these animals. They teach you things and they keep you in touch with the way the world works.
Anyone who's ever raised Livestock would probably agree the most challenging thing is when the cows get out, that's about as high stress as it gets. I guarantee that you'll never hear as many bad words said at one time and I bet you'll learn a few new ones too. You also learn a few names to NOT say when someone asks if you have a preferred nickname. You'll cuss, be cussed at, probably fall, maybe lose a shoe, and then all retreat to the house for ice cream floats!!
But in all seriousness, I would say that production agriculture can be so incredibly challenging and frustrating! Anyone involved in Ag, especially dairy farming can tell you that there are good days and there are bad days, and sometimes the bad can just be plain crappy. The weather can always pose a challenge; she doesn't take requests real well. Of course working with Livestock poses its own problems. Growing up on the farm you get to understand the life cycle which can be so cool but it can be not so cool sometimes. Having to watch a favorite cow go to the sale barn or trying to help a 'down cow' get back up but with no success. There are days you when you just want to cry and go back to bed but that's not an option. I think this is a learning experience though, you learn to take the good with the bad, knowing it will be better tomorrow!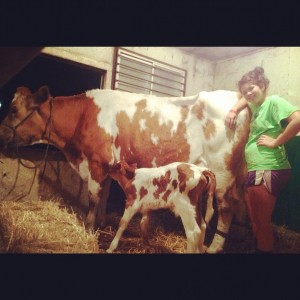 What advice would you give someone interested in production agriculture?
I would encourage anyone who even has a slight interest to look into it. And my number one advice I give to kids that have an interest in something is to go find somebody to go talk to who you thinks has a cool or interesting job. I've never met anyone in the Dairy Industry, or Agriculture who isn't willing to talk about what they do and share some knowledge. They want you to see and understand what they do. And even if you find out that what they do maybe isn't for you they still might be a great resource and connection to help you find something else!
What do you envision the future of the dairy industry looking like?
What I hope the future looks like is equal opportunity for small and large farms. As the trend in Ag seems to be that operations continue to grow, I hope that there will always be room for our smaller scale producers. For the guys who really love what they do but don't necessarily have the resources to grow. I'm also hoping that the local foods movement continues to grow because I see that as a GREAT opportunity for dairies to bottle and process their own milk. I've always told myself that if I ever went back to the farm permanently that I would look into that! I think it's a great opportunity for the farmer, the economy and the consumer.
---
Melisa, thank you for sharing your story with us!  Make sure you follow Melissa on Twitter at @m_konecky and on Instagram @mkonecky.
Entire Women in Dairy Series:
Comments
comments