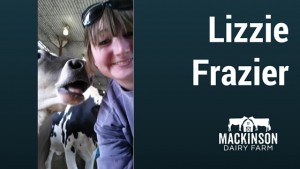 Lizzie Frazier from Beatrice, Nebraska grew up in the suburbs, her mother is an artist and her father fixes computers for a living. She "accidently" stumbled on a small dairy farm near her house and met the women who then "adopted" her and became grandmother. She showed Lizzie her love of the cows and she hasn't gone back since. Lizzie graduated from SUNY Cobleskill with her dairy degree and moved to Nebraska where she is currently working as a milker.
---
Lizzie's Story in her own words:
When did you start farming?
I was introduced by a milker at a farm near me she was a wonderful person and absolutely loved the animals she worked with. I've been involved in dairy for about four or five years now. Currently I am a milker at a dairy here in Nebraska but I'll be headed home at the end of December because I'm too far away from my family in Boston, when I get home I intend to chase my dream job of being a herdsman.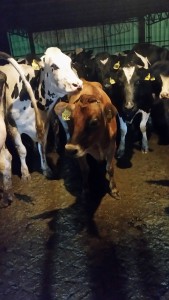 Who is your favorite cow?
Brown Swiss and Jerseys! I love Jerseys because they're adorable and sassy! I've never met a Jersey without an attitude beyond that they can be amazingly affectionate! Brown Swiss are really sweet as well and I think they are beautiful! My favorite cow is an older Jersey at the farm I work at, her number is 1975 and I've named her Annabelle. She's not a beautiful cow but she comes right up to me for a scratch, she loves to pull on your hair when she doesn't get enough attention.
What do you want consumers to know about the dairy products you produce?
As farmers we are here to feed people, we do this because it's something we enjoy doing and we go to school just like everyone else. It's good if you take your time and come and see a farm and I encourage everyone to do so but if you do you must listen to the farmer and read posted signs. If the farmer asks you not to go into a certain area I can guarantee there is a good reason for it! We also love our animals our girls are important to us and we do what we can to take very good care of them.
What is the most rewarding part of production agriculture? Challenging?
For me it's when you get to work and the cows are more than excited to see you. It's nice knowing that even though I pull long late hours the cows are always happy I'm there.
What advice would you give someone interested in the dairy industry?
Follow your passion and don't let others discourage you; if you enjoy agriculture go for it just make sure that you get the proper education and training.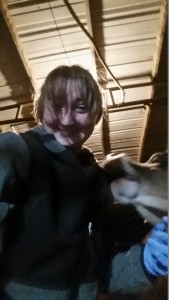 What is your favorite dairy product?
Chocolate cookie dough ice cream!
What are other roles and/or opportunities available to those in the dairy industry?
There are so many it's hard to even list them: Artificial insemination technician, Product salesmen, Hoof trimmer, Nutritionist, Equipment salesman and mechanic, Milker, Calf raiser, Veterinarian, Cattle judging, Classifiers, Laboratory technicians, Teachers, Herdsmen and assistant herdsmen etc.
---
Lizzie, thank you for sharing your story with us!
Entire Women in Dairy Series:
Comments
comments