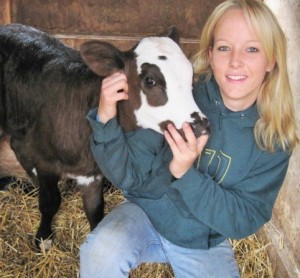 Lisa grew up farming with her family on their dairy and works with her parents and currently is the herd manager. Alban Farm milks about 100 head of Holsteins and Holstein crossbreds (Normandi and Swedish red) in a double 6 herringbone milking parlor. They are a conventional grade herd that is on pasture up to 10 months of the year depending on the Maryland weather. Lisa's family grows all of their own feed, including corn, soybeans, alfalfa, grass hay and wheat. Their milk is picked up every other day and is shipped to Maryland & Virginia Milk co-op where the end product is fluid milk.
Growing up, Lisa was active in 4-H and FFA and hopes her kids will one day be involved. When Lisa is not farming, she loves spending time with her two kids and baking/canning homemade goodies to share. In the summer, you can find her family (Ripple Creek Farm) at local farmer's markets and she makes homemade soap!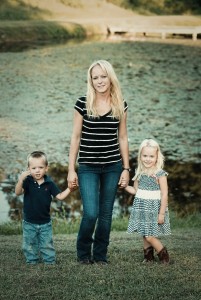 ---
Lisa's Story in her own words:
What are 3 things you want consumers to know about the dairy products you produce?
Our products are safe, everything is tested and tested again before it ever reaches the store. Safe products are a huge concern for all farmers, if we don't have consumers, we have no livelyhood.
We care about our animals, if we don't take care of our animals they don't take care of us. We put food in cupboards and clothes on our backs from the business we run and that business is caring for our animals.
We are just like everyone else, but work a lot of hours. Farmers take their job very serious and it is a lifestyle, but we still enjoy an occasional vacation, football game and nights out. We just have a few more commitments that can get in the way of doing these events from time to time
As a Mom what do you want to share with others about the dairy industry?
As a mom in the dairy industry I would have to say there is no better place to raise children than a farm. I know everyone see where children get hurt and sadly it can happen but it can happen at any home. A farm teaches children responsibilities, respect and hard work. Kids learn at a young age, these animals are counting on us to care for them in the best way possible. Children learn to respect the animals and their needs including when to stay away from danger. Last but not least, children learn hard work instead of sitting in front of a computer all day. Healthy active lifestyle comes from being raised on a farm. I may work a lot but my kids spend a lot of time right beside me and I wouldn't want it any other way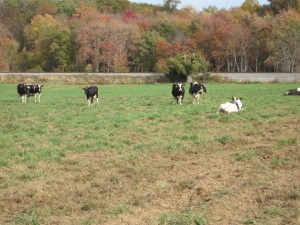 Describe a typical/average day for you.
My average day is a cross between being a mom and dairy farmer. My mornings start with milking, cleaning manure from the barns while cows eat after milking, check herd records for who needs to be vaccinated/ special care etc. of the day then breakfast with my kids. After breakfast I attend to moving animals if needed, breeding cows in heat and anything else that may need my attention. I usually take a few hours around lunch to spend time with my kids, running normal errands like the grocery store, etc. by late afternoon I am back in the barn, bedding pens, checking over the herd and maybe cleaning bedded pack pen, then its time for milking again. After milking I usually head home to spend time with family.
---
Lisa, thank you for sharing your story with us!
Entire Women in Dairy Series:
Comments
comments