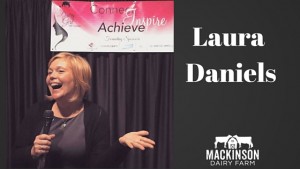 Laura Daniels is a mother, wife, farmer, dairy consultant and agriculture advocate. I met Laura at the 2013 Ag Chat Conference where she was the keynote where she related hitch pins to telling our story. I still remember the keynote to this day and am honored for her to share her story with us today as the conclusion to my Women in Dairy series. At Heartwood Farm in Cobb, WI, Laura and her husband Jarred Searls take great joy in teaching their children Nathan (15) and Julia (10) their values as they work together. While Laura and Jarred share in ownership of the farm, it is Laura who serves as General Manager in charge of day-to-day operations. They have 6 full-time employees, 300 beautiful Jersey cows and operate 650 acres of crop and pasture land. Laura and Jarred have been awarded Conservation Farmer of the Year by both the Iowa County Land Conservation Department and the local chapter of Trout Unlimited.
Laura also does consulting on business development, team building, and employee management for Star Blends located in Sparta, WI. Laura is a graduate of University of Wisconsin Madison, in Dairy Science and Agricultural and Life Sciences Communications. She is active with organizations including Wisconsin Farm Bureau, Common Ground, and Iowa County Farmers Appreciation Day among others. She has helped coach the Iowa County Dairy Judging Team for 16 years. Laura is founder and president of the Dairy Girl Network an organization helping dairy women across the nation connect and succeed. This organization was my inspiration for this series. Laura was recognized at one of Vance Publishing's 40 under 40 in 2014, and was honored to be chosen as the 2013 Wisconsin AgVocate of the year.
Her barn office is her advocacy headquarters, where she takes time each day to spread pro-agriculture messages on Facebook, Twitter, her blog and Instagram. She also hits the road to deliver pro-ag and motivational speeches across the country, inspiring many to find their passion, build their skills and have confidence to tell their story.
---
Laura's Story in her own words:
It is my joy to help Mary wrap up what has turned into the most amazing display of incredible women in dairy farming. If you haven't yet, please take time to look back at the last 58 days here on the Mackinson Dairy Farm blog. You will find farmers, consultants, and dairy believers. You will find women who have been farming for decades, young women just starting out and women who support dairy farmers each and every day. You will find women who raise calves, cows, dogs, cats, horses and lots of really special farm kids. Oh, and husbands we raise those too.
Most of all you will find passion, lots and lots of it.
You might be surprised that Mary found 60 women this passionate about dairy? Well I can tell you there are thousands and thousands of us across the nation. These are the women caring for the cows who produce milk for families everywhere. And the best news? There are more women like them. Their promise to love and care for their cows is real, and they are inspiring others to dedicate their time and talent to dairy farming. A review of the best dairy science programs across the nation shows this hope. More than half of the students enrolled are women. The top graduates winning the scholarships, and awards for dairy cattle evaluation and management are 70% female.
However, according to the Census of Agriculture only 5% of the primary operators of dairy farms are women. This also happens to be the percentage of women holding positions on our dairy cooperative boards of directors as well as top management at those companies. These statistics are disappointing.
But these numbers don't concern me.
I am unconcerned because of the 60 women profiled here, and others like them in every corner of our great nation. Change is coming in the dairy business. It's coming like a freight train. Women have always been instrumental on farms, especially dairy farms. Our roles have changed over the years and will keep changing, for the better of the women and dairy farming as a whole. For some that will mean continuing to be the farm wife who holds it ALL together behind the scenes as she raises her family at her side. For some it will mean being the owner or general manager, at the helm choosing the direction of the business. For others it will be providing services to farms: marketing, genetic analysis, crop consulting, milking equipment, calf care, herd management, veterinary service, cheese making, graphic design, etc. etc.
The important thing is that she lives the role she chooses. Again, I urge you to look back at the strong self-directed women. They are owners, managers, service providers and mothers. Each living a life she worked hard to create. Each making dairy farming better than it was before.
We started the Dairy Girl Network as a way to bring these hard working women together allowing them to inspire and support each other. We began with networking events, a chance to share a glass of wine and unwind with like-minded women. This new organization has quickly gained momentum and national support. Dairy Girl Network is now a national organization with personal and professional development programming being planned along with more of our popular networking events across the nation. If you are a woman involved in any segment of dairy please check us out!
I'd like to end with my own path to being a dairy farmer. I knew when I was 11 years old that I wanted to be a dairy farmer. I just thought I would need to marry a dairy farmer to be one myself. After college, I went to work as a cow nutritionist, a job I loved. After a few twists and turns I ended up in a beautiful house in a wonderful town with a great career in dairy cattle nutrition. All was well, but my dream of being a farmer seemed to be a distant memory.
Then I met him. He was perfect. He had never milked a cow. But he believed in me and wanted to make my dreams come true. My dreams became our dreams. Turns out, I did need to marry the right man, one who thought I could set the world on fire, he still does.
We saved every penny and bought our farm. I did grow up on a dairy farm, but we bought someone else's family farm. That was ten years ago. It is still a struggle when the milk price dips down, but we own our own farm. And I may have several jobs, but I am a dairy farmer first. The only thing I ever really wanted to be.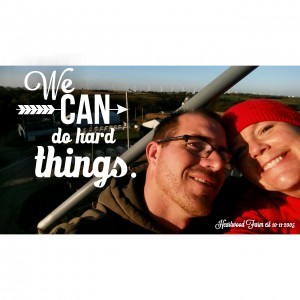 I said this earlier, but the passion that drives a woman in dairy is something to behold. She is hard working because she chooses to be. She is tough as nails one moment and quick with a tender touch or word the next. She raises food for your family with compassion, care and integrity. I'm glad Mary has taken the time over the last 58 days to introduce her to you.
---
Laura, thank you for sharing your story with us! Make sure you follow Laura on social media, "Like" Heartwood Farms on Facebook, follow her on Instagram, Twitter and her blog.
Entire Women in Dairy Series:
Comments
comments