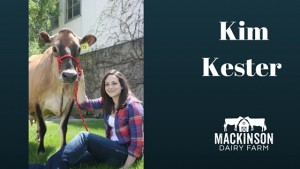 Kim's Story in her own words:
I grew up on a small hobby farm in central Wisconsin. It wasn't always that way. My father is a papermaker and my mother works with programs that evaluate reading comprehension in children. My neighbors introduced me to 4-H when I was 10 and, as my parents may say, it was all downhill from there! I was that 4-H kid that wanted to take as many animals as possible to the county fair. As a result, we ended up with horses, llamas, chickens, ducks, geese, pigeons, and rabbits. I also showed miniature donkeys and peacocks. My dairy involvement began in 2009, when I started working for a custom calf raiser. I worked there intermittently over the next two years. It was working with the calves that sparked my desire to apply to the dairy science program at the University of Wisconsin – Madison. I attribute much of my success to 4-H and the many student organizations I was a part of in college; Badger Dairy Club, Association of Women in Agriculture, and Babcock House Cooperative. I believe holding office positions in all of those groups helped develop my interpersonal and leadership skills. I graduated in 2014 with a Bachelor's of Science double-majoring in Dairy Science and Poultry Science. I applied for a job and was offered the first job I interviewed for. That first job right out of college was as a bull herdsman with Accelerated Genetics. I worked the bulls for collection, fed them, cleaned stalls, and basically kept them happy in every way possible. Earlier this summer I moved to the office where I am currently working as the Operations Assistant. My duties include scheduling hauling for new bulls coming into our facility, movements in our system, and bulls exiting our facility. I also assist the veterinary department as necessary with health testing in the barns. The plan is to have a hobby farm in the future, but for now I live in an apartment, board my horse nearby, and keep my honey bees with a coworker.
What is your favorite dairy product?
My favorite dairy product is cheese! I'm from Wisconsin, was there any doubt? However, one of my favorite dairy recipes does not include cheese. It's fudge, click here to check out my favorite recipe! There's chocolate, condensed milk, and butter, so I'm counting that as a dairy recipe.
Who is your favorite cow?
My favorite cow was a little Jersey girl named Bambi. When I was attending UW-Madison, I milked cows at our on-campus dairy barn. I've always liked "unique" animals and in the campus herd, a Jersey was pretty unique. She was adorable and sometimes a little sassy; I think that's why we got along so well! I used her for my college graduation pictures. A friend who was still in college told me she died later that summer, so she'll always have a special place as my college sweetheart cow.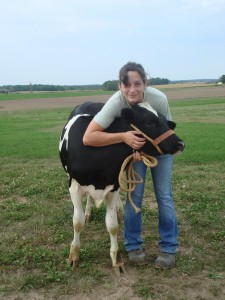 What are 3 things you want consumers to know about the dairy products you produce?
Well, my line of work is a couple steps ahead of most people working in the dairy industry. Either way, I want consumers to know that:
We genuinely care about the animals. Whether it be a bull or a cow, we work hard every day of the year (what is a holiday?) to keep our animals happy and healthy.
Happy and healthy animals produce safe and delicious products for the consumer to enjoy. If it wasn't safe, we wouldn't eat it ourselves!
Lastly, don't be afraid to ask questions as a consumer. Is there a local farm you can visit? Do it. Many universities also offer viewing times for milking or tours if you ask. Any one of us in the dairy industry wants to help you learn about what we do so you can feel confident in the services and products we provide.
Again, we care about our animals; healthy animals make a safe product, and never stop learning.
What is the most rewarding part of being in the dairy industry? Challenging?
The most rewarding part of being in the dairy industry is the people. I have met a multitude of different people over the past few years that have challenged me, supported me, and many have become my friends. While we may not see each other very frequently after college, we still keep in touch on Facebook, email, and LinkedIn. One challenging aspect that I have personally encountered is being female and not being from a farm, especially working with the bulls. I felt I had to try to prove myself a little more than male counterparts and work "smarter" rather than just "stronger" if that makes sense!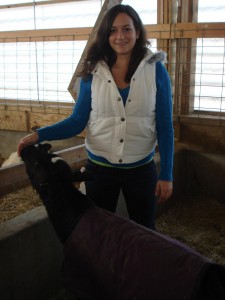 What advice would you give someone interested in the dairy industry?
If you're interested in the dairy industry, go for it. Sure, you'll get people who question it because you're not from a dairy. Go for it anyway. You can get experience in high school, college classes, and internships. If it's something you are passionate about, you know how to use your head, and that is where you see your life ending up, don't let someone else discourage you.
---
Kim, thank you for sharing your story with us today!  Make sure you follow Kim on Instagram!
Entire Women in Dairy Series:
Comments
comments