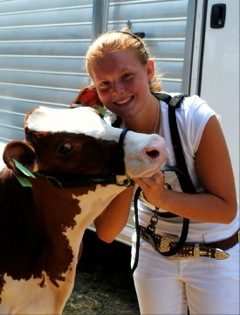 I would like to introduce, 21 year old Julianne Holler from Sharpsville, Pennsylvania. Julianne is currently a senior at Thiel College where she is pursing a degree in Biology with plans to attend graduate school next fall while continuing to be involved in the dairy industry. While Julianne did not grow up directly on a farm, she has owned and been around cows her entire life. Her current herd includes 17 head, including: Red and White Holsteins, Black and White Holsteins, Guernseys and Brown Swiss. While pursuing her education, she milk at a local farm, Ridge Dell Holsteins and cares for her own show cattle on a daily basis. Julianne was involved in 4-H for 11 years and served as her club's President, and Treasurer.
Julianne's favorite dairy product is a tie between any type of hot, or melted cheese and ice cream! She admits that she is not a big fan of cold sliced, or cubed cheese, but if it is melted, the more, the better! As far as ice cream goes, she loves it all!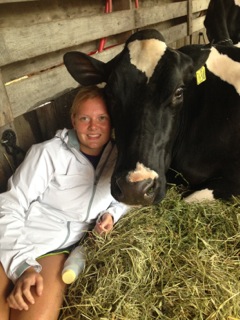 ---
Julianne's Story in her own words:
Who is your favorite cow?
I would say that my favorite cow is Maple Lane Miss Christmas, my first ever Guernsey. I invested in Miss Christmas when I was a senior year in high school, and she has led me to so many opportunities. She is the first animal that I ever took to World Dairy Expo, where she placed 4th in the junior show. I have two daughters out of her who are full sisters. Last year, her oldest daughter, Holler-Way Carolina girl was nominated honorable mention Junior All-American. This cow was a great asset to my herd, and I want to thank the late Bryan Wolfe for making her available to me.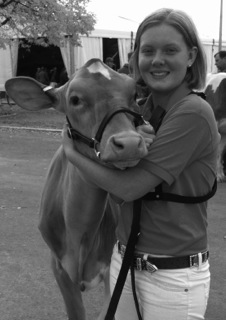 What is the most rewarding part of production agriculture? Challenging?
I feel that the most rewarding part of production agriculture is the fact that I play a role in feeding the world. The most challenging part of production agriculture is losing one of the members of the herd. Some may say they are just a cow, but to me, they are part of the family.
Describe a typical/average day for you.
A "typical/average" day for me normally begins before sunrise, as I head to the barn to feed and milk my show cattle. During the week, I then proceed to college classes, and do chores once again in the evening. On many weekends, I care for my cattle morning and night, as well as I milk for a neighboring farm milking 100+. In between all of this, I must keep up on homework, as well as work individually work with my cattle for any upcoming shows. Although I don't have much free time, when I do, I enjoy traveling, baking, and relaxing.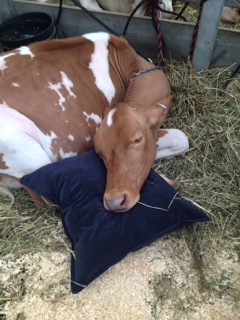 What are 3 things you want consumers to know about the dairy industry?
Farmers genuinely care for their cattle
All dairy products are wholesome and produced under great standards
The dairy industry is a great industry to be a part of, with fellowship, networking, and genuine bonds.
---
Julianne, thank you for sharing your story with us!
Entire Women in Dairy Series:
Comments
comments