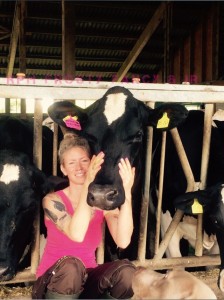 It is my honor to introduce Joanna Rohwer from Hollingstedt, Schleswig-Holstein, Germany.  Their farm is located in Hollingstedt, a very small village in Schleswig-Holstein in the North of Germany.  Joanna grew up on a farm and when she was 3 years old; she had tamed her favorite dairy cow named 'Irma' and has been in love with agriculture since. In Kindergarten, her dream was to be a farmer.  After she finished her agriculture diploma, she worked on a dairy farm, and then at Intervet Shering-Plough in their laboratory and barn.  Joanna said this job paid well and was really easy but was not making her happy as she did not have the opportunity to bond with the cattle because they only stayed a few weeks. After finishing her agriculture education, Joanna was an applicant for a place at university studying veterinary medicine.   While working Joanna met her husband and it was love at first sight.  One year later, Joanna gave up her studies to work on the dairy farm with him.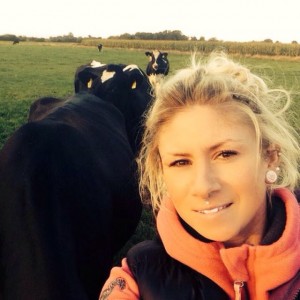 ---
Joanna's Story in her own words:
When did you start farming?
Since 2011, my main job here is the breeding the calves and heifers, marketing of female and male animals and the health management of our dairy cattle. I inseminate the cows; prepare them for shows, as we try to breed nice cows with excellent Exterior and Interior. We both really love what we do and try to give our very best every day for our beloved cows and calves.  We are milking 140 Holstein Friesian (HF) cows and keeping the heifer calves and about 5-15 bull calves to sell them later for breeding. On the farm works my husband, a trainee and me, sometimes an employee for holiday.
We started the farm together in 2011, since 2013 as the owner after my husband was given the farm completely from his parents and since 2014 we are Rohwer Performance Holsteins   We are both the bosses here and have our own specialized working area where we split the work in two parts, 50:50 but we know exactly what the other is doing and we are both able to take over the work from the partner if necessary.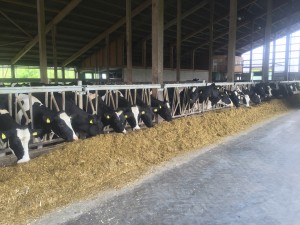 Describe a typical/average day for you.
Get up at 5:30 a.m. milk cows or feeding calves and heifers, control all animals, check the herd management alerts at the pc, plan inseminations or ET's, care for calving cows and heifers, care for sick animals, prepare cows for classification every three months, prepare animals for marketing, and deal with other usual work on a dairy farm, in the evening we are finished between 7-8 p.m. If everything is regular.
What is the most rewarding part of production agriculture? Challenging?
The most rewarding part is to get up every day and watch, milk, feed, breed your beautiful and beloved animals. To be honored for a good bred animal, being honored from other dairy farmers for animals they bought here.  The most challenging is to lose a beloved animal, to have a very sick animal and you did everything and cannot help then anymore.  It's also challenging dealing with the low prices for dairy products and the discussion with politicians about agriculture and dairy farming.
Who is your favorite cow?
Decrausaz Iron O'Kalibra, watched her and was just stunning, here in Germany Lady Gaga from Henrik Wille who won the DHV Show this year and from the Red Holsteins KHW Regiment Apple-Red 🙂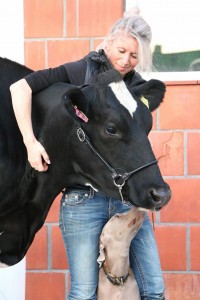 What are 3 things you want consumers to know about the dairy products you produce?
There's no antibiotic in your milk/ milk products
Don't believe the animal rights activists.
We LOVE our cows!
What is your favorite dairy product?
Oooh, mmmh… I like really a lot of dairy products, but my absolute favorite is vanilla pudding.
As a millennial what do you want to share with others about the dairy industry?
With all the people I know I try to share whatever they are interested about, I don't have children yet but there are young girls visiting me here who are interested in breeding and 4- H and taking part with our animals at 4 -H shows.
What do you envision the future of the dairy industry looking like?
I think it is very difficult to answer this question for all of us and the whole industry, because it depends on the individual and the future on each dairy farm and other agriculture related industries. For me I wish that the people will get a better imagination what agriculture and dairy farming is, and like to honor our work and not running blind after the activist's lies and propaganda. Also for the cows I wish it would be more honored if you take super care for your animals and don't have to look after the last view cents if you're planning new investments for barns or cow wellness.
---
Joanna, thank you for sharing your story with us!  Make sure you follow and like their Facebook Page, Rohwer Performance Holsteins.
Entire Women in Dairy Series:
Comments
comments