Jessica Peters grew up in Meadville, PA on a dairy farm with her parents, 2 brothers, and a bunch of Jerseys (yes, more Jersey love). Today, Jessica, her parents and younger brother are all partners on the same farm milking 250 Jerseys. After high school, she wanted to be a vet so she applied and was accepted to Penn State University. After her first year, she realized she did not want to fix all animals…just cows. After 4 years, she graduated from PSU with a bachelor's degree in Animal Sciences (the science option).
Jessica grew up in 4-H, but more for the 4-H than the showing as she prefers production over the show ring. She loves music and while she was in New Zealand, neighboring farmers told her they could hear her singing while out on the four wheeler. J She loves people and says that she's very social and talkative, OFF the farm (she's all business while working).
Jessica is single with no kids, but family is everything to her. She sees her parents, younger brother, 2 aunts, grandma, and sister in law every day. Her older brother lives with his wife and son in Florida and works for NASA.
---
Jessica's Story in her own words:
After college I knew I would someday come home to the family farm but wasn't ready to be 'chained down'. So I spent a year milking cows in New Zealand with two of my best friends. Because they seasonally calve, after my first year, I came home and worked for a year. I still felt pretty restless. So when a friend in NZ sent me a message saying that his wife was due to have a baby the same month as all 550 of his cows, I jumped on the opportunity to return. So I went back for another year.
People always ask me why I came back and I always tell them this story: One day I was fixing a fence and I just stopped, looked up and thought "this place is soooo gorgeous." But I'm ready to go home. (I hadn't even been shocked by the electric fence that day…even though I was most days.) So I've been home on our family farm for 5 years now.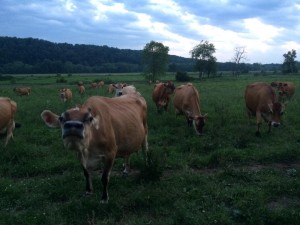 Who is your favorite cow?
My favorite cow depends on the day. 😉 I could list them off…Jewel, Wrinkle, Extra, Cranberri, Avatar…etc. My definition of my 'favorite cow' has changed drastically in the last 5 years. It went from being the friendlier cows to being the more productive cows. But I milk Jerseys, so they're all friendly/annoying. Haha. My favorite breed is a Jersey. I'm all about my Jerseys. I'm actually the executive secretary of our PA Jersey Cattle Association (4 years running). They're so easy to love for the obvious reasons. They're ADORABLE…those big brown eyes…long lashes? Come on. But I also believe that they're a part of our future as an industry. And here's why:
They are a more efficient, economic animal than the bigger breeds. Component prices have made them contenders in hard economic times as well as the fact that they are cheaper to raise. It takes less land and water to milk a Jersey making their carbon footprint significantly less. Even in the last 4 years, I've met some staunch Holstein breeders who have added a few (or a few hundred) little brown cows to their herds. 😉
What is the most rewarding part of production agriculture? Challenging?
The most rewarding part of being in production agriculture are the animals I get to see every day and the people I get to see once a year. Haha. We live in a thankless industry, 98% of the time. This was one of the hardest things to get over when I came home to the farm. When I catch that a cow's sick before she shows symptoms or save a calf's life when she can't even hold her own head up or come up with a solution to what seems like an impossible problem that actually works…I feel pretty good, but that cow isn't going to thank me. No one is. I had to learn to see that my 'thank you' is watching that cow walk into the parlor every day or seeing the calf grow into a happy, healthy, productive part of my herd. Another reward of farming is the people I get to farm with. I graduated with one of the largest dairy classes at PSU and most of us (in one way or another) are farming. Which means that I only get to see most of them once a year at different meetings or conferences. It also means that if I have a problem, I know that I can call them (after not having talked for months or a year) and avoid all the small talk and get to the point. The people…you really can't beat the people.
The most challenging part of being in production agriculture is the animals I have to deal with every day and the people. Not the same people I mentioned above…the public. It's so frustrating to put your heart and everything you have into a life and have millions of people who have no idea what it is that you do tell you that you're doing it wrong. It's our own fault, in a way, we've entrusted the job of educating the public to our lifestyle to people who don't live our lifestyle.
The rewarding animals are the very same that challenge me. They know exactly how to push you right to the edge…over and over and over again. They go down at midnight when you've been up working since 6AM and just want to go to bed. Or they have heifer calves at 11PM right after you turned the milking system off so you have to start everything back up and thaw colostrum until 1AM then get up a 6AM and do it all over again. They make you worry. They make vacations/time off IMPOSSIBLE. They make hiring employees nearly impossible…you want everyone to treat your cows the way you do, but they won't. They make me want to scream, cry, and laugh all at the same time. But then they do one of those stupid rewarding things like lick your face when walking into the parlor or nudge your hand with their head to be petted. We raise, protect, and care for such adorably lovely animals.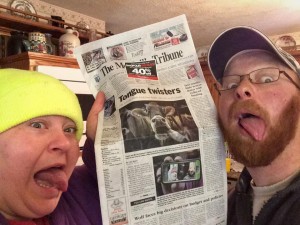 Describe a typical/average day for you.
A lot of my day is making sure others are correctly going through their day. When I wake up, I get a report on how the calves are doing then head to the milk barn. I check the pre-fresh group, take care of any new calves I find and make sure the proper steps were taken to take care of them. Then I spend the next 4 hours (some days more) in the parlor. Once I get in the parlor, I don't leave until we're done. I know every cow I milk. I know their names, how much milk they're currently giving, what their udder looks like, and they're recent history (repro status, recent health issues, etc.), so me being in the parlor is a big deal.
After everyone is milked and everything is clean I typically spend 15-20 minutes going over my records — checking on outlier cows that need to get pregnant, cows that I mentally flagged while milking that morning, or any treatments or shots coming up that I need to administer soon. Trying to stay on top of things can snowball out of control if you don't pay attention.
Next, it's lunchtime (everyone's favorite). Lunch is actually a big deal for us. It's usually the only time of day that we're all sitting down together in the same room. So we spend it going over what happened that morning and what's going to be happening that afternoon.
The afternoon is where things get more diverse for me. Depending on the season I could help move cows around, check pasture fence, work the fields to get them ready to plant corn, or make or haul hay. If my afternoon is open my tasks range from general clean up (barns or outside), paperwork (takes up a lot of my time), running for parts/feed, or helping on projects where help is needed.
Come 4PM everything stops and cows get fed. Everybody gets fed. My job is to feed calves. I feed them every afternoon while my aunt and sister in law feed them in the mornings. Same as with the big cows, I feed, clean, diagnose, and medicate (when it's needed). When field work is happening, I would generally go back out to the field until milking time. If not, I get an hour off! Then 4 nights a week I go back to the milking barn at 7PM and repeat that morning's milking until about 11-11:30PM. Three nights a week I am free! That is unless we're in the field, then I'll spend my three 'night's off' on a tractor.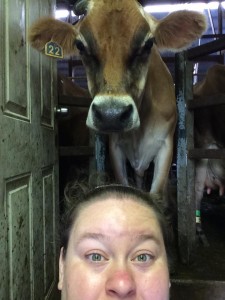 I have a passion in me to help promote our industry and modern farm practices which is why I started our farm Facebook page, Spruce Row Farm…I'm very active on Facebook. I don't belong to any non-farm organizations simply because farming is my life.
---
Jessica, thank you for sharing your story with us! Please head over to their Facebook Page, Spruce Row Farm and give them a like! You can also follow Jessica on Twitter and Instagram.
Entire Women in Dairy Series:
Comments
comments