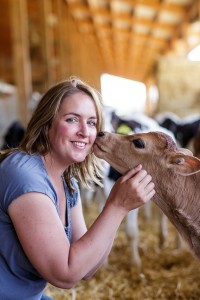 It is my honor to introduce Jessica Chittenden Ziehm the Executive Director of the NY Animal Agriculture Coalition from Buskirk, New York. Jessica describes herself as the daughter, grand daughter and great granddaughter of dairy farmers, is married to a dairy farmer and is fairly certain they are raising future dairy farmers! Today, Jessica and her family live on her husband's family farm where they milk 950 cows and crop over 2,000 acres in Upstate New York – about 3.5 hours north of NYC. In high school, she was active in 4-H, but found her passion for advocacy when she was serving as the NYS Dairy Princess. It was that opportunity that allowed her to realize the true disconnect between farmer and consumer and she's been striving to bridge that gap ever since. Jessica went to college at SUNY Cobleskill for two years and then finished up her four year at Virginia Tech. Since graduation, Jessica has held several jobs in the dairy industry, but today serves as the Executive Director for the New York Animal Agriculture Coalition, a not-for-profit that works to enhance the public's understanding and appreciation for animal agriculture. For fun, the Ziehm family enjoys taking Sunday drives, searching for "rusty gold", and just being a family in the country. They are active in Farm Bureau, as well as their local land conservancy, the Agricultural Stewardship Association.
A popular theme amongst our dairy women, Jessica's favorite dairy product is cheese! Her family is members of the Agri-Mark Cooperative, which owns the delicious Cabot and McCadam cheese brands. She admits that she is not a super adventurous cook with two toddlers in the house but enjoys making egg stratas on the weekend for a hearty breakfast, and big pots of soup – like loaded potato, corn chowder and broccoli cheddar.
---
Jessica's Story in her own words:
Who is your favorite cow?
Anyone who knows me knows it's the beautiful, brown eyed Jersey! What an incredible animal! My Grandpa Chittenden was a pioneer in the Jersey breed and his passion for this cow seeped into my veins. A Jersey is like a modern working mom – strong, independent, and efficient, all while being gorgeous! Her ability to not only produce milk efficiently, but produce a product that has so many extras is extraordinary! Jerseys are one of the reasons I chose Virginia Tech over Cornell, and I continue to promote their prowess on my husband's farm, where we now have over 70 milking Jerseys in the herd of 950.
What is your role in the dairy industry?
I'm currently serving as the Executive Director of the NY Animal Agriculture Coalition. Our mission is to enhance the public's understanding of and appreciation for animal agriculture by fostering a dialogue with consumers, engagement with farmers and cooperation among members of the industry. I grew up on a dairy farm and knew I wasn't cut out to be on the farm every day, so I took the communications route but chose to stick with the industry. There is such a need for this type of work, and I feel we are all just on the cusp of truly realizing the impact positive public relations efforts can have on a farm. It's a concept that is difficult to realize because it is not easily measured in dollars and cents, but rather in relationships.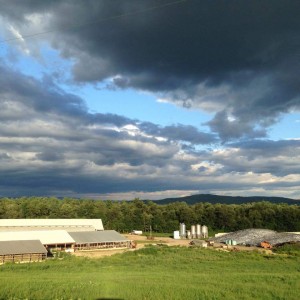 What do you envision the future of the dairy industry looking like?
The dairy industry is ever evolving – as any industry in the world. I see more technology being adopted, consolidation to continue, yet more opportunities for smaller farms to embrace niche marketing and on-farm processing. There is room for all sized farms in the future, as there is today. My dream is that we get to a point where we can all get along – that we aren't attacking or accusing each other through the use of marketing terms and jargon that do nothing but confuse our consumer. In the future, I hope we all are more supportive of each other because a) it's the right thing to do, but also b) because we need each other. We are a small percentage of the population, and we will need to work harder to make time in our day for consumer education, which will involve transparency and communication – two critical actions that we as dairy farmers today are only starting to embrace.
What are 3 things you want consumers to know about the dairy industry and/or the products you produce?
As dairy farmers, we are working as hard as we can to do the right thing – the right thing by our cows, our land, our families and our communities. That may not always be easy, but we are trying and we are committed to doing the right thing.
There are things we do, deal with, step in, smell and witness that may not look ok to the average person – but there is a method to our so-called madness – just ask us, we'd gladly explain anything and everything we do on the farm. For example – why we separate our calves from our cows – there is a very good reason and it's all for the betterment and safety of the calf, not our own well-being.
Milk is milk. Milk is one of the most highly regulated, most nutritious and wholesome products you can buy and put in your body. All milk is safe. All milk is nutritious. Don't get hung up on all the marketing gimmicks and be fooled to think one is better than the other. And if you do have questions about our product – go to the source – ask a farmer! There's really no udder place for the answer.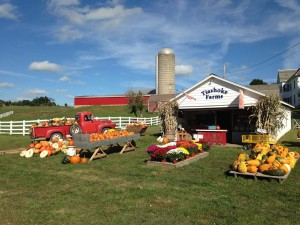 As a Mom, what do you want to share with others about the dairy industry?
That it is an amazing way of life and it's a privilege to be given the responsibility to be the caretakers of our animals and land – as well as the providers of a nutrient rich product for consumers. This isn't a job or task that we take lightly – its 365 days a year. Its hard work, long days, heart wrenching at times – but it's also the most rewarding thing you'll ever do. It's our life! And we love it! We may or may not be crazy to love it – but we do! And you have to love it to live it. That's what it's like to be a dairy farmer. To know the cows always come first – even on holidays and birthdays. To know that your most powerful business partner is someone named Mother Nature – and she has bad days that can ruin your year. I wouldn't change any of it.
What is the most rewarding part of being in the dairy industry? Challenging?
Working with our hard working, genuine natured farmers, who are the salt of the earth – that's the most rewarding part of my job. The most challenging part – the farmers! (Ha!) Their fierce independence and pride make it difficult to move mountains at times. But the real challenge – the bottomless bank accounts of anti-agriculture activists and the sheer volume of their malicious messages. Even if every farmer were to speak up and contribute, it's an uphill battle – but it's a battle worth fighting and we will endure!
What advice would you give someone interested in the dairy industry?
You're not going to find a better group of people to work with. People in the dairy industry are an incredibly passionate and compassionate group that I am honored to be part of. Please join us!
What are other roles and/or opportunities available to those in the dairy industry?
Gosh – the sky is the limit! It's an exciting time to get involved in the dairy industry with all of the advocacy efforts taking place and the technology being introduced. To work in a field that is so grounded, real and meaningful to the quality of life in rural America – that's an opportunity people shouldn't pass up.
---
Jessica, thank you for sharing your story and for the great work you are doing! Jessica and the NY Animal are very active on social media make sure you check out all of their sites below.
NY Animal Agriculture Coalition:
Jessica:
Entire Women in Dairy Series:
Comments
comments