After I decided to feature Women involved in the Dairy Industry, my next task was to get in contact with these ladies.  I received an email from Cindy Bahr nominating today's feature:
I'd like to nominate Jenny Baerwolf. Jenny and her husband Rob, along with his brother James and his wife Jenny own and operate Baerwolf Dairies and Sassy Cow Creamery in Columbus, WI.  Jenny is an amazing woman! I don't know where she finds the energy or time for all she does. Her main job on the farm is caring for the conventional farm's milk calves. Last week there were 84! Her mortality rate is less than 2%. She does all the book keeping for the 2 dairies (1 conventional-420 head and 1 organic-225 head) and the creamery! Helps in the field and with cow management as needed, feeds the crew harvesting crops, is always on call to fill in when needed in the creamery store….as well as mother to 4 kids ages 12 to 4.
Jenny grew up on a dairy farm and went to college and got an associate degree in Veterinary Technology.  She married the neighbor boy and thought they were going to hobby farm together.  Jenny practiced at a small animal clinic in Madison until they started their family.  The hobby farm she mentioned, now has 450 cows and over 1,000 acres!  Jenny and her husband have 4 children, 2 girls and 2 boys and they are all very active in 4-H with their rabbits and dairy.  Jenny is a leader for the rabbit project at the club and county level.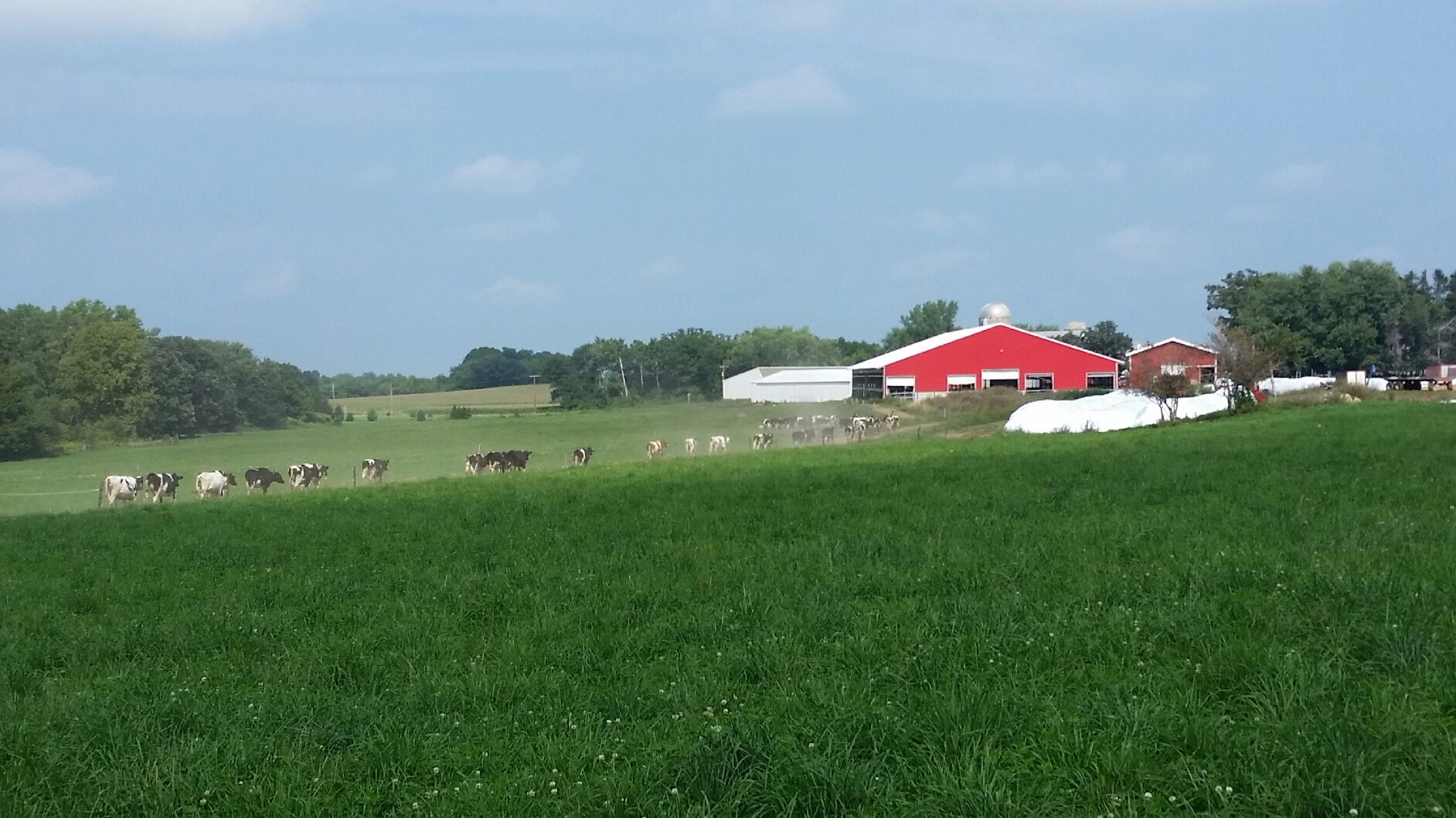 ---
Jenny's Story in her own words:
When did you start farming?
I grew up on a dairy farm.  I fed calves and helped with the milking as a kid.  I married the neighbor boy and he is a dairy farmer.  My role in our operation is bookkeeper, calf feeding and everything else.  I can drive tractor, if needed. I can sort cattle and am willing to help out with whatever the task is at that moment.
What are 3 things you want consumers to know about the dairy products you produce?
I want consumers to know where their dairy products come from. We hold tours on our farms so people can see the cows, see where the milk comes from.  Ask us questions about the animals.
I want people to know that we are a 24-7 operation. Many people think the cows don't need to be milked on Christmas!
I want people to know that farmers are very hard working, but they love their job. Most of the farmers I know are the most honest and good people in the truest sense of the word.  I am proud to be one of them!
Describe a typical/average day for you.
Ha, Ha!   This made me smile.  I get up at 5am.  And walk across the driveway to feed my calves.  I only feed them their milk, because I have to be back in the house by 6, to wake the kids up for school.  The bus comes shortly after 7.  When the kids are on their way, I head back outside and finish the chores.  I feed the calves, the rabbits, donkeys, goats and steers.  I get back in the house by mid-morning.  I try to get some laundry done and maybe some bookkeeping.  My husband sends me a text, "You Busy?"  He wants to sort out some cows and vaccinate them.  We get back in the house early afternoon to eat lunch.  I switch loads in the wash and start wondering what I should make for supper, all the meat is in the freezer.  I took out some hamburger, can always make something with a pound of burger.  We brought a new calf home with us, so I go out to the barn and feed her.  Then go back into the house and work on the paperwork.  Kids get home at 4pm.  Our kids are active with 4H, piano lessons, guitar lessons, choir, and many other after school activities.  So, many times I have to run into town to pick someone up or run them to a meeting.  We feed calves again at 5pm.  Do some homework, run to a meeting or something and eat some supper.  Hopefully, I get the kids into bed by 8:30pm.  Good Night!!
What is your favorite dairy product?
My favorite recipe comes from an old church cookbook.
Mandarin Orange Salad
2 large packages of orange jello
1 Quart of hot water
1 Quart of Vanilla Ice cream
2 cans of Mandarin oranges, drained
Dissolve Jello in hot water.  Add vanilla ice cream and stir until melted.  Add mandarin oranges.  Pour into a 9x 13 pan and refrigerate until set.
What is the most rewarding part of production agriculture? Challenging?
The most rewarding part is being your own boss. The most challenging is finding good, dependable employees.
---
Jenny, thank you for sharing your story with us!  Make sure you check out Sassy Cow Creamery's website and give their Facebook Page a "like".
Entire Women in Dairy Series:
Comments
comments