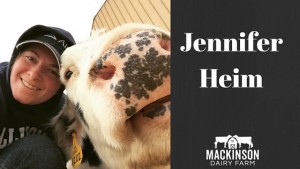 It is my honor to introduce Jennifer Heim who grew up in a small town in Illinois and went to the University of Illinois and obtained a BS and MS in Civil Engineering.  Jennifer works in Kansas City as a Structural Engineer.  She married into dairy, and together, Jennifer and her husband (David) farm in Easton, KS.  Jennifer's main interests on the farm are genetics, reproduction, and the calves, which all kind of go hand-in-hand, she loves seeing things come full circle as her calves turn into cows. Off the farm, Jennifer plays slow-pitch softball and tries to keep up with Illini sports.
---
Jennifer's Story in her own words:
Who is your favorite cow?
This is hard one.  I'm notorious for having too many favorites.  I think I'll stick with my original favorite cow: 1062, or Sparky.  Sparky started out as one of the most aggressive calves her age when David and I were dating.  She got very sick when she was roughly 5 months old, and she was the first calf I ever gave a shot to. I really didn't expect her to make it, but she turned the corner and did great, and of course, I got very attached, I suppose because she was the first calf/cow who's life I knew I positively influenced, a very rewarding feeling. She's not been a trouble-free cow, but she has given us 3 daughters and 2 granddaughters and will most likely have had her fourth calf before this series is published.  We have 250 Holsteins, but purchased 2 Jerseys last spring.  The cow above is a Holstein, but we're in the market for more Jerseys.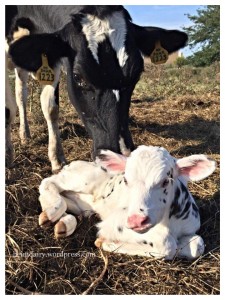 What are 3 things you want consumers to know about the dairy products you produce?
Healthy, comfortable cows produce more milk. Taking the best possible care of our animals is better for us in every way – morally, as well as financially.
Your milk is safe. No matter what farm, or coop, or company it comes from, milk is highly regulated. Every single truck is tested, every single time.
We care. Our animals and our milk matter to us. We are always looking for ideas to improve milk quality, cow comfort and farm efficiency, and I'm confident that other farms are doing the same.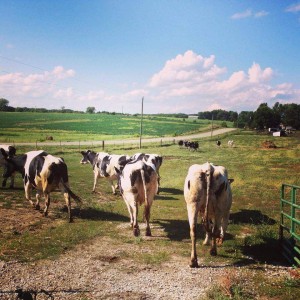 When did you start farming?
My grandpa was an Illinois grain farmer who raised some beef cattle.  I liked farming, but had no intention of being involved in it until I met and then married my husband five years ago.  Dairy was a whole new world for me, but I found my niche in the operation in genetics – all those numbers were right up this engineer's alley.  My role has evolved as David and I have taken over the operation (January 2012), taking on responsibilities where I can while still working away from the farm. Today I'm mostly responsible for genetics, calf care, and herd records.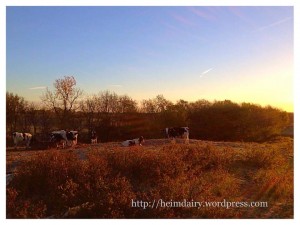 What is the most rewarding part of production agriculture? Challenging?
For me, being involved in the genetics side, the most rewarding part is observing the life cycle – seeing my matings turn into calves turn into cows, and then watching their calves do the same, working to develop families. The most challenging part is the unknown and unpredictable nature of all of it.  From the weather to the prices, we have very little control over things that have a major impact on our success.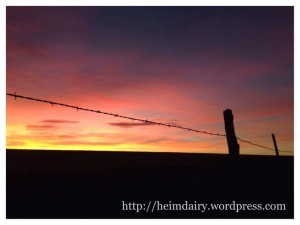 ---
Jennifer, thank you for sharing your story with us!  Make sure you follow Jennifer on social media, the Heim's Dairy Blog, "Like" their Facebook page, follow on Twitter and Instagram.
Entire Women in Dairy Series:
Comments
comments