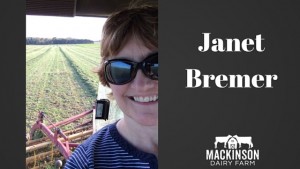 Janet's Story in her own words:
I am a 6th generation dairy farmer. Growing up, I was surrounded by dairy farmers, as all of my grandparents and all of my aunts and uncles were also dairy farmers. I attended Iowa State University and majored in art, and interior design. After 10 years of working as an Interior Designer in the Twin Cities, I spent the next 10 years working on our farm and raising our 2 children. I now work part time for our local school district serving as a Title One Instructional assistant teaching struggling learners, as well as helping on our farm. I grew up involved in the 4-H program, as did my husband and children. I also served as a 4-H leader for many years. I am now a 4-H judge at several county fairs and the Minnesota State Fair. I am passionate about sharing our dairy farming story through presentations, social media, my blog, and to anyone who stands still long enough to listen! I am also the Minnesota Dairy Princess Coordinator, which means I schedule and advice Princess Kay of the Milky Way (our state dairy ambassador) on her public appearances, speeches, and media work. My hobbies and interests revolve around my family, anything dairy, reading, crafts, and movies.
When did you start farming?
We are a family farm owned and operated by my in-laws, our children, Sara and Michael, and my husband John and I. John's parents purchased our farm in 1952. John and I became partners in 1983 when we were married. My role originally was to care for our calves. I then transitioned to cow milker. After a somewhat unsuccessful knee surgery last year, my role as cow milker has now changed to doing mostly field work. My mother-in-law and I also do the farm book keeping. We milk 130 Holsteins and have 120 young stock and steers. We milk twice daily in a 16 cow parlor. We farm our 270 acres conventionally, and grow all of the feed for our herd, primarily corn, oats and alfalfa. Our milk is sold through DFA and contracted to Land 'O Lakes to be packaged as fluid milk.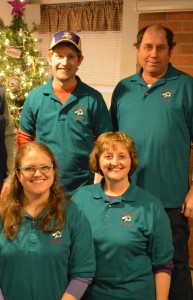 What is your favorite dairy product?
That's a toughie, but I guess my favorite dairy product is cheese. I enjoy it because of the versatility and the variety of flavors. There's nothing better than sharp cheddar or fresh cheese curds! My two favorite recipes are: click here.
Who is your favorite cow?
My favorite cow is Nellie. She LOVES people. She won't move unless given a hug first. She is great at giving sloppy cow kisses too. She is a black and white Holstein. Don't tell Nellie, but I have a soft spot for the red and white Holsteins, probably because my dad never had red and whites in our herd when I was growing up.
As a Mom what do you want to share with others about the dairy industry?
Farming can be a rewarding as well as challenging occupation. As a family we have done a lot of hard work to make our farm successful. We are a proud farm family that cares for and respects our animals and our land. We take great pride in being able to offer safe and nutritious dairy foods.
---
Janet, thank you for sharing your story!  Make sure you follow Janet on Social Media under My Barn Yard View: Blog, Facebook, Twitter, and Instagram.
Entire Women in Dairy Series:
Comments
comments