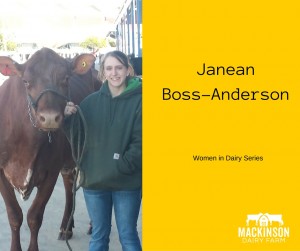 We welcome Janaean Boss-Anderson from Monroe, Wisconsin to our series today.  Janean grew up on her dad's dairy farm where they milked about 60-70 cows. Her dad sold the cows and was a grain farmer when Janean was in high school.  She milked for a local dairy farmer in a step up parlor with around 200-250 cows and worked there for over four years. After high school, she attended Globe University for Veterinary Technician and works at Brodhead Veterinary Medical Center as a technician and specializes in rehabilitation/massage. Currently, Janean is the Communicates Chair for the WI Vet Tech Association. Janean and her husband started a small herd of about 40-50 dairy cows four years ago and just moved into her dad's farm which has been their long term goal. Growing up, Janean was involved in 4-H and FFA. She loves showing cattle, riding horses, and spending time with her two dogs.
---
Janean's Story in her own words:
When did you start farming?
My husband and I started farming about 4 years ago. We both have a love for cows and milking, which brought us to dairy farming. I help milk after I get done with my vet tech job and take care of the calves. I manage the paperwork & registrations.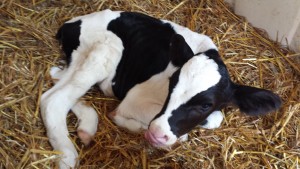 What is your role in the dairy industry?
In addition to our dairy, I am a vet tech at a clinic where I work on both large and small animals. I also received my rehab/massage certification this summer which has been a very rewarding experience. Treating some of the down cows or wounded calves with a therapeutic laser and watching them thrive is very rewarding.
What is your favorite dairy product?
I love milk. Have to have it with every meal. I'm not much of a cook, would rather be outside with the animals.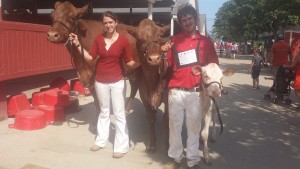 What do you want consumers to know about the dairy products you produce?
We work very hard and are very dedicated to what we do otherwise we wouldn't spend that much time, sweat, and tears on it.
We have to be antibiotic FREE in order to get paid. We have to test our milk to make sure it's quality before shipping it otherwise it goes down the drain & we make nothing.
As an Aunt what do you want to share with others about the dairy industry?
It's a great family orientated community. I love watching my nieces come over and play in the barn, or help feed calves. I know I am passing down my love for this industry and giving them some lifelong memories that they will look back on and cherish.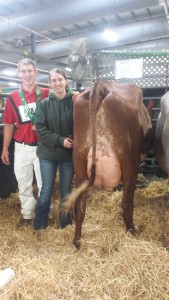 Who is your favorite cow?
Favorite Breed- Milking Shorthorn. Started showing shorthorns for a neighbor my senior year of high school and fell in love with the breed and being able to educate people on them. Now, my husband and I have about 5-6 in our Holstein herd that I love. One of which is out of the very first shorthorn I showed. Her name is Roxi and she is a 3 year old. We've shown her since she has been a calf. She was nominated All-American as a winter calf and will hopefully be again this year as a senior 3 year old.
What is the most rewarding part of production agriculture? Challenging?
Best- Raising an excellent cow and saving a calf/cow. We just have a premature bull calf born a month early and it was definitely touch and go for a while but with all the care and nurturing he is over a month old and going strong. Challenging – seeing the ones you can't help. Being a vet tech I love having a challenge but it also weighs on me a lot more knowing that I can't help them sometimes.
What do you envision the future of the dairy industry looking like?
I envision the future to hopefully not be as much of a struggle for farmers, financially and economically. We work 24/7 365 days a year and most of the time can't even break even. Then you have the office people that work 6 hour days and make millions. To me that just isn't fair at all. We strive to put good food on your table and get little to nothing in return.
---
Janean, thank you for sharing your story with us!
Entire Women in Dairy Series:
Comments
comments