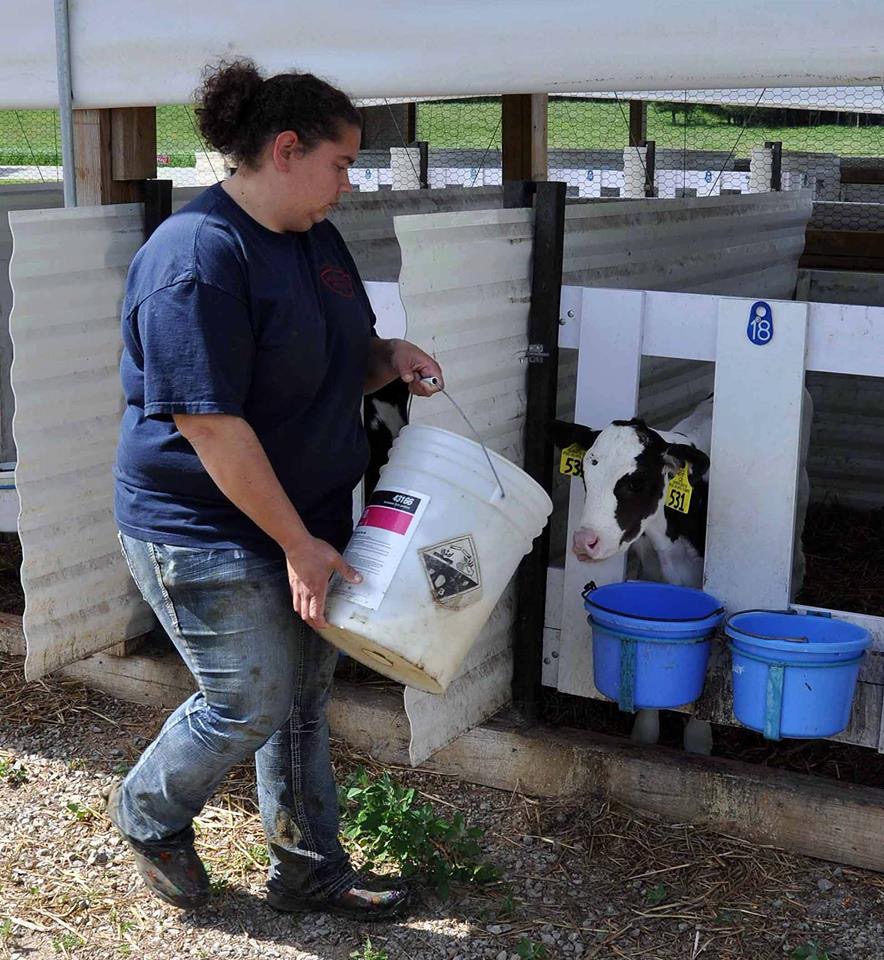 Today, I have the opportunity to introduce Jamie Van De Walle from Peshtigo, Wisconsin (which is 45 minutes north of Green Bay)!  Jamie is an independent dairy nutritionist / consultant for five counties in Northeast Wisconsin.  Jamie, her husband, Eric and their daughter farm in partnership with Eric's parents.   They milk 100 cows and are slowly growing to 120 cows and raise all of their young stock including the bull calves that are fed out and sold as finished steers.
While Jamie did not have the opportunity to be involved in 4-H or FFA, her daughter is actively involved in 4-H as a Clover Bud and showed a Spring Calf this summer!  Jamie has a very unique hobby; she has been a Musher for 20 years!  She maintains a kennel of 8 Siberian Huskies that she trains and races in sprinting events throughout the state of Wisconsin.  The year, her daughter will be able to join her.  In addition, Jamie is involved in the Marinette County Holstein Association, is a delegate for AgSource Cooperative and is working on starting a county 4-H judging team!
---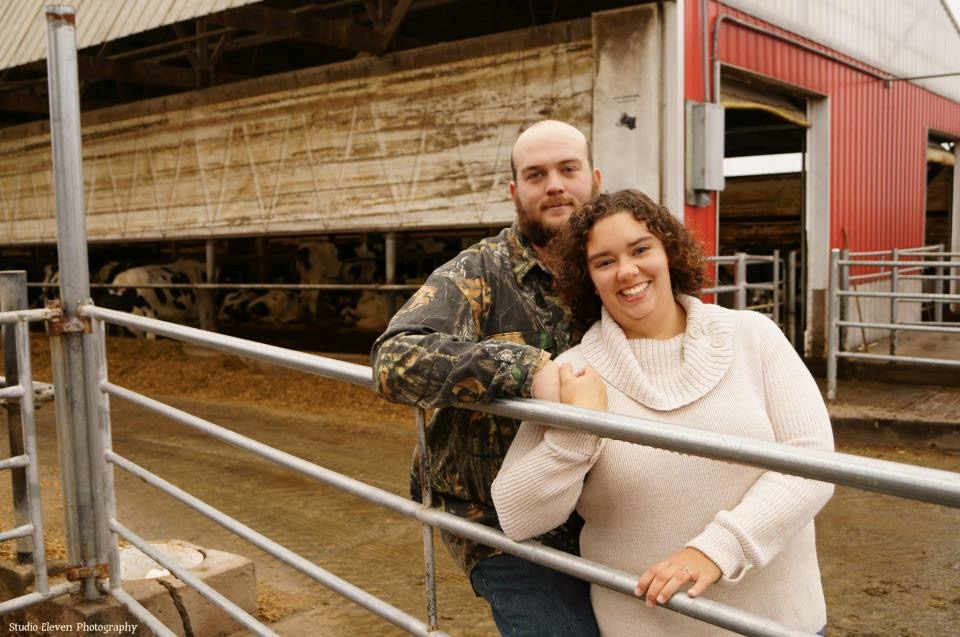 Jamie's Story in her own words:
I am one of the millions who were removed by two generations from the ""family farm"". My grandfather's brother was a dairy farmer and while he passed away while I was young I have wonderful memories of visiting his farm and the cattle.  I was always interested in livestock and when I found an opportunity to go to school for dairy, I jumped on it.
I attended Michigan State University's Agriculture Technology program for Dairy Production and Management, completing that certification and my Bachelor of Science in Animal Science, focusing on Dairy Management from MSU. While at MSU, I had the opportunity to be on the 2 and 4 year Dairy Judging Teams. I also participated in the National Dairy Challenge and Midwest Dairy Challenge, Animal Welfare Judging at MSU and worked on several research trials on the University's dairy farm. I along with a few friends also had the rare opportunity to show cattle from the MSU Dairy Farm.
What is your role in the dairy industry?
I work as an independent nutritionist in northeast Wisconsin. While I am from Michigan I came to Wisconsin for a great job opportunity. My love of the dairy industry started as a youngster and continued to develop through my school days. When I found a program at MSU to get me into dairy I jumped in. It has brought me through two companies and the development of my own business and put me in the right place at the right time to join my husband on his family's farm. I continue my work as a consultant because I want to see all farms do well and continually strive to be more and do better.
When did you start farming?
I started farming shortly after I started dating my husband in 2011. I had dreamt of having my own dairy and spent hours upon hours on other people's farms. As he and I became more serious I became more involved. In 2013, I came to the farm "full time" in several capacities. I milk at least once a day, am the primary calf feeder, focus on cow records both health and production and have a pretty good input on the management of the cows. My hubby and I work together to get things done as his parents are starting to enjoy some more free time. He does a lot of the animal husbandry labor and we work together on the hands on cow management procedures.
As a Mom what do you want to share with others about the dairy industry?
Coming from a non-farming family and marrying into a family deeply rooted in their farming heritage, there is so much I wish I could tell people! Perhaps the biggest is the passion, the unbelievable love and desire that goes into what we do. We miss out on family events, don't have unlimited time to travel and are limited in some of the things we can do with our daughter but none of us would change it for the world! There are so many people who have busy lives, always running, spending money and accumulating more. Because of the farm, we are forced to slow down a bit, really enjoy our time together (which we get a lot of!) and actually see things like going out to dinner or going to the movies as a real treat. Yes, our daughter comes home from school and goes right to the barn where she helps with chores but we get time together. We work together, play together and laugh together in the barn. Our daughter gets to learn not only what work hard looks like but to also take pride in your work. She gets to see that hard work pays off when we calve in a new 2 year old. She sees how Daddy's time in the field yields beautiful hay fields and rows of green corn. She also learns about the down side of life, the disappointment when we cannot help an animal or a crop fails to yield- out of that disappointment she learns to persevere and push through. Being involved in the dairy industry is a career but it is also a lifetime commitment for the family and that passion for what we do flows through our homes and turns out some of the most wonderful and influential people you will ever meet.
What do you want consumers to know about the dairy products you produce?
To me the main things that people need to know is that we truly love our animals and what we do. Because of that we focus on cow comfort, high quality milk and maintaining exceptional cow health. They need to know that they can have full confidence in what they buy in terms of dairy products because we care they are getting a great product.
What is your favorite dairy product?
I have too many favorite dairy products! I have a hard time deciding between cheese and ice cream as my absolute favorite. I enjoy all sorts of cheeses and will usually try any I am not familiar with. In terms of ice cream- if it has chocolate and/or peanut butter in it, then I am game!
My favorite dairy recipe isn't really one that I see on the internet. I love to make Macaroni and Cheese, both stove top and in the crock pot. I use different types of cheese like cheddar, Gouda, marble jack, farmer's cheese along with sour cream, milk and butter. Yum!
What is the most rewarding part of production agriculture? Challenging?
The most rewarding part of being active in production is seeing the results of all of our hard work. Because of my involvement with the young stock and the cow records I really enjoy seeing a calf come into the parlor for the first time and really take off as a milk cow. I take a lot of pride in that and am always looking to improve that part of our operation.
There are a lot of challenges when being involved in production. One area that I find to be the hardest is doing what is best for our animals. I get really attached (probably more than I should) to our girls and I really struggle when all my efforts fail and we have to make a difficult decision to sell or euthanize an animal. Every choice in that arena hits me hard because I always want to do more and do better for them and sometimes that isn't possible.
I have the distinct pleasure of being on both sides of the dairy industry as a producer and a consultant. As an industry person I get the most excitement out of seeing my clients reach their goals. We spend a lot of time setting them and once we meet one it is the greatest feeling when I see that smile, get a high five or a sigh of relief that we accomplished what we were trying to do. Much like watching a calf grow into a productive milk cow I get a lot of pleasure out of seeing my clients become better at what they do.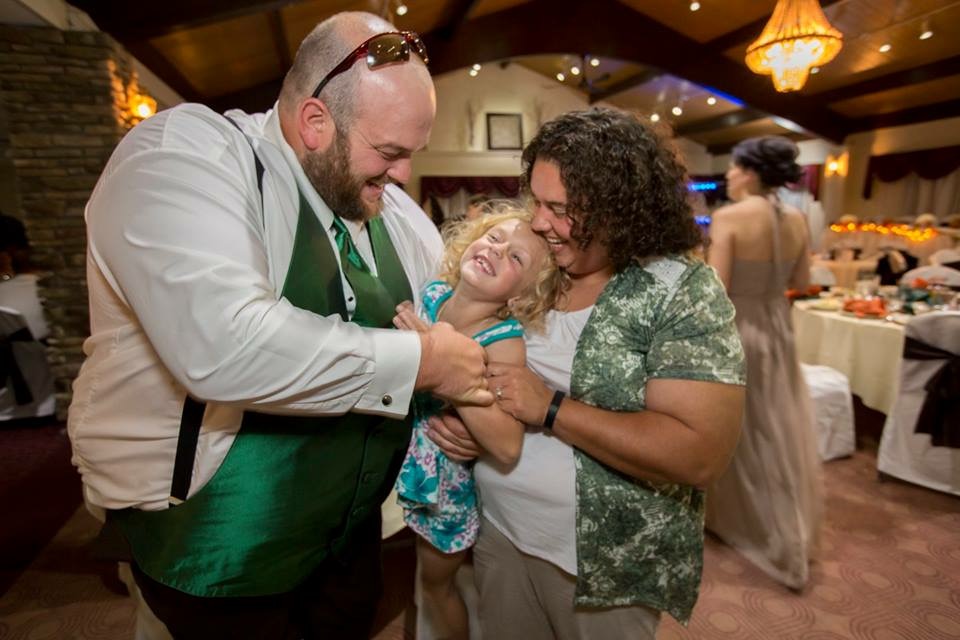 Who is your favorite cow?
I am a big fan of all breeds of dairy cows. I really appreciate a well built, milky cow and will drool over them no matter what color their coat is! With that in mind we milk Holsteins on our farm. I have several favorites within our own herd and while they aren't going to win WDE, they milk well and don't let us down. We do have one Brown Swiss in our herd who will be calve this summer. She is my daughter's project for the future.
What advice would you give someone interested in production agriculture?
If someone wants to get involved in production agriculture I really encourage them to follow that desire. My advice is to find a farm and work on it. Learn the ins and outs, know how much of a commitment you are going to be making. Production agriculture isn't just a job; it's a tremendous financial and emotional investment. Your life will revolve around your operation; you can't walk in the house and leave your work in the barn. If you can handle always thinking about your animals, fields, finances, equipment, the market and balancing a home life in all those hours you'll spend producing your product then dive in!
Describe a typical/average day for you.
A typical day around here starts at 4am when the alarm goes off. We are usually in the barn and getting things going for the morning milking by 4:15ish. I will milk cows by myself while my husband cleans the free stall barn and gets the feed ready to mix. His dad comes to the farm an hour or so after we get out there to mix the feed for the animals which is when my husband joins me in the parlor. We will work together for about 20 minutes then I feed the calves which means mixing milk replacer, filling water buckets and offering grain to them. I spend extra time looking them all over and if someone needs some one on one time I make sure they get it. After that, I run into the house to get our daughter ready for school and myself ready for work. She's on the bus by 7am and I am on the road by 7:30 most days. I then visit other dairy farms working with them on their feed management, cow management, efficiencies etc. I am usually home by 2:30-3pm, change back into my barn clothes and head out to do it again! I start afternoon milking while my husband cleans and then he joins me and we will milk most of the afternoon shift together- our daughter joins us when she gets off of the bus. While we are milking we talk about our days, practice spelling and math, play a lot and just enjoy our time together. After milking or toward the end of it I feed the calves, and then feed my sled dogs. Once in the house I make dinner, spend time with our daughter and once she is off to bed I go back to working on rations and spreadsheets for my clients. Weekends, I don't work off of the farm and will help my husband catch up on the two person work if he is behind. We'll do cleaning, bedding etc. as needed and I get most of my housework done on the weekends.
What advice would you give someone interested in the dairy industry?
Don't be afraid to follow your passion and don't be afraid to ask a lot of questions. I really recommend trying to find an internship if you are in college- get a good handle on what it is you want to do. You can become incredibly vital to the people in the industry, especially producers so knowing how you want to participate and what the expectations are makes it easier to get where you want to go. I would also say don't be afraid to take the "right" position no matter what the pay is. We'd all love to make a lot of money in our lifetime but sometimes the best place to start can't or won't pay you what you think you need. They will however set you up for all your future endeavors. I had several job offers out of college and I did not take the highest paying one. I chose to join a company that was going to not only put the time and money into training me. I got the experience I needed to move forward in my career and become more successful. While I am limited in my contact with the original company that brought me to WI, I will always remember how they gave me the basis to do what it is I do now.
What are other roles and/or opportunities available to those in the dairy industry?
It seems like the opportunities are endless! If you enjoy marketing and like dairy cows you can get position marketing for milk processors, AI companies, nutrition companies…anyone in the dairy industry needs marketing assistance. If you are into genetics you can go to work for AI companies, get involved in research and development. Feed is a huge category, you can work directly on farm with producers, sell and support products going to feed mills, work in product development, source ingredients, manage mills…the list goes on and on! I believe that there is an option for everyone. If you have a passion, an interest and some drive you can carve a path into the dairy industry.
What do you envision the future of the dairy industry looking like?
I think that the dairy industry is going to continue to stream line, become more efficient and utilize more technology. I do hope to see producers become more vocal about what we do and how we do it so that we can continue to instill confidence in food production. I really enjoy seeing all the young people coming back to the farm and it really warms my heart to see more and more of them. We are very fortunate to live in an area where there is a large population of friends our age taking over their family farms.
---
Jamie, thank you for sharing your story with us!
Entire Women in Dairy Series:
Comments
comments