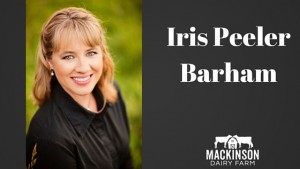 Iris' Story in her own words:
I was born and raised as fourth generation dairy farmer. We started helping out with small chores as kids and our responsibilities expanded and we grew. I was involved in both 4-H and FFA and judged everything from soil to horses. The highlight of my involvement with these groups was being named a State Officer and receiving my National Degree. I went to college at Virginia Tech were I received a BS in Dairy Science and an MS in Reproductive Physiology. While, in college I completed an internship with Fort Dodge Animal Health, I had fun and learned a lot, but decided I never wanted to go into sales. It's funny how life works at times, because my first job out of college was working for Fort Dodge as a Large Animal Sales Representative. Never work in sales you might ask…I realized in graduate school everyone sells "something", it might be a product, service, or education. I have "worked off" the farm since graduation in several areas of the agriculture industry. I currently work as the Dairy Supervisor at Berry College, where I employee 45 student employees. The students are 90% female and come from a 95% non-farm background. They learn all aspects of dairy farming and are responsible for milking, feeding, breeding and cleaning! My dream has always been to return to my family's farm; however, I have recently realized that I am right where God wants me at this point in my life. I have always loved teaching and I couldn't have created a more ideal job for myself. I teach daily, but there are no formal books, tests or classrooms. There is however, lessons in problems solving, teamwork, cooperation, time management and self-worth and boy are those powerful things to watch young people develop.
When did you start farming?
I was born into farming and my parent's passion for what they do brought me back to my roots. I manage Berry College's dairy where we operate a closed, teaching herd of 35 registered Jersey cows. The students work in a small, modern facility consisting of freestalls with a flush system, a single 4 herringbone parlor with meters and pedometers. We produce conventional milk and sell most of it to Dairy Farmers of America. A small farmstead creamery does by milk monthly to make cheese, which is sold by our Jersey Milk Enterprise on campus. The goal is to build a cheese processing plant on campus and allow students to make the cheese so they work from start to finish with the cows and the milk. We do grow grass hay on campus and we plant winter and fall grazing at the dairy; however, there are no other crops grown at this time.
What do you want consumers to know about the products you produce?
It's simple: Americans have access to the most abundant, safe and economical food supply in the world. It's something we take for granted all too often. The industry has a major challenge to feed an ever growing population with fewer resources (land, water and people) and I believe we are doing a good job accomplishing the goal.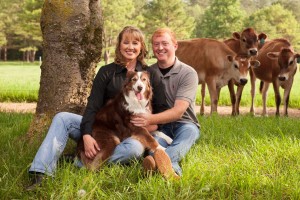 As a Mom what do you want to share with others about the dairy industry?
I became a Mom on September 1 of this year. Boy has my life changed! I worry about things I didn't even know I should worry about and time has rapidly sped up. When there are major decisions to make like what diapers to use and how do you save for college, there is one decision that is easy and causes me no worry. My daughter will be offered dairy products, meats and fresh fruits and vegetables that are grown by farmers all over the country that share the same passion for the land and animals and pride in the food they produce. Our family will not fall victim of marketing gimmicks that breed fear to drive the dollar.
What is the most rewarding part of production agriculture? Challenging?
I think the most rewarding part is the challenge it brings. Today's farmers wear many hats. Some hats fit really well, because it's something we know a lot about, but sometime the hat falls into our eyes, because we don't have a lot of experience. My employees think I have all the answers, but in reality I surround myself with smart, talented people who I rely on to help me troubleshoot.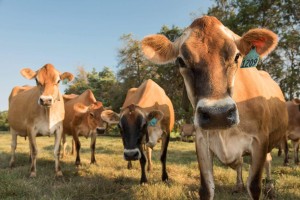 Describe a typical/average day for you.
Morning milkings start at 4:30 and sometimes a phone call from a student with questions is my alarm clock. Mornings are quite since most students are in class, so I take this time to walk through the herd and evaluate their health, look for heat and make adjustments to feeding. I also use this time to take care of emails and phone calls, processing paperwork, reading industry news and meeting with faculty, sales representatives or visitors. The afternoons are hectic as students start arriving to complete chores or attend labs conducted at the dairy. I spend most afternoons teaching students numerous things like how to drive a tractor or how to palpate a cow. I typically have to run out to keep from being late to pick up my daughter. I'm on call 24/7/365. It seems cliché to say every day is different, but despite our best efforts to maintain consistence every day is different!
What is your favorite dairy product?
It wasn't until I had my daughter I realized how much dairy I consume. I love butter (it makes everything better), I love ice cream (made with rich cream), I eat cheese at least once a day and I love a glass of chocolate milk at night! I can't pick just one….Our family loves casseroles as they make dinner preparation easy and we are southern so it's what we do best! Our current favorite is a corn and green bean casserole that has both shredded cheese and sour cream as ingredients. It's hardy and helps carries us through to our next meal.
Who is your favorite cow?
I have had several cows I have shown favor to over the years; however, Peeler's Bruce Rosie (EX-90) still ranks at the top. I started showing her as a 2-year old and won many showmanship, class and championship ribbons with her. Unfortunately, she died of a heart attack as an aged cow and this was my first major loss. She taught me a lot of life lessons and I still think of her often when I am walking through barns.  I'm a breed snob. I grew up with Jerseys and it's the only breed I have worked with in my adult life. Some say I don't know any better! The brown cow has proven to me she can not only survive, but thrive in the southern climate, she breeds back and calves with ease, she overcomes different challenges and she is profitable in a variety of market conditions.
What do you envision the future of the dairy industry looking like?
The dairy industry reflects very little of the environment my late great-grandfather started Peeler's Dairy in Gaffney, S.C., but the whole world is different. He milked several cows and started a door to door milk delivery service. Over the years he always milked cows, but the door to door service grew into a processing plant that produced All-Jersey® milk until it was closed in 1998. My father took over the herd in 1978 and relocated to Starr, S.C. where we all call Milky Way Farm home. All industries demand more from less, I have witnessed these in all of my jobs thus far. I believe scientific research has done a fantastic job of helping producers accomplish this task, whether it be more calves from cows (embryo transfer) or more tonnage per acre (with less pesticides, fuel, etc.). As the fifth generation in my family to be raised on a dairy farm sits in my lap, I often wonder will she have the same passion as her Dad and I and will it be an industry she desires to take on. As she chases her dreams there's one thing for sure, today's world is more connected and this is not something I see changing, so we must adapt to constant contact, communication and consumer questions. Dairy farmers of the past were quiet, hard working men who liked to keep to themselves. Today's dairy farmer might prefer to be in a tractor planting a field or in the barn tending to her cows, but they must be engaged. Many serve on boards or committees in our industry and in their community. If we all are open to answering questions in our community then the nation's concerns about what we do would have a face and we would be "their dairy farmer". Business is about relationships and we must have relationships with our customer.
---
Iris, thank you for sharing your story with us!
Entire Women in Dairy Series:
Comments
comments