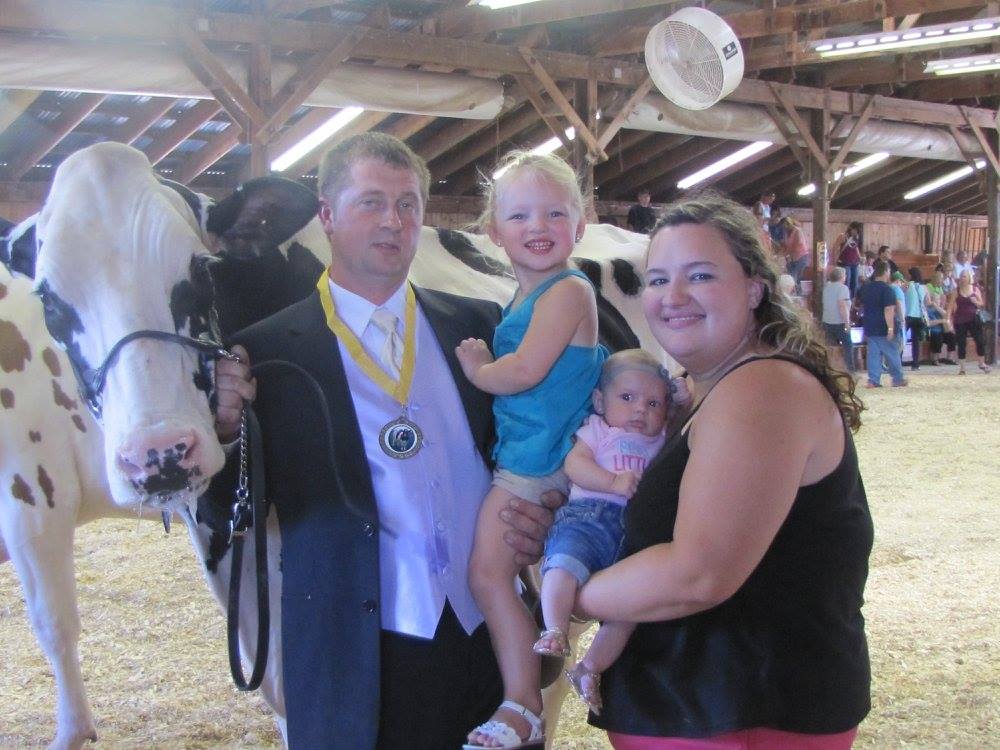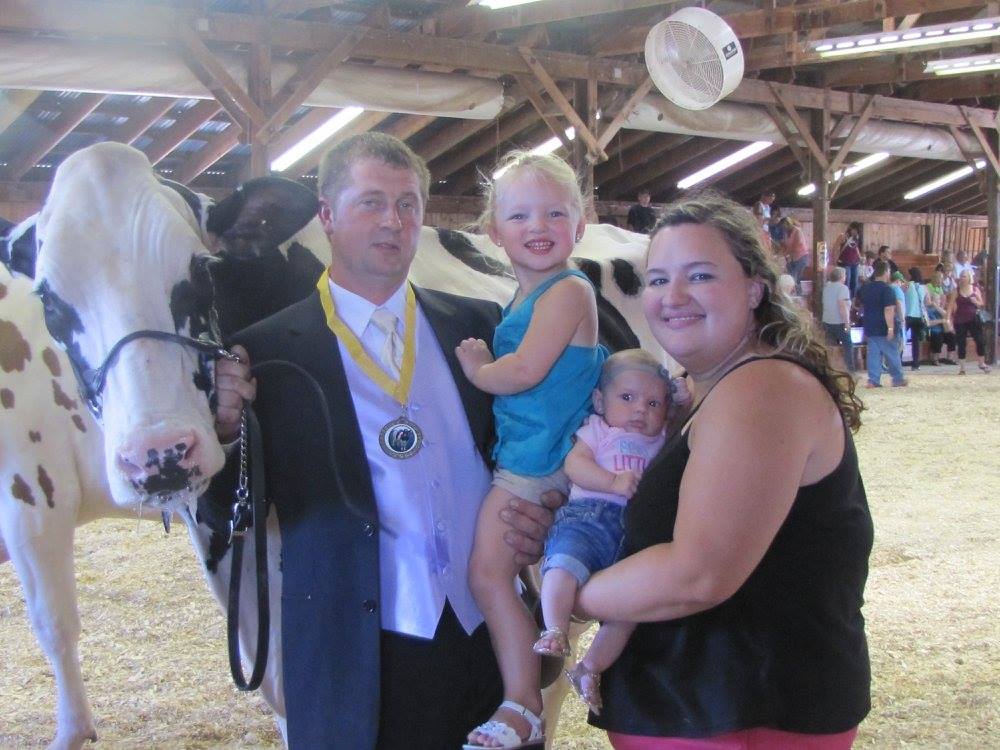 Holly grew up on a mostly Holstein and Jersey dairy farm until she was 8, when her parents Ray and Cindy Schowalter decided to sell the cows.  Holly and her 3 sisters (Ashley, Monique and Tiffany) always had steers, pigs, chickens and most importantly Belgian draft horses.  All three were in 4-H with various projects and enjoyed volunteering for various youth programs.  Holly and her husband, Travis met 9 years ago and has been married since 2010.  The Smiths have 2 daughters Leah (3) and Hattie (4 months).   Travis works with his family on their 3rd generation family farm where they milk 100 cows. Travis' and his brother's use the prefix Smith-Crest and have had much success with their Black & White and Red & White Holsteins.  Holly works for Dodge County Dairy Testing Association Cooperative in Juneau, WI and has been there since 2008.  She started out as a lab manager and now works as a General Manager. Dodge County DTA COOP is a field service division that services not only Dodge County, Wisconsin but also surrounding counties.  The laboratory in Juneau on average analyzes 55,000 DHI samples for components (like fat, protein, SCC, MUN and BHB).
---
Holly's Story in her own words:
What is your role in the dairy industry?
My role in the dairy industry is to bring a variety of information to the table to be used in management decisions. DHI (Dairy Herd Improvement) no longer just provides Fat, Protein, SCC information on individual cows. Most farms operate on a herd, group, or pen mentality as far as feed consumption goes so our goal is to provide information that you or your consultants can use to produce the amount and quality of milk you desire. DHI also uses breeding, genetic, transition, and udder health data from regular testing intervals to give information on performance in comparison to peers or within a herd. I guess I was always in the dairy industry and since my husband and I enjoy it, it was natural. I tried working away from the industry and it was hard to relate in the workplace when my husband needed help on the farm or late-night fresh checks etc. I wouldn't change it for anything and hope I can be in DHI a long time!!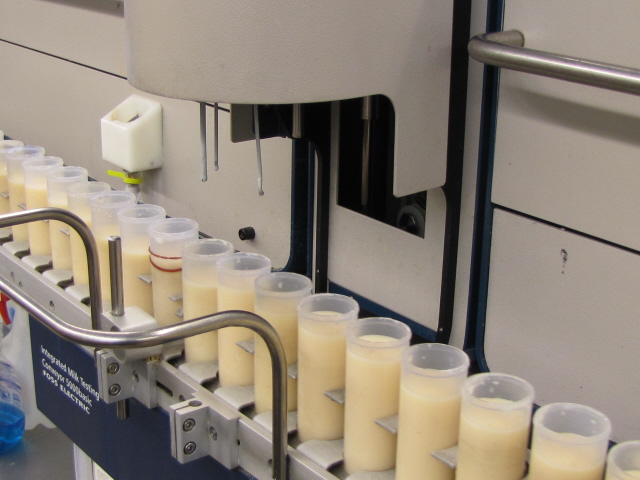 What are 3 things you want consumers to know about the dairy products you produce?
Dairy products are the most strictly regulated and safe food in the food system. Every product is tested multiple times during the production process to ensure that a safe product is available for your family to purchase.
Dairy farming is something people do because they are passionate about farming. There are very few people who get rich farming and even if they do-they worked for it! It is a hard lifestyle and should be respected.
Ask a DAIRY FARMER questions before you make an assumption about a product. Buying local is always a great way to know where your food comes from if possible. Even though in reality all of it is good for you!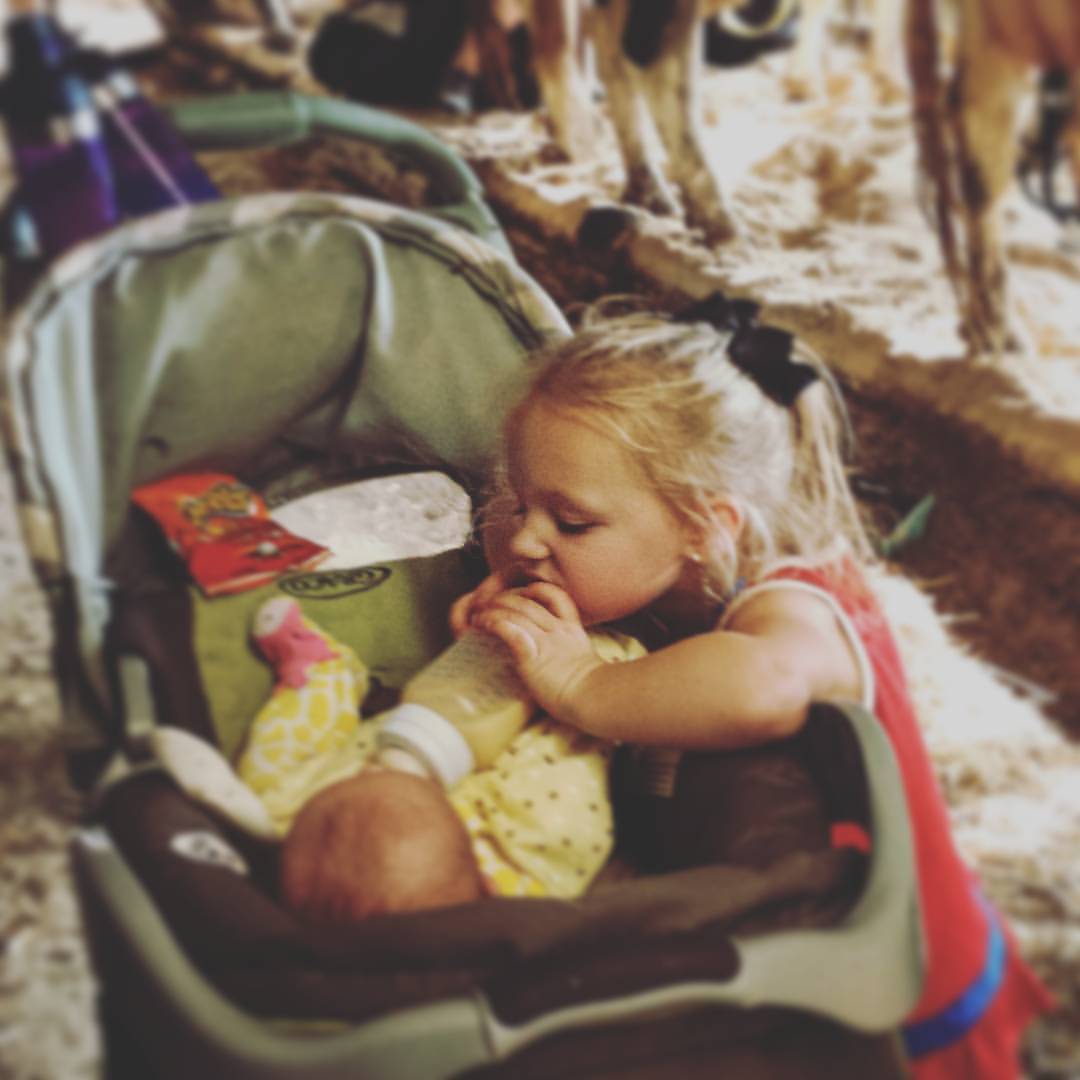 As a Mom what do you want to share with others about the dairy industry?
As a mother and wife of a dairy farmer, I want to share that being a "modern" woman who juggles kids, career and farming is something that although difficult reaps many rewards. My kids get to experience the ultimate childhood as there are endless "forts" to play in, adventures with dad driving tractor, and running up and down the aisles in our barn offer lessons and a ton of FUN!!! My kids probably won't get the opportunity to be in 4 different sporting events at one time because it will be impossible for me to cart them around since dad is "doing chores" but they will learn work ethic that I was taught by my parents. To the "general public," I want them to know and wish they could understand just how much farming takes away from family time. Although we spend plenty of time together we also spend most of the time working in the barn. Most of our peers often get very few vacations or weekends or heck even weeknights to spend with just the family over a family dinner (before 7 that is).
What is your favorite dairy product?
My favorite dairy product would have to be cheese. Anything with cheese just tastes better plus Wisconsin has several amazing cheese plants that offer fresh cheese curds and other delicious cheese products! Click here to see a Wisconsin traveler's guide to cheese locations!
What is the most rewarding part of being in the dairy industry? Challenging?
The most rewarding part of working in the dairy industry would have to be all the people you get to meet. Most farmers don't get off the farm very often so they enjoy having a conversation with you about what is new in their family and love to hear how other farms "do things". In my line of work I closely monitor each dairy for management opportunities to make their dollar go further. Using the information we have such as a Fresh Cow Summary that monitors the transition from dry period to early lactation can show an individual how to make more money on the end of each lactation curve! Most challenging would have to be trying to help those that don't want it. Farmers are independent people that work for themselves. Often you have to find a way to connect the dots for them but it can be a long process if someone is resistant!
Who is your favorite cow?
My favorite cow would have to be a Holstein, Rotesown Gibson Ideal Ex 94 3E GMD. She was a cow that Smith-Crest bought as a two-year old. She was the ultimate Holstein. Not only did she look good but she made 281,922 pounds of milk in her lifetime. She was a gentle cow that often followed us to the fair much after her "prime" show days were over and my sister's class would take pictures with her. My daughter Leah and her cousin loved crawling all around her and called her "Grandma Cow". She is definitely missed by all!
What do you envision the future of the dairy industry looking like?
I envision the dairy industry doing exactly what is has done over the last 100 years-change. Farmers in general have always found better ways of producing quality food to feed not only America but the world. Now, we are experiencing more exposure to the public perception of the agriculture industry. Although society wants to know where their food comes from, they also average 3 generations removed from the farm. We need to get the story across that food is safe and nutritious.
---
Holly, thank you for sharing your story with us!
Entire Women in Dairy Series:
Comments
comments