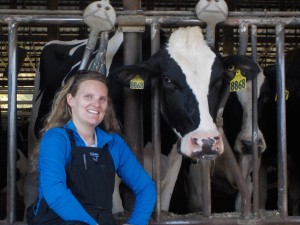 Hannah Worden developed her love of dairy cattle from growing up on her families' farm, Will-O-Crest Farm, in Clifton Springs, (Western) New York. Through middle and high school, she worked on the farm and was active in 4-H and Junior Holstein Club. Hannah showed her first calf at 5 years old and has been hooked since! Like her parents and brothers, Hannah attended Cornell University and studied animal science. There, she met her husband and after graduation they moved to Hilmar, California where he had a job opportunity at a jersey farm. Eventually, they found their way west and moved back to NY. Currently, Hannah works for ABS Global and her husband works for Will-O-Crest Farm. Understandable, they moved back because they wanted to be able to raise their children on the farm. They have a 3 year old and another one on the way. I found Heather through their Facebook Page, Will-O-Crest Farm, where she is documenting her pregnancy. Each week, Heather is posting about Tammy (cow in photo) and her journey through pregnancy. They are both due January 15th with their 2nd baby! Truly a unique story and I encourage everyone to follow along!!
---
Hannah's Story in her own words:
What is your role in the dairy industry?
I work in the genetic sector of the dairy industry. The company I work for ABS Global actually sells semen as most cows on dairy farms are bred artificially. My job is to help farmers decide what traits to breed for and I actually work with a mating system to choose the best bull for the each cow (similar to eHarmony). Growing up on a farm, I knew I didn't want to do anything else. I interned a summer for an agricultural lending company but realized my passion was with the cows more than the finances. I love my job because I get to be out in the barn with cows and working with farmers to develop cows for the future that will produce lots of milk and last. My passion for farming is so intense that I realized I could only marry someone who had that same passion and am happy to say my husband does. Our love of cows and interest in farming is one of the ways we easily stay connected.
What are 3 things you want consumers to know about the dairy industry?
We love what we do! Farming is hard work and if we didn't love it, we would find much easier jobs to do. I get to visit a lot of different farms for my job so I can confidently say it is not just the farm that I come from that has a passion for the cows and land, it is all farms!
All milk is antibiotic free. If a cow is sick and needs antibiotics to get better that milk is thrown away, and milk is tested for antibiotics just to be sure multiple times before reaching consumers. We take pride in producing a wholesome quality product for our consumers; many farms proudly display milk quality awards they have won over the years.
We are a vital part of the community. Farming creates lots of jobs from the people employed on the farm to those who build our barns, haul the milk, develop new technology, and more.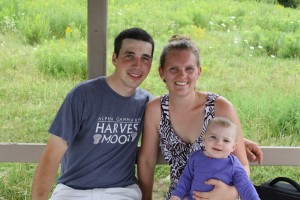 As a Mom what do you want to share with others about the dairy industry?
There are a lot of new things you learn as a parent that you would not understand otherwise. Farmers have learned a lot over the years too and have good reasons for doing things the way that they do. How we do things might not always make sense to you but trust that we have our cows best interest at heart and our doing things to ensure everyone stays healthy.
What advice would you give someone interested in production agriculture?
There is plenty of room for all in the dairy industry, although I grew up on a farm there are plenty of people in the industry that had no farming connection to get them started. If you are interested join 4-H or FFA, attend an agricultural school, and most importantly get connected with some local famers!
Who is your favorite cow?
My favorite cow was Tabitha, a Holstein I showed multiple years in 4-H. Unfortunately she died almost 6 years ago now but lives on through multiple offspring! My absolute favorite thing about farming is spending time with cows and Tabitha was a cow I had an extra special connection with!
---
Hannah, thank you for sharing your story with us! Make sure you check out and "like" Will-O-Crest Farm's Facebook Page.
Entire Women in Dairy Series:
Comments
comments