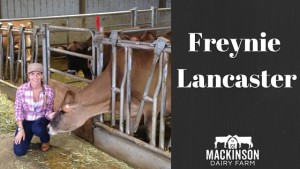 Today, we head to the West Coast and get the opportunity to meet Freynie Lancaster, her family and the brown cows that call Royalty Ridge Farm home!
---
Freynie's Story in her own words:
I am Freynie Lancaster a 33 year old mother of three to a son Logan (9) and daughters, Tatum (7) and Harper (3). My husband Ryan and I are coming up on celebrating 11 years of marriage! I have been on a dairy farm my entire life. Growing up, I was on my grandparent's farm. I started showing cows at the age of five and got involved with 4-H at nine years old. I really enjoyed dairy judging and was fortunate to be on the Oregon State Collegiate Dairy Judging Team. My collegiate team and I were invited to compete at the International Dairy Judging Contest in Scotland. A highlight of my dairy judging career was to compete in Scotland and travel parts of Europe. After graduating Oregon State, majoring in Agricultural Business Management, I moved to Ferndale, WA to dairy farm with my husband and his family. Five years ago, we bought our farm, Royalty Ridge in Tillamook, Oregon. We have a small registered herd of Jerseys. Our focus is show cattle and marketing their genetics. We have bred and owned a National Grand Champion, "Circus", a Reserve National Grand Champion, "Chase" and several other All Americans. We show our cattle at the Western National Jersey Show, All American Jersey Show and the International Jersey Show (held at World Dairy Expo). Our genetics are marketed worldwide. When I am not working on the farm, I enjoy volunteering in my kid's classrooms at school. I also love to work in my yard and run daily. I enjoy sports and it's part of our lives almost year round with my kids involved in many different activities. Mainly, right now my life is kids and cows!
Who is your favorite cow?
My favorite cow has now passed on, but she was responsible for putting our farm on the map! Pleasant Nook F Prize Circus EX 97 was two-time National Grand Champion! Her offspring are all over the world! Dairy cattle breeders would want to come visit our farm because of Circus! And because of that, other cow families of ours gained popularity. She did more for our farm and family then we could have ever imagined and her legacy continues on!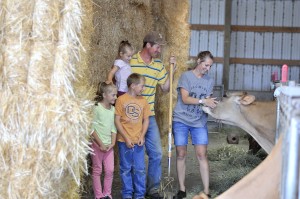 What are 3 things you want consumers to know about the dairy products you produce?
I am a mom too!! I think consumers tend to forget that farmers are moms and dads, grandpas and grandmas, etc. as well as farmers. I want my children to have healthy and safe food to eat. Because I am at the production level of where some food is made, I can say with confidence that we are so lucky to live in a country that has so many options for safe and healthy foods.
Antibiotics are only given when necessary to help the cow get better and healthy. There are so many misconceptions about antibiotics given to animals. In the dairy cattle industry, cows are producing their product (milk) daily. If I give cow antibiotics, her milk is then dumped down the drain. Proper protocol is followed by a farmer when antibiotics are given. There is no benefit in giving dairy cow antibiotics just to give. The farmer loses money because antibiotics are so expensive and the milk the cow gives is literally money down the drain! Each antibiotic has a FDA residue warning label printed on the bottle. This tells the farmer how long the milk must be withheld from consumption. Every time milk is picked up from the farm a sample of milk is taken. When the milk truck gets to the processing plant a sample is taken from the load of milk. In the very rare case the load tests positive for antibiotics, the entire load is dumped before ever reaching consumers. The samples that are taken from each farm are then tested to determine which farmer contaminated the load. That farmer is financially responsible for the entire load, costing 10s of thousands of dollars. Antibiotic use is taken very seriously! I would never hesitate using antibiotics on a cow that needs it, just as I would do the same for myself or my children. Whether I buy conventional or organic dairy products, I know there is no antibiotics present in the product because of the strict regulations farmers most follow if they do give a cow an antibiotic treatment.
Our cows provide our living. Cows that are healthy and happy will be more productive, which benefits the farmer. On our farm we do everything we can to keep our cows safe, healthy and happy and in return they provide a good living for my family. I see the same concept happening on many other farms. It's important for consumers to understand it only hurts farmers if their animals are not treated properly. It is my number one goal to make sure my animals are cared for to the best of my ability!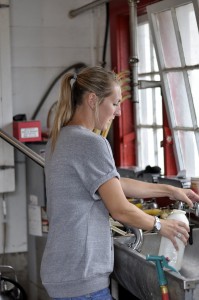 Describe a typical/average day for you.
I get up at 5. Grab coffee (a must!!) and head out the door to feed my calves. After calves are fed I start milking. My husband and I don't employee any help. It's just the two of us. My dad comes and stays with the kids in the morning, which is a huge help! I milk the cows in a small flat barn. I can milk 4 cows at a time. I have a routine with the cows. A lot of the cows know their names. There are times when I need a certain cow to come in and get milked, so I just call her name and she will come in. It's a very hands on operation. I like to say it's my ""strength training"" exercise! About 7:15am I am in the house to quickly get the kid's lunch ready, hair done and out the door to school. My youngest goes to preschool for a couple hours two days a week, but for the most part she is with me all day. After dropping off the kids I head back out to the barn to finish up morning chores. When the kids are in school I get caught up on housework, yard work, records, bills, marketing, errands and anything else that comes up. I make sure and have dinner prepped as I don't have time to do that in the evening. I go back out to start night chores at 4pm. The kids come with us at that time and do outside chores with Ryan while I do the evening milking. We get in from the barn do baths, dinner and bed. Family dinner is very important to me, so we eat later in the evening so all five of us can sit down as a family.
---
Freynie, thank you for sharing your story with us! Make sure you follow Freynie on Instagram and "like" their Facebook page, Royalty Ridge.
Entire Women in Dairy Series:
Comments
comments