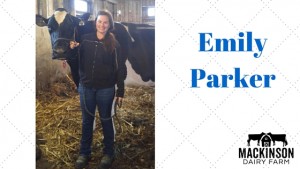 Today, we head back to Wisconsin and get the opportunity to meet another amazing lady, Emily Parker.  Yes, her favorite dairy product is cheese.  Emily grew up on a dairy farm and now owns her own.  She is a District Representative and Young Cooperator for her milk cooperative, Swiss Valley.  Emily attended UW-Platteville and studied dairy science.  Before college, she was President of her 4-H club and Secretary of her FFA Chapter.  Emily is a proud mother of a beautiful 6 month old little girl.  Off of the farm, Emily enjoys showing cows, deer hunting and any outdoor activities such as 4 wheeling and snowmobiling.
---
Emily's Story in her own words:
When did you start farming?
I started farming on my own at 22 years old. At 25, I bought my own farm. I grew up on a dairy farm and have always loved cows and working outside. It's the most rewarding life, so blessed to raise my daughter this way.
What is your role in the dairy industry?
My role is to make a wholesome product for the consumers. To advocate for our industry and help inform more people on farming. Watching my dad farm while growing up was so much fun and I feel like it's such a rewarding life.
What are 3 things you want consumers to know about the dairy products you produce?
We love our cattle, like seriously love them.
The products you consume are the same ones we feed our family, they are wholesome.
We take pride in everything we do, please don't put us down instead ask us questions.
Who is your favorite cow?
Vegas Bomb is my 2 year old Brown Swiss cow that has made it into my engagement, wedding, maternity and newborn pictures. I just love my Swiss and their personality.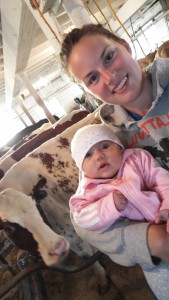 What is the most rewarding part of production agriculture? Challenging?
Rewarding: watching the crops grow and new calves being born….hard work pays off.  It's also really rewarding meeting all the people in the industry; it's like a big family. Most challenging: last winter after moving cows to the new barn, I lost some and I hate the feeling of helplessness. And financially being stressed takes a toll on life.  It's also challenging to be a Young female in the industry when people don't take you serious.
Describe a typical/average day for you.
Wake up and feed my daughter, get dressed for the weather, milk cows, feed and bed cows, clean barn and milkhouse, water and feed hay and grain to calves, bed them if needed, water and feed dry cows. At the other farm feed and water bigger heifers. Throw a few more bottles in for my daughter with a nap and start night chores all over again.
What advice would you give someone interested in the dairy industry?
Have faith and a good group of people to have your back. Everything takes time and if you're in it for instant gratification this isn't the industry for you.
What do you envision the future of the dairy industry looking like?
I would like to envision a dairy industry with fair pricing so that families don't have to struggle to make ends meet.
---
Emily, thank you for sharing your story with us!
Entire Women in Dairy Series:
Comments
comments