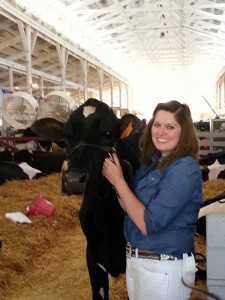 My daughter, Emily, was raised on a small farm outside of Rockford, IL where our family raises Holstein heifers. She received her Bachelors in Animal Science from the University of Illinois and a Juris Doctor degree from Vermont Law School in 2014. She is now Director of Regulatory Affairs and Counsel for the International Dairy Foods Association (IDFA) and lives in Washington D.C. IDFA represents the nation's dairy manufacturing and marketing industries and their suppliers and represents something like 85% of the dairy products produced and marketed in the US. – Lori Lyons
---
Emily's Story in her own words:
When most people think of Rockford, Illinois, their first thought is usually not dairy farms, but that is home. I was raised on a small dairy farm just outside of Rockford where we raised Registered Holstein heifers. Even though Lyonden Farm no longer milked cows, my three siblings and I were lucky enough to have a father, a mother, and a grandfather who wanted us to grow up understanding the hard work and responsibility associated with raising shows heifers. This allowed me to always have heifers and cows to show at our local 4-H, district and state Holstein shows and our county fairs.
Besides living on the farm and showing our cows, my family drove me to be extremely active in my local 4-H club, the Centerville Knot Ketchers, and the Illinois Junior Holstein Association. Through those groups, I gained extensive leadership experience, was able to meet dairy farmers and enthusiasts from around the world, and share my passion for and knowledge about the Holstein cow.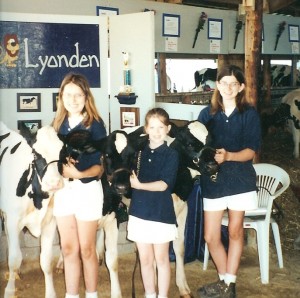 This love for the dairy industry was instilled in me at an early age and followed me to the University of Illinois where I studied animal sciences with a concentration in food animal production and obtained a minor in environmental economics and law. While there, I was active in the Illini Dairy Club, on the dairy judging and challenge teams, and involved in Alpha Zeta an agriculture honorary fraternity and Phi Mu a non-agriculture sorority. I realized half way through my sophomore year after a few days in a physics class that my plan to become a dairy veterinarian likely not going to happen. I decided to forge a new path to become an attorney were I hoped to represent the dairy industry from the continuous onslaught of overburdensome regulation.
Following my time at the University of Illinois, I attended Vermont Law School where I focused my law degree on learning the interplay between environmental law and the agriculture and food sector. Last fall, my dream to become an attorney finally came true after I graduated and I passed the Illinois bar. Soon after passing the bar, I was happy to find my first job in the dairy industry with the International Dairy Foods Association (IDFA) in Washington, DC.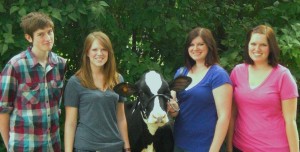 What is your role in the dairy industry?
My current role in the dairy industry is very unique as I don't work on a dairy farm, at a processing plant, or directly for or with farmers. I work as IDFA's director of regulatory affairs and counsel where I represent the dairy processing and marketing industry and their suppliers – this simply means, the people who make the milk, cheese, ice cream, and yogurt that you buy in the grocery store and at restaurants. My job requires me to work with IDFA's members and government agencies on environmental, worker safety and sustainability issues, as well as food safety and food defense. I also serve as legal counsel on issues involving contracts, antitrust, and statutory and regulatory interpretation. To some it may seem like a strange career choice, but I could not be happier to ensure the dairy industry from ""farm to fork"" can continue to thrive in the United States.
What is your favorite dairy product?
My favorite dairy product is cheese in all forms. From cottage cheese to stinky blue cheese to sharp cheddar, I would, and occasionally do, eat only cheese. I think that life without cheese would be very dull.  I absolutely love baking. Without a doubt my favorite dairy based recipe is Chocolate Bliss Cheesecake from the back of the Baker's chocolate box. It takes a long time to make, but boy is it worth it!
What are 3 things you want consumers to know about the dairy industry?
Because the average consumer is several generations removed from the farm, there are so many things that I would love to discuss with them about the dairy industry.
Dairy should be a staple in your diet. Dairy products are extremely high in 9 essential nutrients including protein, minerals, and vitamins. USDA Secretary Vilsack said it best when addressing a U.S. House of Representatives Committee, "In terms of the nutritional bang for the buck, there's probably nothing better than a glass of milk." The best part about dairy products is that there are so many different kinds from cheese to fluid milk to yogurt to sour cream to ice cream. Every day new and delicious dairy products are created to ensure that everyone, no matter their preference, can incorporate dairy into their healthy and sustainable diets.
Dairy farm size doesn't necessarily matter. One of the things that I love about the dairy industry is that it is so diverse, dairy farms come in all shapes, sizes, and management styles. There is no one-size-fits all way to raise dairy cows as there are difference in regions of the country, available feed sources, and resource factors that can help dictate the size of a farm. The most important thing to remember is that no matter the size of the farm, farmers raise their animals in humane manner, consistently meet state and federal food safety and environmental standards, and work to minimize any impact their farms may have on the environment. You should feel safe knowing that no matter what farm your milk came from, the animal was well cared for, the product is extremely safe, and that the farmer is a steward of the land he works on and around.
The dairy industry becomes more sustainable every year and will continue to into the future as long as we don't shy away from technologies that will help us feed the continually growing world population. Our industry is committed to sustainability and brings science and technology together in an effort to feed more people using less land, water and other natural resources. Since 1944, dairy farms use 90% less crop land, produce 76% less manure, use 65% less water, and produce 63% less carbon to produce a gallon of milk. The dairy industry is still not satisfied with this and strives for continuous improvement across the supply chain from farm to fork and has set several goals to reduce greenhouse gas emissions, increase business values, decrease fertilizer use, increase energy efficiency, and decrease food waste.
To summarize, dairy products are wholesome, nutritious, and can easily fit into a healthy and sustainable lifestyle no matter what size farm they come from.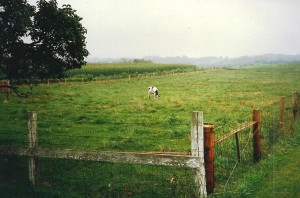 What do you envision the future of the dairy industry looking like?
In the future, I think the dairy industry will continue to grow be as diverse as it is today, but become even more globalized. However, I hope to see the dairy industry expand as demand for US dairy products continues to rise. Global demand for dairy products continues to rise with the most growth seen and expected in the Asian markets. This is because many around the world recognize that protein is an important part of the diet and that dairy is an excellent source of protein along with several essential vitamins and minerals. The best part is that the US dairy industry is poised to fill that demand. We have the natural resources to expand dairying if necessary, some of the world's best food safety standards, the technology to innovate, and infrastructure to deliver products around the world.
While many may try to argue that this means that dairy farms have to get bigger and there will be less small farms, I don't believe that is true. The best part about dairying in the US, and around the world, is that no one method or size works the best or the same everywhere. If you compare dairy farming in Arizona to farms in the Midwest or even those smaller farms in the Northeast, you will see that dairy farms can exist in any climate and be various sizes. All farmers recognize that.
---
Emily, thank you for sharing your story with us!
Entire Women in Dairy Series:
Comments
comments