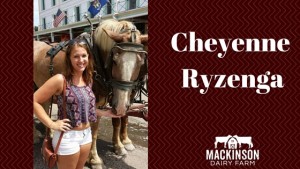 Today, we share Cheyenne Ryzenga's story.  Cheyenne has a unique story, she didn't grow up around dairy cattle instead she had a horse.  That horse just happened to be housed at a barn that also had dairy cattle.  Her first memory of dairy cows was when she went to visit the calves and they sucked on her finger.  Her love and passion for animals was her encouragement to enroll in the animal science program at Michigan State University.  Just before graduating, Cheyenne was offered an internship with an off campus research dairy with MSU (Michigan State University W.K. Kellogg Biological Station) where she currently works at the Pasture Dairy Center as a Technical Aid. Cheyenne says she absolutely loves what she does and wouldn't trade it for the world.  Cheyenne is a great example that you don't have to grow up with dairy cattle to be involved with this great industry!  J When Cheyenne is not with 'my girls' she spends my time with her horse, or traveling back to her hometown to spend time with family who love hearing about the cows. She also has done some rescue work with cats and help to find them homes!
---
Cheyenne's Story in her own words:
What is your role in the dairy industry?
I am basically an animal caretaker. I take care of calves, young heifers and steers, milking cows and dry cows. I work to make sure everyone stays healthy, and if I notice an animal not looking or acting like they feel good, I report that to the manager for further inspection. I was brought into the dairy industry after graduating college and not wanting to continue school to be a vet. I wanted to try something different than my previous background with horses, and I don't regret my decision!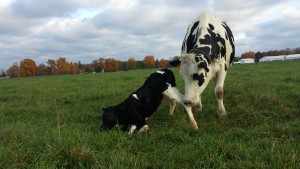 Who is your favorite cow?
It's so hard to pick just one cow who is my favorite! But if I had to choose, it would be 2713, more commonly referred to as 'Rita'. She is a Holstein that is almost totally white, and is a big lover to people, but is definitely the boss lady. She loves to be petted and scratched and is one of the oldest cows in our herd. She has had a few daughters that inherited her personality and are great producers just like her. She just recently had a calf on my birthday that I was so excited about, and we now share a name!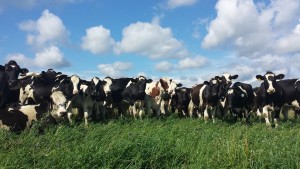 What are 3 things you want consumers to know about the dairy industry?
Don't believe all the bad information you read. If you have questions, ask one of the people who live and breathe dairy cows!
All milk is antibiotic free! Every farm goes to great lengths to make sure milk that is purchased does not include antibiotics. There are fines for the farmer if this rule is not followed.
We really do love our cows!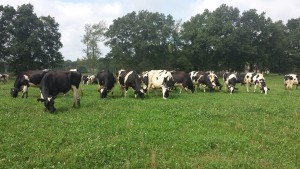 What advice would you give someone interested in the dairy industry?
If you are really interested and eager to learn, there are always people willing to help. Coming from a background with no cattle experience, my schooling helped me a lot, but even after I graduated, I do a lot of research on my own to learn as much as I can and I ask a lot of questions. So if you don't have any prior knowledge of dairy, definitely do not be discouraged. We are always looking for more people who love and care for cows!
---
Cheyenne, thank you for sharing your story!
Entire Women in Dairy Series:
Comments
comments