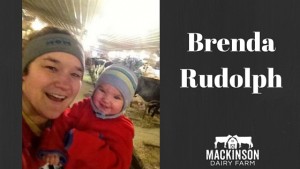 Today, we head to Little Falls, Minnesota and get the opportunity to hear from Brenda Rudolph. Brenda and her husband of 10 years, Nate, have two kids Everett (6) and Vivian (11 months). Brenda did not grow up on a dairy farm; instead she grew up on a lake. During high school and college, Brenda worked on her uncle's dairy farm. This experience, taught her how to drive a tractor and milk cows. Little did she know that her future life would revolve around dairy cows. Today, Brenda and Nate work side by side everyday milking 85 Holstein cows in Central Minnesota. Nathan is the 5th generation milking cows on their farm. Brenda is 4-H volunteer, attends MOPS, Dairy Farmers of America YC Central Area Steering Committee, National Milk YC Advisory Council, Dairy Farm Mom Network (where we met), volunteer at Little Falls Arts and Craft Fair, volunteers at Bowlus Fun Day and a volunteer at Linden Hill Christmas at the Mansions.
---
Brenda's Story in her own words:
When did you start farming?
Nathan was in a partnership with his parents, in 2009 we moved into the farm house, in 2011 we purchased the farm from his parents. I worked off farm until Jan 2014. While I was working off farm I would help with evening milkings and everything in between. I would get home from work change into barn clothes and head outside to the barn. We milk 85 cows in a tie stall barn switching out 35 cows that are on sand in a free stall addition. We plant 230 acres of corn silage. We sell our milk to Dairy Farmers of America our milk is made into cheese. I have a very active role on our dairy, I milk in the mornings and some evenings, I do fieldwork, the book work and take care of calves. Nathan and I make all and every decision together. We are partners.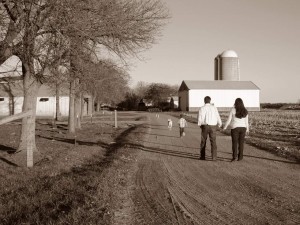 What do you want consumers to know about the dairy products you produce?
We love our cows, we love our family and we love what we do.
What is the most rewarding part of production agriculture? Challenging?
The most challenging part of dairy farming besides finances is guilt. Guilt I am not spending enough "quality" time with my children, guilt that naps are taken in tractors, bedtime stories are told in the barn the list is endless. Guilt that we are hardly on time for anything. The most rewarding is I am with my children every day! I am able to be with my husband every day, spring planting comes and we can see the fruits of our labor everyday grow into something. We can see the benefits of our hard work on a daily basis. My children have space to run and play. Everett gets on the bus at home and he gets off the bus at home.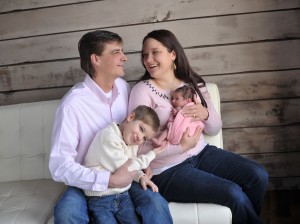 Describe a typical/average day for you.
A typical day right during the school year is trying to make it to the bus on time in the mornings. Once Everett is on the bus Nathan, Vivian and I head to the barn. Before we start milking we have a cup of coffee or two and discuss what the plan is for the day.
Nate and I milk the switch cows together and then he goes and starts feeding and I finish milking the rest of the barn. When I am done milking Vivian and I head to the calf barn and check on babies. We have an automatic calf feeder so I check on feedings, wash the feeder, I walk through the pen to make sure everyone is up and about. We do some bonding. After the calf barn, I go check on Nate to see where he is at with feeding. We then head to the house for lunch. After lunch depends on what needs to be done and what season we are in. Evening milkings we have a part-time high schooler come help out. The challenge for evenings is getting Everett to bed on time on school nights.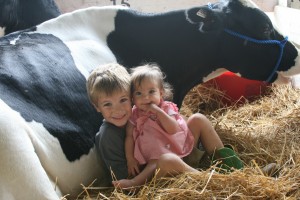 Who is your favorite cow?
My favorite cow is 304. 304 is Everett's cow. Watching Everett with 304 amazes me. The bond that the two share is one of a kind. She trusts Everett and Everett trusts her. He started showing her as a calf when he was only 3 years old. She was our very first animal that we took to the fair. Neither Nathan nor I were in 4-H or showed cattle, it's about getting the kids in the ring for us.
What do you envision the future of the dairy industry looking like?
I see more transparency in the dairy industry and more farmers wanting and willing to tell their story with confidence. People want to know how milk is produced, they just don't know and they want to know. It is our job as dairy farmers to answer the questions not in defense but in telling our story. Every farm is different, but every dairy farmer is the same in loving the land, cows and family.
---
Brenda, thank you for sharing your story with us! Make sure you follow Brenda on Social Media through her blog, Raising a Farmer; "like" her Facebook Page and follow along on Twitter.
Entire Women in Dairy Series:
Comments
comments