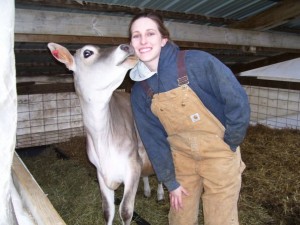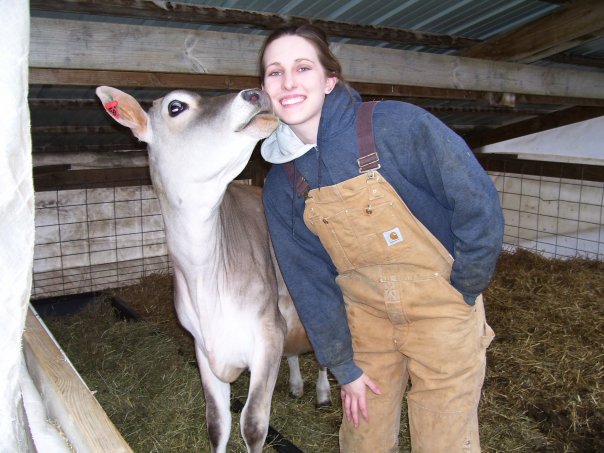 Today, we have the opportunity to travel up to the "thumb" of Michigan to meet Ashley Kennedy from Bad Axe, Michigan. Ashley grew up on her family's dairy farm watching her grandparents and parents work as a team. Today, she is lucky enough to work with her parents as a part owner on the same farm. Ashley and her husband live on the farm and are expecting their first child this winter. After graduating from high school, she attended Michigan State University where she got her Dairy Management short course degree and Bachelor's in Animal Science. All through high school and college Ashley was extremely involved in organizations and associations. She was in FFA and capped off this career by receiving her American Degree! Ashley was in 4-H, competed in dairy judging nationally in FFA, 4-H, Post-Secondary and Collegiate levels. She was active in the National Agri-Marketing Association, Collegiate Farm Bureau, Collegiate FFA, Dairy Club and Block and Bridle. Today, Ashley and her husband are involved in Farm Bureau on a State and local level. In their little spare time, they love watching movies together, reading and are finishing a huge renovation of their 100 year old farmhouse that they have done with a TON of help from their families.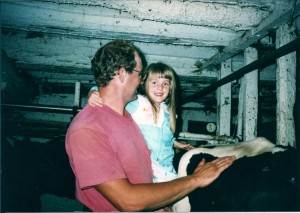 ---
Ashley's Story in her own words:
When did you start farming?
Although I grew up on my family's farm, I have not always loved the farm like I do today. When I was a kid the farm seriously impeded my social schedule and I made my distaste very known in the form of toddler temper tantrums whenever we had to go home and milk cows. Fast forward about 10 years and I began to see the beauty in farming. After college, I decided to get some off-farm experience by having a couple of jobs in the industry. It took me less than 2 years to figure out I am a terrible employee and I needed a different challenge. In 2011 I became a half partner with my parents in the dairy farm and I have been the herd manager since. I currently oversee anything that has to do with the animals.
As a millennial and soon to be mom what do you want to share with others about the dairy industry?
As a millennial and a future mom I want to share that we shop in the same grocery store you do. We buy milk from the same cooler as you do. Trust me; we want to feed our families the same nutritious product that you do. Whether conventional, organic, all natural, whatever; we take producing a safe, healthy, wholesome product seriously. Making this amazing product starts with the cows. When we take exceptional care of our cows, they made an exceptional product.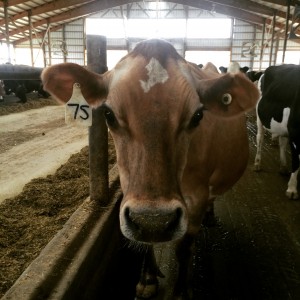 Who is your favorite cow?
This is easy. My dad and husband and probably mom will cringe but I love Jerseys. They are funny, spunky and great little cows. My favorite cow is a beauty named Bambi. She is over 10 years old and is more of a pet than a cow. She was the first Jersey born on the farm and she became one of my first show cows. I absolutely love this cow and she has become a farm mascot.
What is the most rewarding part of production agriculture? Challenging?
For me, the most rewarding part is knowing I am carrying on a family legacy. There are not very many people that can say, they are working to continue something their grandparents started. I cannot wait to share this love with my kids too. Even if they decide not to farm, a farm is a beautiful place to raise a family. I also love the challenge. No day is the same, each cow is different and there is always a new challenge. That keeps me satisfied and happy.
The most challenging part is the business side of it. We are not just cow caretakers anymore. With the volatility that is the milk market you have to make smart, business decisions. Luckily, I enjoy business and have found the dairy industry to be very stressful at times but also an intellectual challenge.
What is your favorite dairy product?
I would say my favorite dairy product is cheese. But in reality we are huge dairy eaters! We always have gallons of milk, lots of cheese, sour cream, cream cheese, yogurt and Fairlife (my husband is lactose intolerant) milk in our fridge.
---
Ashley, thank you for sharing your story with us! Make sure you follow the Messy Kennedy Blog, Dairy Innovation Blog Facebook Page and Ashley on Twitter and Instagram!
Entire Women in Dairy Series:
Comments
comments