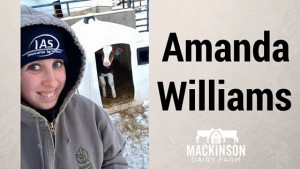 Welcome Amanda Williams to our Women in Dairy series.  Amanda is a dairy nutritionist who runs a small dairy farm with her husband and grandparents, today she shares her story.
---
Amanda's Story in her own words:
Hi, my name is Amanda Williams.  I am 25 years old and from Cuba City.  I grew up on a cash crop and small beef cow/calf operation just outside of Cuba City with my parents and two sisters, I am the middle child.  Currently, I live in Cuba City with my husband, Scott, and our three dogs, Trixie, Taz, and Tipsy.  We also have two horses.  Our family will be growing the end of March with the addition of our first child. My interest in the dairy industry stemmed from my grandparents.  They farmed just a half mile up the road and had a herd of 50 registered Holsteins.  I spent a lot of time in the barn when I was young and started showing cattle as soon as I was old enough for 4-H.  I bought my first heifer at the age of 12 and spent the summer stacking little bales of hay to pay for her.  My herd grew from there. In high school, I was very involved with FFA along with still being in 4-H.  I participated in dairy judging in FFA, making it to state all four years.  I was also a member of the Lafayette County Junior Holsteins, where I participated in dairy bowl.  I also showed all the way through school and still do.  I was president of both my FFA and 4-H clubs and was an officer of Junior Holsteins.  I am now on the Lafayette County Holstein board.  My first semester of college, I attended UW Madison and then transferred to UW Platteville to be closer to the farm.  I graduated from Platteville in December of 2012 with an Animal Science major with a double emphasis in Dairy Science and Ag business.  In April of 2012, my grandparents and I had a herd dispersal and I sold all of my cows and kept a few heifers around to show.  That gave me my first real opportunity to work off the farm because I had always wanted to be around to help my Grandparents.  I interned with Innovative Ag Services (IAS) in the feed department that summer.  I was working with the sales team.  They had lost two of their sales people that summer and they asked me to stay on part time when I went back to school for my last semester and that ultimately lead me into a full time job after graduation.  I did sales and nutrition work for dairy and beef cattle.  In July of 2014, I left IAS to work for Economy Feed Mill in Bloomington doing dairy and beef work still.  Meanwhile, my grandparents went back milking a half barn of cows and I was able to keep my show heifers when they freshened. I help them while working at Economy.  Scott is an Ag mechanic by trade and works for another dairy while helping my grandparents and me.  We have started buying a few more cows and look forward to taking over the farm full time in the future.  We milk in a tie stall barn and our milk is sold to Stockton Cheese (Brewster Diary).  We focus on breeding high type and high production cows.  We work very closely with our vet and dabble in some flush and IVF work.  We also run about 350 acres of crop ground, raising alfalfa, corn, soybeans, and some oats.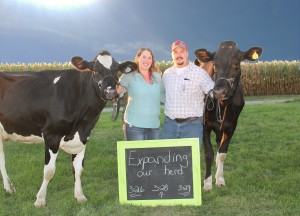 What is your role in the dairy industry?
From an industry standpoint, I couldn't ask for a better job.  When we sold the cows in 2012, I knew I was staying in the dairy industry.  I wanted to be on farms working with cows everyday still.  I found that in the feed industry.  I love helping farmers troubleshoot and problem solve.  I celebrate their wins with them and figure out how to fix things when things go wrong.  It has opened my eyes to how other farms do things and truly taught me that is no right or wrong way to dairy farm.  You have to do what works for you and your operation.
When did you start farming?
I would say that I officially started farming in college.  That is when I took over some of the decision making and took on a lot more responsibility.  I may not have been born on a dairy farm but I was born into dairy farming. I am currently herds person and soon will be transition into part owner as well.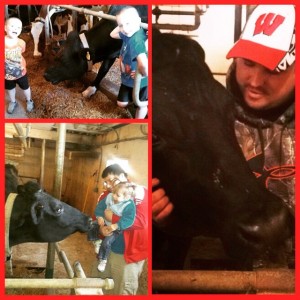 What are 3 things you want consumers to know about the dairy products you produce?
First of all, I want to consumers to know how much we as dairy farmers love and care for our animals. They aren't going to take care of us if we don't take care of them.  I call our cows my girls and they get the best treatment I can, many times sacrificing my own comfort and needs for theirs.  I can't count how many nights I have sat up all night with cows calving to make sure everything goes ok.
All farmers are different. We may not all have the same practices/ ideas, but we all do what works for us and our operation.
And thirdly, as of late I would like to address the antibiotic topic and just encourage consumers to ask a farmer. Ask a farmer how and why they use antibiotics on their farms.  Ask them about their practices to get a true understanding of why we do what we do. Do your research and know about the testing that milk, meat, and eggs go through before they reach store shelves.
What is the most rewarding part of production agriculture? Challenging?
To me, the most rewarding part of production agriculture is having happy girls that I know are producing a healthy product for consumers.  I'll also add that being part of the registered industry, it is truly rewarding to me to see my breeding decisions work out and my cows do well.  Since our herd dispersal in 2012, I have had many calls, cards, and Facebook messages/tags from people who bought cattle from us and they wanted to let us know how well they were doing, whether be classification score or production and longevity.  Nothing can quite warm your heart like people appreciating your hard work and the results they are getting.
Dairy farming isn't always sunshine and rainbows.  There are challenging days.  Things break, cows get sick, you have to sell cows.  It's the way of life.  The saying that "if you have livestock, you're going to have deadstock" has always been drilled into my head.  You have to take the good with bad and not let yourself get too down."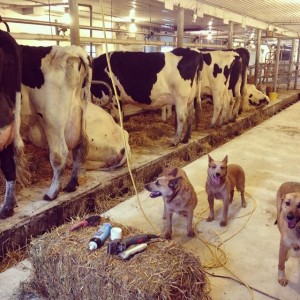 What is your favorite dairy product?
My favorite dairy product is definitely cheese!  I don't necessarily have a favorite recipe with cheese because I believe every recipe should include cheese! You can never have too much!
Who is your favorite cow?
My favorite breed is the Holstein cow; it's what I grew up with and where my passion started.
My favorite cow is Jasmine.  I showed her as a calf, heifer, and a few times as a cow. I think she's everyone's favorite.  She stands right next to the milk house door and thinks she is more of a dog then cow.   She loves her neck and ears scratched.  She is the one cow a trust to entertain my nieces and nephews. She was also the first cow that I owned to go VG 86 as a two year old.  We IVF'ed her this summer and I look forward to more daughters out of her next year!
---
Amanda, thank you for sharing your story with us!  Head over to Instagram and following Amanda.
Entire Women in Dairy Series:
Comments
comments