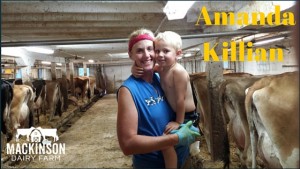 Today, Amanda Killian from Blair, Wisconsin shares her story with us.  Amanda grew up on a dairy farm in southeast Minnesota but became a Wisconsin girl when her family moved there when she was 17. Amanda and her husband, Steve and have five children: Sam (14), Christian (12), Olivia (9), Bo (7), and Jack (4).  Amanda says that their children are the lights of their life and they could have never asked for such blessings!
Dirt-Road Holsteins milks 75 cows and has around 120 head of young stock and bulls. They raise feed for their cows on the farm's 300 acres and also graze the cows on pasture from April to November. Their vision for the farm has come to fruition as they have been able to breed the herd they both dreamed about.  Dirt-Road Holsteins has sold embryos around the world and bulls to the A.I. industry.
Amanda has been a delegate for AgSource Cooperative for several years, served on the parent council at school, and is a former president of the Wisconsin Jersey Breeders Association. Along with farming, Amanda's passions include horseback riding, cooking, coaching basketball and maybe a little wine. And chocolate!
---
Amanda's Story in her own words:
When did you start farming?
I grew up on a farm with a mom that was a single farmer/mother most of my childhood.  I spent most of my life in the barn from the time I was very little and there was never a question that I would be involved with animals for the rest of my life.
When I graduated high school, I planned to attend UW-River Falls that fall in the pre-veterinary program.  Being a vet had been my plan for as long as I can remember.  However, my mom got sick that summer between graduation and college and as fall grew near I didn't feel like I could leave the farm so I stayed home to help.  The next few years I worked various jobs while helping to keep things going at the farm.  I ran a relief milking business, waited tables, and worked for a large dairy milking and feeding calves.
At 21, I met the man who would be my future husband at the farm business class at a local tech school.  Once we started dating it was clear that this was the guy for me.  I like to joke that I married the first man I met that could outwork me.  Seriously though, he is the most giving and selfless person I have ever met and when he asked me to marry him just three months after we had started dating there was no question in my mind.  As we started to make plans for our life together, we agreed that we both desired to have a small family farm with registered cattle that we hope we would one day be able to market genetics from.   Steve and I were married in 2000 and bought my mother's farm that same year. Our first herd of cows was made up of the grade cattle we had bought from my mom and a few registered jerseys we had purchased along with a few Holsteins that Steve brought from his home farm.  Years of careful matings and the grace of God turned that small bunch of cows into a herd that is supporting this family as we all grow along with it. Our Holstein herd, Dirt-Road Holsteins, has sold genetics around the world through embryo sales and bulls sold to the A.I. industry and the Jersey herd has been one of the highest producing herds of "Little brown cows" in the state for several years.
My husband and I share most roles on the farm.  I do the majority of the book work and he does most of the TMR feeding but other than that we pretty much do whatever we need to.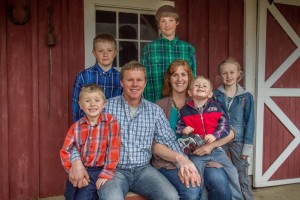 What is your favorite dairy product?
This has to be cheese!  Love this recipe, Red Lobster Shrimp Pasta!
Who is your favorite cow?
Oh man, that's like asking me to choose my favorite child!  There have been so many great ones and I love different ones for different reasons.  Castlehom T Carlo has to rank up there because she was the start of our "C" family which has done so much for this farm.  We have both Holsteins and Jerseys and they both have things you love about them.  We'll always have both.
What are 3 things you want consumers to know about the dairy products you produce?
The industry has so many passionate and compassionate people.
I watch my cattle with the same loving eye that I do my children.
If I have to treat an animal with antibiotics please know that it will never reach your food. If the treated animal is a cow that is milking we discard her milk until there is no trace of antibiotics being passed through her milk.   Also, animals sold for meat can have no antibiotics in their systems.
As a Mom what do you want to share with others about the dairy industry?
I am so grateful that I am able to raise my family and live my life on a dairy farm.  Days can be long and many are quite challenging, but God made me for this job and I love it.
What is the most rewarding part of production agriculture? Challenging?
The circle of life.  Planning which sire to use for each cow, waiting with anticipation for the calf to be born, that wonderful moment when you first see that new addition to the farm and then watching them grow and become mothers themselves.  I love taking care of the calves and cows and that great feeling at the end of a long day that every animal is well cared for and happy.  The most challenging part is all of the things that get in the way of me being able to do my best for them.  The bad weather, the broken machine, the lack of money sometimes and not enough hours in the day all of the time, and the fact that we are human and get tired and discouraged from all of the above.
Describe a typical/average day for you.
Wow, days are so different. Some days I farm all day and some days I take four kids for tandem dentist appointments and am gone for hours.  I feel like I mostly walk around trying to help where I am needed most.  In general, my morning starts out with getting 5 kids up and on the bus, which should be an Olympic sport. Then, it's feeding calves and talking to my husband about which direction we are heading that day.  I help with field work when it's cropping season and do a lot of the maintenance and repairs on our machinery.  I also do a lot of the caring for sick animals and do the breeding and embryo implanting on the farm.  Some days there is manure to clean, fence to fix, animal registrations and paperwork to do, or parts to be gotten.  It's never boring! Oh, and laundry- lots of laundry!!
What do you envision the future of the dairy industry looking like?
I am encouraged when I meet young people starting in the business and I see their resolve and excitement.  Though getting started in dairying is becoming more challenging there are still those out there that are called to it and are willing to make the sacrifices to make it happen.  It will continue to take a sharp mind and callused hands as we deal with volatile markets and change in what consumers want from us.  Through it all, the future is always exciting.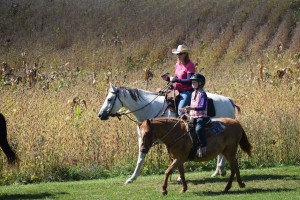 ---
Amanda, thank you for sharing your story with us!  Make sure you check out their Facebook Page, Dirt Road Holsteins!
Entire Women in Dairy Series:
Comments
comments