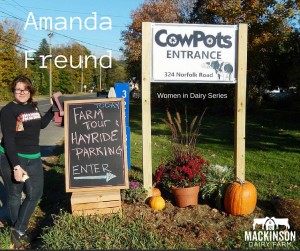 Since graduating from Cornell University in 2006 with a BS in Applied Economics and minor in International Agriculture, Amanda has worked for a Congresswoman providing constituent services, as a grassroots coordinator for dairy policy with the CT Farm Bureau, and served 2 years in Zambia as a Peace Corps Volunteer. In 2014, she returned to her family farm full-time where is the 3rd generation (with her brother, sister and cousin's husband). Amanda grew up on the farm and participated in 4-H and FFA. Today, Amanda is actively involved with the Agri-Mark Young Cooperators (their dairy cooperative) and the CT Farm Bureau Young Farmers Committee. It has been critical to their farm's sustainability to diversify and they have formed three separate businesses Freund's Farm Inc., Freund's Farm Market & Bakery and CowPots with Amanda being involved in all 3!
---
Amanda's Story in her own words:
What is your role in the dairy industry?
I spend a majority of my time working in our CowPots factory where we have actually turned our cows manure into a value added, biodegradable pot for gardeners to start seeds in. This business allows us to diversify our production and has opened us up to so many unique opportunities like being featured on the TV show, Dirty Jobs with Mike Rowe. We've participated in greenhouse and farming trade shows all over the country, allowing us to promote a dairy farm business outside of the dairy industry.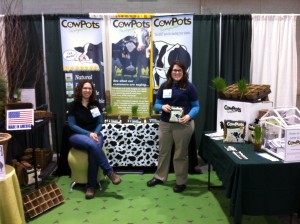 What are 3 things you want consumers to know about the dairy products you produce?
The three things that I want consumers to know about dairy:
Bigger is not bad. There are a lot of people to feed in our communities and in our country and they depend on farms that can produce that food, and at an affordable price. Our farm produces 2,200 gallons of milk every day. We need to appreciate that every farm, big and small, organic and conventional, has an important role to play for our country's food production.
We all have a deep commitment to being stewards of our land. In the northwest corner of CT there is NOT an infinite amount of farmland available. This means that we need to invest in the land that we do have to ensure that it is healthy and productive year after year. On our farm this involves: crop rotation, no till cropping, cover crops and biannual soil tests. Collectively with other farms in our town we have formed a cooperative, the Canaan Valley Agriculture Cooperative to collectively manage the manure produced on our farms and making sure that we apply those nutrients in an environmentally sound way.
We take great pride in producing a healthy, nutritious and safe product; milk! We can confidently drink the milk we produce on our farm every day and we want you to feel confident about it as well. If you have questions about where your milk comes from, visit; http://whereismymilkfrom.com/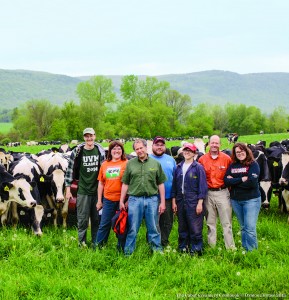 What is your favorite dairy product?
Yogurt! Specifically, Cabot plain greek yogurt (whole)! It's like ice cream without the sugar 🙂 A family favorite that was recently published in the Cabot Creamery cookbook is Sweet Corn Pudding. You can substitute the sour cream with plain yogurt for a lower fat alternative:
What is the most rewarding part of production agriculture? Challenging?
I have the same answer for what is the most rewarding and the most challenging aspect of being involved in production agriculture: working with family! I am fortunate to start each day with a cup of coffee next to my dad in our old farm house. We start and finish our day together. Work has a different meaning when you are doing it with the people you love. However, it can also be incredibly challenging to find the balance of working for your 'manager' vs. working for your dad. Basic business conversations can become heated and emotional because you both care so much. And then you add an uncle, mother, brother, sister and cousin, and let's just say, it gets complicated! With that being said, we are optimistic about the future of agriculture and farming. My siblings, cousin and I have each graduated college and chosen to continue our family's legacy and tradition. We have a lot to learn about managing the three businesses, but I think we'll be bringing in the millennial attitude while staying true to our family's farming mission: To run a profitable dairy open to the possibility of diversification, operating in an ecologically aware environment, practicing proper animal handling, and respecting our neighbors and community.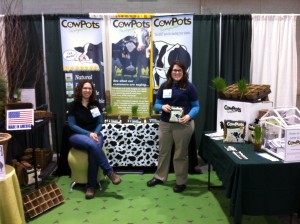 What are other roles and/or opportunities available to those in the dairy industry?
Being involved in the dairy industry doesn't have to be just about milk (although that's a very important part)! Thinking outside the box is what has allowed us to be a successful farming family. There are tremendous opportunities using creative thinking for manure management, soil science and water conservation. Our 3rd business, Freund's Farm Market has a key role in engaging consumers and customers with what we do as a dairy farm. With the average person being 3 generations removed from food production, providing people a point of access to seeing an operating farm is critical.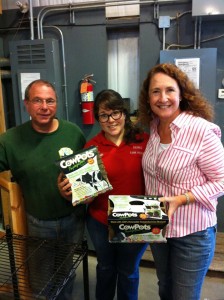 What do you envision the future of the dairy industry looking like?
Just this spring we broke ground to build a brand new dairy cow barn (milk 270 cows), which will include five Lely robotic milkers. This new facility will allow us to better meet our cows' needs with improved ventilation, air quality, waterbeds, clean alleys, less standing and waiting time to be milked and even back scratchers! I've heard the expression that as farmers we don't take the milk from the cows, they give it to us. Dairy farmers know that only a comfortable, happy cow is going to give her milk. I think that we as farmers are going to get even better at providing for our cows and understanding their needs. Additionally, all of our cows have been outfitted with rumination collars, allowing us to track both their chewing habits and their activity levels. We can detect heats and illnesses even earlier. Having access to this kind of information will keep our animals healthier and allow us to be even better farmers. This is just one of the new technologies being adopted by dairy farms and the dairy industry.
---
Amanda, thank you for sharing your story with us! Make sure you follow Amanda and Cow Pots online:
Entire Women in Dairy Series:
Comments
comments