Today, Alba Alvarez Nuñez from Vegadeo, Asturias, España who is 27 shares her story with us. Alba is an engineer in agriculture and works for ABS and SPRAYFO. She also works for Holstein Spain and shows cows all across Europe. Alba's parents have a farm, but she does not work there. Her hobbies include going to different cattle shows, seeing good cows and getting to know people!
——————————————————————————————————————-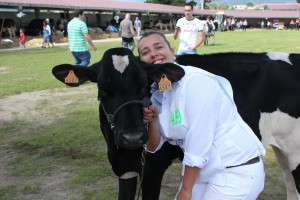 Alba's Story in her own words:
Who is your favorite cow?
My favorite cow is Planillo September Sara, because I started working with her five years ago. Sara was special; she was a really good cow. She was a special cow for Planillo Holsteins, some of her show winnings include:
Grand Champion at European Dairy Show 2008, 2009
Reserve Grand Champion Spain National Show 2009
Reserve Grand Champion Spanish National show 2013
Mother of 7 VG 2yr
Mother of Junior Champion at Spanish National Show 2010, Planillo Goldwyn Sarica
Mother of Junior Champion at Italian National Show 2012, Portea Goldwyn Sira
She had produced over 100,000 kg of milk lifetime.
She is scored EX93 5E GMD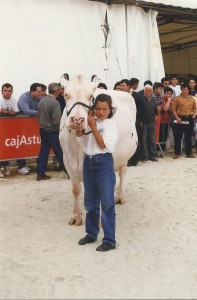 What are 3 things you want consumers to know about the dairy industry?
The milk is good for the health
The dairy farm is a way of being able to live very worthy
The ranchers work every day of the year, it is not a work, it is a passion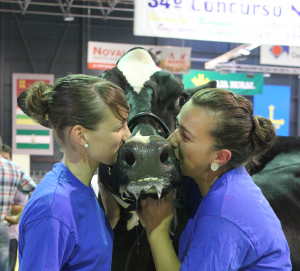 Describe a typical/average day for you.
In my life there are two typical days, when I work with ABS and SPRAYFO I visit between 6 and 7 farms. I speak with many people only about cows, see different animals and I try to find the solution to the problems of my clients. I can do 300/800 km in car, I usually never go home to eat, because I eat with my clients. After work, I come to home and go to the gym or enjoy a beer with friends. When I work with Holstein Spain, I am at show. There, I sleep 3/5 hours, not more and am was with the cows all time.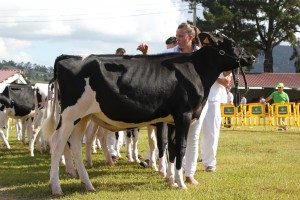 What do you envision the future of the dairy industry looking like?
Now, it is a very difficult time in Spain because the milk price (price paid to the dairy farms) is scarcely 0.30 Euros. I calculate that in next year they will close 30 % of the farms. Many farms know that they have to do things very well, to be able to continue. They know that you have to work well with the genetics, the nutrition, the managing…as it is not possible to live alone of the genetics.
---
Alba, thank you for taking time to share your story with us!
Entire Women in Dairy Series:
Comments
comments