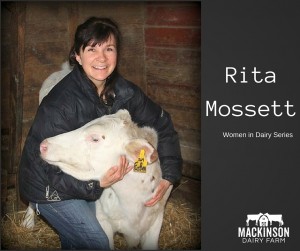 Today, we head north and get the opportunity to visit with Rita Mossett from Linton, North Dakota. Rita grew up on a dairy farm. Rita has a business degree from Bismarck State College and worked for The Bismarck Tribune during college and The 1st National Bank in Linton during their first year of marriage till they bought the dairy farm in 1983. Rita, her husband and their four children built their dairy to where it is today! They milk around 90 cows in addition to farming over 2000 acres of crop land (barley, winter wheat, soybeans, spring wheat, sunflowers, corn and alfalfa)! Rita was a 4-H leader for 10 years while her children were involved in this great organization for a combined 18 years. On her free time, you will Rita tending to her yard, working in flower/vegetable garden or taking a few pictures. She is also a very proud Grandma and loves spending time with family & friends.
---
Rita's Story in her own words: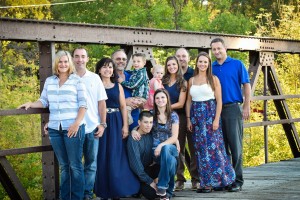 My family all has a part in our dairy farming yet when they come home to visit! They used to all have a big part but now days just play a smaller role being they all have their jobs elsewhere now days. My son and daughter-in-law and 2 grandchildren play a vital role with us yet. They farm with us so they are here on the farm just about every weekend all summer long!! My grandchildren's names are Paxton 4 years old and Stella 1 year old. My number 1 thing I love the most is my family then my animals!!!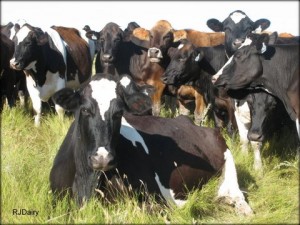 Who is your favorite cow?
I've had many favorite cows over the years! It's hard just to choose one! Suzie, Jessie, Betsy, Penny, Twinkles, ect. The list goes on & on! Right now I have to say it might be FurBee! FurBee is a Swedish Red/Holstein cross! My favorite breed is Ayrshire & Holstein Short Horn Breeds! When you put these two breeds together you get beautiful cows! Fancy looking cow, very uniform udders and great milk producers!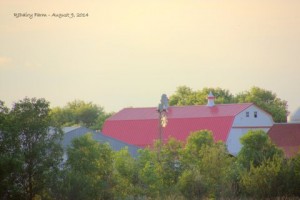 What are 3 things you want consumers to know about the dairy products you produce?
We as Dairy Farmers have a lot of passion for what we do & for the products we produce for your consumption!!
We take care of our animals the same way we take care of our family!
We love them and tend to them every day
Our commitment to our consumers is to provide high-quality milk & all dairy products to you!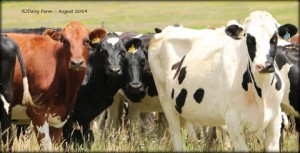 What is the most rewarding part of production agriculture? Challenging?
Most rewarding part of being a dairy farmer is being able to raise your own children & teaching them great work ethic on the farm! Working together & taking good care of the animals! I'm an advocate for Dairy as I have lots of passion for what I do! I'm chairperson for ND District 4 Midwest Dairy Association, Secretary for ND State Midwest Dairy Association, Vice Chair for ND Milk Producers Association, District 4 Chair for Milk Producers Association, Unit Delegate For ND Land 'O Lakes, Inc., I have coordinated our District Dairy/Ag Day for 25 years and I'm a member of Catholic Daughter's Association! The most challenging is the prices of our products & knowing if it will rain tomorrow to save our crops from drought!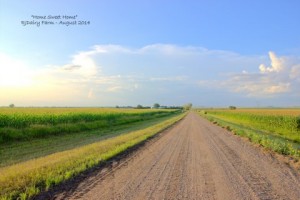 Describe a typical/average day for you.
An average day on a dairy farm for me is always busy. Never a boring moment on a dairy farm for everyone! The alarm goes off early, cows are gathered together in a lot to get ready for their milking duties! Milking the cows begins & finishes in 2 1/2 hours then it's time to feed my bottle calves & calves that drink milk from the buckets! Once calves are fed they all get fresh grain & hay! Then it is back to doing the cleanup in the milking barn! A scrub brush in one hand & hose with running water in the other hand! Gutters need to be scooped clean & walls & floors are cleaned! Cats & dogs are tended to next – milk & food is served to them as well as fresh water while my husband tends to our dairy cows needs! Then it is off to grab a quick breakfast as our field work is waiting! My husband will do the harvesting of the crop while I do all the trucking of the crop either back and forth to our farm or to the local elevators! At 5 pm we shut down and head back home to eat supper together and then it's back to the barn to milk our cows, tend to our calves, feed the cows, feed the calves, feed the farm cats and dogs again, wash up the walls and floors in the barn again. Tend to my daughters horses to make sure they have enough fresh water and food as well. Once these chores are finished, we are back to our field work again or to whatever work needs to be tended to yet! Work on a farm doesn't stop until 11 pm on summer nights! Lights go off at midnight!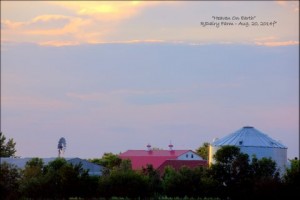 ---
Rita, thank you for sharing your story with us and for all you do to advocate for agriculture!
Entire Women in Dairy Series:
Comments
comments