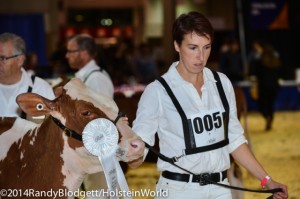 Today, we head to Ontario, Canada and Brianne Brown of Beslea Farms shares her story with us! Brianne and her husband Chris along with five children stay busy on their Jersey and Holstein Farm.
---
Brianne's Story in her own words:
I am a 4th generation dairy farmer and the first female to take over the family farm since my great grandfather started milking cows. I graduated in 2003 from the University of Guelph with a Bachelor's degree in Agricultural Science majoring in Animal science. Four years ago we sold the home and farm my Great, Great, Great Grandfather built in Shelburne, Ontario and moved four hours east to Yarker where land prices are much cheaper. I was a "lifer' in 4-H participating from the age of 10 to 21 and now I am a proud dairy club leader and provincial volunteer at our leadership camp that happens on March break for members from across the province ages 15-21. (This is where I met my husband in 1998 as a member). I LOVE showing cattle as a hobby (making money is a bonus); I read romance novels to relieve stress and take a "brain" break as I call it. I am a director on our county Holstein committee and I am a former member of our Canadian Jersey Association youth committee. I am actively learning and pursuing ways to become involved in Autism awareness and education as our youngest of 5 children was just diagnosed this past December.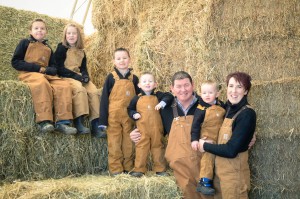 When did you start farming?
I started farming when my mom would lay me in a calf pen as a baby while she milked the cows. As an adolescent I would make my Dad wake me up at 5am on summer and weekend mornings so I could go to the barn with him. Even before I was really old enough to help I would just sit and watch him work. I knew from a very young age I was going to go to University for Agriculture and own the farm one day. I had two cousins and a brother and sister and luckily I was the only one that wanted to milk cows and be a dairy farmer for a living. In 2003 the year my husband and I graduated and got married we purchased his parents cows and quota and moved them to my family's farm and started farming with them. In 2009 at the age of 28 we owned the whole operation (and all the debt). I should note there was a significant family breakup that leads to my husband and I owning the farm at such a young age. Currently my husband and I own and operate Beslea Farms Ltd. which consists of a herd of 100 milk cows (220 head on the farm total) and 600 acres of cropping (400 of that is owned 200 is rented).
Who is your favorite cow?
I'm partial to two the Jersey and the Holstein. We have both breeds on the farm and I love them both for different reasons. I call the Jerseys the divas because their personalities are so strong and they are all individuals in their own right. The Holsteins are very easy going and keep their cool when the little brown ladies get all riled up. It's nice to have both in the barn.
What are 3 things you want consumers to know about the Canadian dairy products you produce?
Canadian Dairy products do not have hormones or antibiotics in them. It is impossible and illegal to ship milk with antibiotics in it and hormones are not available in Canada.
Canadian Dairy farmers have to pass strict quality control measures in order to ship milk in Canada. We produce some of the highest quality milk in the world.
Canada is in the process of implementing a program called ProAction which is an animal welfare program that will ensure all farms in Canada treat all dairy animals humanely and with respect.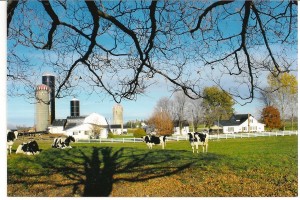 What is your favorite dairy product?
Without a doubt a good old fashioned glass of milk is by far my favorite. As for favorite recipe we have hosted many exchange students on our farm from all over the world and the one comment they all make is that I cook with a lot of cheese so if it has cheese in it then I make it!!
Describe a typical/average day for you.
Alarm goes off at 4:30am. My husband and I are in the barn at 5am with our hired girl. My husband feeds the cows while Nicole and I milk the cows. We are done milking by 7am. At this point I go to the house to get our 5 children ready for school; the bus comes at 8:20. Once the children are on the bus my husband and I finish chores in the barn and then attack the day's duties. My role on the farm consists of book keeping, all calf and heifer raising and reproduction management. I also drive the tractors and help with most of the field work. The children get home from school at 4pm. If it is a dance night for my daughter I head to dance class. If not, I am busy doing homework, helping with piano practicing or working with our 4 year old autistic son. Once the children are fed and settled, I typically head out to the barn to help finish up chores and return around 7:30 to put the kids to bed. If its harvest time I'm back out on a tractor for a few hours and then to bed to start all over again the next day and I wouldn't change it for the world!!
---
Brianne, thank you for sharing your story with us! Make sure you follow along with Beslea Farm through their Facebook Page and on Twitter!
Entire Women in Dairy Series:
Comments
comments