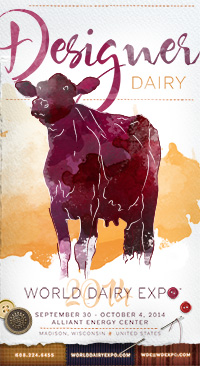 As someone involved in the dairy industry, being able to attend the World Dairy Expo (WDE) might be my favorite week of the year!  How to explain the World Dairy Expo to someone that has never been though?  Every year, dairy cattle and people that love them invade the Alliant Energy Center in Madison, WI.  According to their website,  in 2013 over 70,000 people made the trip.  This number includes over 2,905 registered international guests from 92 countries.  Don't forget about the 2,225 head of cattle from 36 states and seven provinces in Canada that competed in 7 different breed shows though either!
---
"Dairy Farmers are always working on continuous improvement, WDE is all about ideas, tools, conversation, education and connections that will help us get better at caring for our cows, people and land."
Laura Daniels is the owner of Heartwood Farm in WI.
"WDE is special for me because of the people I see every year.  It is a chance to exchange with people who have the same passion and I love the festive feeling that is everywhere on the grounds!"
Linda Ness is the Interim Strategic Communications Manager at Holstein Canada.
"People from all over the world come to this "main" dairy event like no other"
Jessica Gatton-Dixon is a dairy farmer in MO
Clearly, I'm not the only person that gets giddy when it comes to WDE but lets dive into why we all get excited.  
---
Quality of Cattle – The quality of dairy cattle you get the opportunity to see at the WDE is breath-taking.  In my opinion, this is THE dairy cattle show in the country, if not the world.  The elite cows are known on a first-name basis and people just want the opportunity to see Snickerdoodle, James Rose or Redrose firsthand.  I know I was that way with Snickerdoodle!  No, Snickerdoodle is not a cookie, she is an 8 time class winner at WDE and is undefeated in milking form. In other words, she may the best example in recorded history of what a Brown Swiss is. My husband (who grew up on a beef cattle farm) walked around the barns a few years ago, specifically looking for her.
Trade Show – If cows aren't your thing, maybe we can interest you in the trade show.  Make sure you have on comfortable walking shoes because you'll find the most modern dairy equipment and the latest dairy technology and innovations from over 850 top companies.  All companies in attendance are directly related to the dairy industry. A list of participating companies is here.
Continued Education – One is always learning and at the WDE there are seminars and virtual farm tours.  These seminars and virtual farm tours are free of charge to attendees.  Seminar topics include talking to consumers (which I hope to attend), employee management, the value of manure, and milking with robots.  While I have never attended a virtual farms tour, it sounds very interesting (you get to visit the farm from the comfort of your chair in Madison).  The tours are from dairies in 7 different states with each one excelling in a different area such as sustainability or adaptation of technology.
Friends – I have met so many amazing friends while showing cows. Unfortunately, I only get to see many of them once or twice a year.  Thanks to social media, we can stay connected and the conversations always pick up right where they left off.  There are numerous networking events held during the week from the Dairy Girl Network to the World Dairy Expo Tweetup which give everyone a chance to meet up in person!
In addition to the cows, trade show, and networking there are a few things I never miss during my time at WDE!  For example, the Badger Dairy Club grilled cheese stand!  I am not alone as I stand in a long line to get either my American or Swiss grilled cheese sandwich from the dairy club.  The second is the Bonnie Mohr exhibit.  Bonnie Mohr is my favorite artists as I have many of her prints around my home and office.  This year, I want to pick up a copy of her new book titled, Once There Where No Cows.  If you haven't seen her work, I encourage you to check it out here.
If you ever get the opportunity to attend the WDE, I encourage you to go"  It truly is an amazing event if you are interested in dairy cattle.  What is your favorite part of the World Dairy Expo?
Mary
Comments
comments