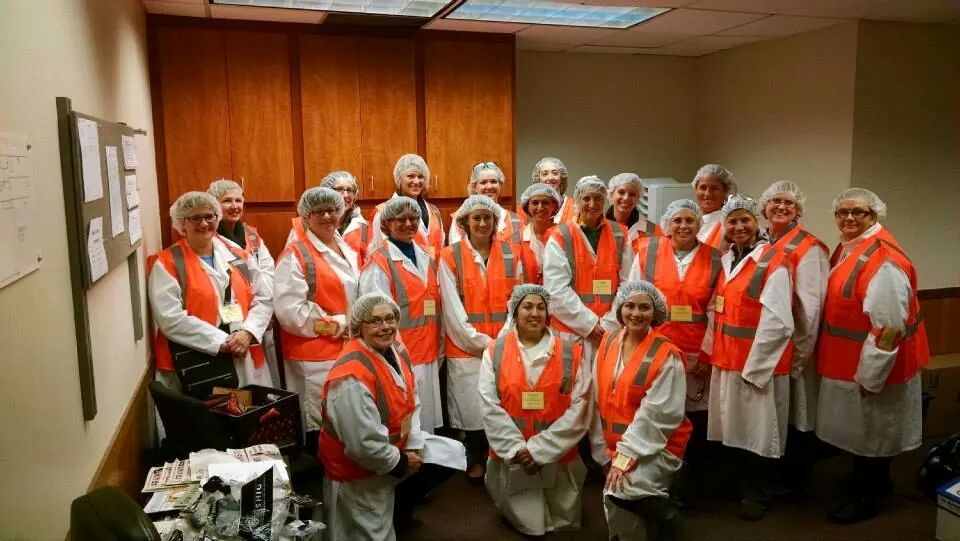 Illinois Farm Families is a program that invites moms from the Chicago area to visit family farms for a behind-the-scenes look at how their food is grown.  I have been fortunate to attend the dairy tour the last two years and I am proud to be involved with it.  Recently the program went on a dairy tour which consisted of visiting a fluid milk bottling plant and a dairy farm.  The bottling plant was interesting and educational but due to security and industry trade secrets, I was unable to take photos.
During the tour, a common concern heard from the City Moms (formerly Field Moms) was whether or not there are antibiotics in dairy products.  Yes, we use antibiotics on Mackinson Dairy when one of our animals is sick and we strictly adhere to the specific drugs withdrawal period.  However, as a consumer, you should never worry about antibiotics in your dairy products and I have a blog post telling you why (read more here).  Beyond Mackinson Dairy though, what does a typical dairy company like Prairie Farms do to ensure that the milk they purchase is antibiotic free?
To answer this question, I went straight to someone with knowledge on the topic – Julie Cole.  Julie is the Corporate Laboratory Supervisor at Prairie Farms.  Julie's responsibilities include managing the laboratory (in Carlinville, IL), training employees, doing equipment checks and working together with a field staff that supports their 752 dairy farmer patron owners.
Let's start from the beginning then. A third-party trucking company picks up our milk every other day.  When the truck driver is at our farm (and every other farm), they pull a sample of milk from our milk tank.  This sample will be tested at the processing plant. After the driver finishes his route, he heads to the Prairie Farms plant in Peoria, IL.  After pulling into the receiving bay, the driver takes the milk samples collected into the lab to be tested.  This is done before the tanker is unloaded. The technician then verifies that the load of milk is at or below 45 degrees F and then performs a smell test to make sure there is no abnormal odor.  Next is the Charm Test which tests for beta-lactams (broad class of antibiotics).  The test takes less than 10 minutes and determines if any of the milk waiting on the tanker contains antibiotics.  If the test comes back positive for antibiotics, the load is rejected and destroyed.  According to the FDA, in 2013 nearly 3.19 million tests were conducted on milk samples to detect antibiotic or other drug residues with less than 0.014% testing positive for traces of antibiotics.  Once the load of milk passes all the necessary tests, it is received into the holding silos.  Once received into the silos, it must be emptied within 72 hours but is typically emptied within 48 hours.  It is possible though, that a cow's milk complete its entire journey (from the farm to the plant to the store and finally to the consumer) all within 24 hours.  The industry standard is 48 hours and 100 miles.
Two additional tests are run on the producer and tanker samples: the plate test and butterfat test.  The standard plate test (SPC) is the measure of the total number of aerobic bacteria in the milk.  Results are known 48 hours after plating.  Prairie Farms monitors these results and will follow-up if a sample tests high.   The most common causes of a high SPC is dirty milking equipment, poor cooling and poor udder prep.  The second is the butterfat test which determines the fat content of the milk and cream.  This test is done to determine the price to be paid to the dairy farmer for the milk supplied.
Prairie Farms accepts only Grade A milk.  Grade A milk producers are issued a permit by their state and must be inspected (they focus on facilities and equipment repair and maintenance, cleaning and sanitation of milking equipment, milk cooling and storage requirements, water supply, as well as general housekeeping).  Grade B milk is milk that does not meet the Grade A standards and can only be used in cheese, butter and nonfat dry milk. More than 90% of all milk produced nationally is Grade A.
Milk that is not bottled as fluid milk is used somewhere in their system for other products such ice cream, dips, butter, etc.  A grade A facility undergoes audits and must be in compliance by several regulatory agencies (United States Department of Agriculture – USDA, State of Illinois, Food and Drug Administration – FDA and Safe Quality Food – SQF).  In addition to the standards set by those regulatory agencies, Prairie Farms has their own standards that they must meet and exceed.  This is all done to ensure that their customers are getting the highest quality product available!
Comments
comments