In late October my brothers and I waited patiently for the JcPenney and Sears catalog to arrive in the mail. Our time was spent playing with Ertl toys and probably fighting with each other. Ipads, the internet and social media, today's luxuries were items of the future. We would spend hours going through those catalogs. Taking turns, tried our patience. When it was finally our turn, we did not want to give it up. We would slowly go through, one glossy page at a time. Sometimes it took weeks to compile our list for "The Real Santa and Mrs. Claus". They knew us by name and even knew we had cows. Everyday the anticipation built, praying we made the "good" list and avoided being classified as "naughty". As a child, it seemed time was barely moving but Christmas Eve finally arrived.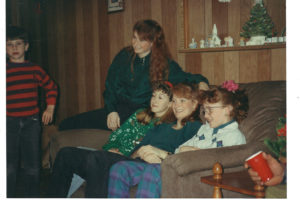 After the Mackinson Christmas at my Grandparents, we headed home. It was time to get ready for Santa. Every year, we left Santa a full plate of cookies, mini Snickers bars and a glass of milk. We did not forget the reindeer; we made sure they had carrots and hay. Going to sleep always proved difficult but what was more challenging was waiting for Dad to get home on Christmas morning after the cows were milked and chores were done. It was finally time to open the mountains of presents.
This time of year, I am constantly reminiscing of Christmas' past. I find myself telling stories, sharing our beliefs and customs with family members, friends our kids and nephews. Traditions are being passed from one generation to the next while new ones are intertwined. I catch myself standing back and watching the kids make sugar cookies with my Mom.
This was a tradition she started and one I wanted to carry on. It always happened when Dad was conveniently refereeing a basketball game. A long-time family friend, Cindy, would pick-up carryout Chinese before baking was in full swing.
Once everyone was positioned, it did not take long before flour and sprinkles were everywhere.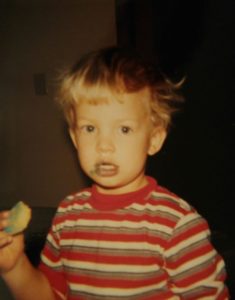 Quality control was taken very seriously because Santa could only get the best sugar cookies and gingerbread men!
While my children may still be too young to completely understand Christmas, I cannot help but melt when their eyes sparkle when Santa calls. The anticipation as they talk about the projects they have been working on at daycare but are not supposed to tell us about them because it is a surprise.
Or watching the eagerness they have when it is time to cut down the perfect Christmas tree. The amount of joy and excitement in their eyes is amazing.
The hustle and bustle will always be there as evident by our newsfeed. Social media allows us to constantly document our lives. We share how dreadful the lines at the store are because you forgot an ingredient or present. Beautiful pictures are taken, edited and shared with others so the world can witness your perfect tree, home or family. This Christmas, I'm going to put down my phone because I want to experience the pure joy and excitement of the Christmas season with my children.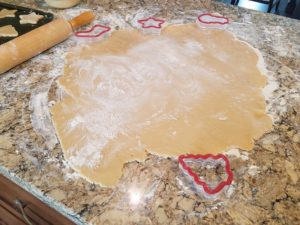 Sugar Cookies
2016-12-23 11:52:16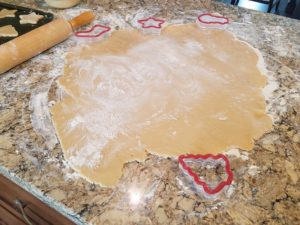 Ingredients
2 cups sugar
1 cup butter
1 cup sour cream
1 tsp baking powder
1 tsp salt
2 eggs
2 tsp baking soda
5 cups flour
Instructions
Creme sugar, salt and butter.
Add eggs, then sour cream. Set aside
Sift the dry ingredients together.
Combine and put in refrigerator overnight.
Bake 350 degrees for 6-8 minutes
Notes
Recipe makes approximately 3 dozen depending on the side of your cookies.
Mackinson Dairy Farm http://mackinsondairy.com/
Comments
comments