The cold spring has been reminiscent of warmer times, so I thought I would share with all you the story of Danza. Let's rewind to June of 2007 – I was a younger women then, working and going to school for my master's degree. I was one of two co-chairs for the 2008 National Ayrshire Convention that was to be held the next summer in Illinois, and we were heading to Ohio to do some promotional work.
At the Awards Banquet, I was introduced to a fellow Ayrshire breeder from Wisconsin who just so happened to share my birthday. I tend to find that I have a lot in common with fellow livestock folk, and so it's easy for us to lose track of time chatting. Before you know it, the 30 pack is empty and the sun is coming up! That morning I attended the National Sale before boarding my flight home. My new friend was insistent that I buy their heifer. Sometimes a little peer pressure is a good thing. Buying the heifer was the easy part though. Mustering up the courage (with the not so subtle effects of a Coors Light hangover, I knew I had to make a phone call and that it might be challenging. The first words out of my brother's mouth when he answered where: "What did you buy? And how much did you spend?" How. Did. He. Know?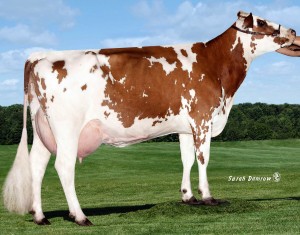 I purchased Grand-View Sakic Danza. Danza was an 8 month off-age (born October 8th) heifer. She was a nice heifer that had a great pedigree. The blue ribbons, however, eluded Danza and the judges always said, "she carried a little too much condition (aka she liked to eat)". In 2009, as a Senior 3 year old, Danza was classified Excellent 90 points making her an 8th generation excellent. Meaning her dam (mom) and 6 "moms" before that were all classified Excellent, a major accomplishment for any dairy cow. That fall, Danza and I got to walk on the colored shavings at World Dairy Expo for the first time (read more about World Dairy Expo here)! She placed 6th place out of 14th and it is a memory that I will never forget!
While at Expo, we noticed Danza wasn't milking out of her front left quarter. A trip and an ultrasound at the University of Wisconsin veterinary hospital confirmed that there was scar tissue blocking her teat canal. Danza was not in any pain but there was nothing we could do to fix the problem. We were crushed.
Just because we couldn't exhibit her anymore didn't mean that her days were numbered though. We continued to milk Danza and she entered our embryo transfer program. Trans Ova Genetics defines Embryo Transfer (ET) as an advanced reproductive technology and a progressive tool that can help you produce more offspring from an elite cow and which can extend the impact of outstanding cattle genetics. Through embryo transfer, calves like Devine, and Darcy were born! We are incredibly proud of Darcy (or as we call her, Little D) and her show ring accomplishments, as well as the fact that she is a 9th generation excellent.
On May 28, 2014; we sold Danza. This business decision was made as she was no longer producing any milk and we were unable to get her pregnant. In other words, Danza's expenses were greater than the revenue that she was generating. Was it an easy decision? Of course not. This was a decision that we had been agonizing over for many months. Before she left our farm, I went over and told her good-bye and thanked her for the memories.
Looking back, Danza hated attention and going to shows. She was so much happier at the feed bunk bossing around the other cows. (Yes, cows have a pecking order and Danza thought she was the Queen!) Because of Danza, I met and have become friends with her breeder, Tim Busch of Grand-View Ayrshires. Tim and his wife Katie, have a beautiful herd of Ayrshire cattle in Cecil, Wisconsin. Even though Danza no longer lives at Mackinson Dairy, we look forward to watching her daughters and granddaughters develop.
With tears in my eyes and as I type this, it's easy to for me to say that Danza was more than just a cow. I believe that every farmer has an animal(s) that tugs at their heart strings. If you don't believe me, read about Beverly Donovan and Francesca. Activists that claim that farmers don't care, obviously have not met farmers like Lisa, Stephanie, Jenni, Annaliese, Krista or Rebecca (I could go on forever).
In closing, Danza, thank you for all the memories.
~Mary
Comments
comments