On Sunday night, the kids and I head to the dairy farm to feed the baby calves. If they have not been to the farm in a few days, the first thing they do when we get to the calf barn is see if there any new calves and then determine if they are heifers (girls) or bulls (boys). The kids know exactly where to look and what parts/or lack of parts they are looking for. Sometimes, they have the amazing opportunity to watch a new calf being born in the maternity barn. In the last 35 years, I am not sure how many calves I have watched being born. Regardless, it is truly an amazing experience. One I appreciate so much more since becoming a Mother. Over the summer, we were at the right place at the right time and the kids got to watch several calves being born. and one special day in August; Mr E. got to witness three calves being born!
Within a few minutes of being born, the newborn calf is already trying to stand on its own and was born with teeth. I don't know about you but I could skip the entire human teething process. Why are my kids not sleeping through the night? Why are they cranky? Why do they have a snotty nose or not feeling well? Like an automatic "out of office reply", Teething. On our farm, we welcome around one hundred fifty calves throughout the year. When a calf is a few hours old whether it be a heifer or bull, we move the mother cow into the milking herd and the calf goes on a short gator ride to the calf barn. In the calf barn, the newborn calf is moved into a clean (individual) calf pen. The pens are 4 feet wide and 6 feet long, which allows them plenty of space to grow-up. Shortly after arriving at their new home, they are given colostrum and then vaccinated with CALF-GUARD® which aids in preventing diarrhea (scours).
If you visit our calf barn (and visitors are always welcome), you may notice we hardly ever have any bull calves. Are we this lucky and only have heifer calves? No. Several years ago, we made the decision to sell our bull calves at a few days old because we want to dedicate our resources to raising heifers, the next generation of our dairy farm. After we get a small (2-3) group of bulls, we sell them to a local family. The Miller Family raises them for about two years or until they reach market weight at 1400-1500 pounds and sold as beef steers.
I would be lying if I said we did not have any mature bulls on our farm. Currently, we have two breeding age bulls. Mature dairy bulls can be extremely dangerous and safety is our top concern when working with them. Krazy and Dreamer (our bulls) are responsible for breeding a (small) pre-selected group of heifers and mature cows. On our farm, we have over three hundred females and a majority of our herd is bred artificially. Our goal is to breed cows with strong feet and legs, and udders who can last generations. My brother Matt matches the dam (mother) to an ideal sire (father). Then we cross our fingers and wait approximately 283 days. To read more about this topic, please click here.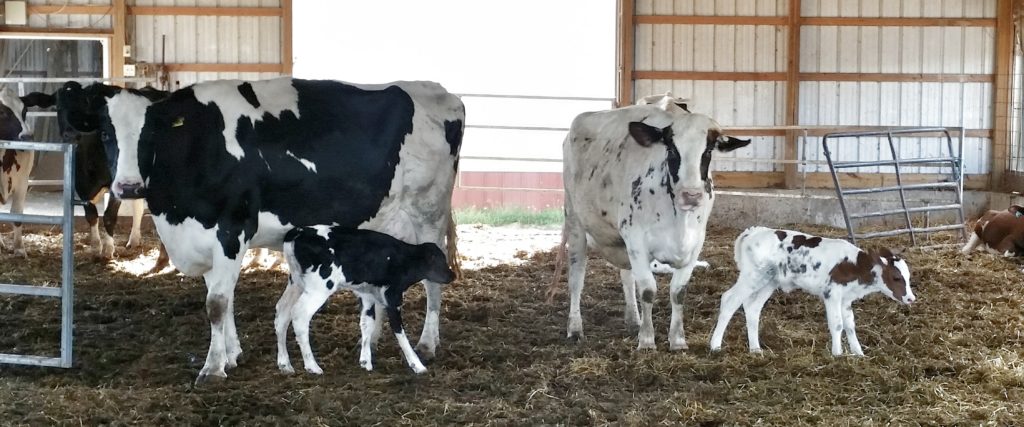 As a Mom, you may think this sounds horrible. How can you take a baby from its mother? This is a very popular topic of conversation from activists. We do this for three very good reasons.
When a newborn calf is born they have a very limited immune system. The newborn calf is moved into a clean calf pen where it is fed colostrum. Colostrum intake is critical for a newborn calf, as its immune system is not fully developed when born. Colostrum contains antibodies or immunoglobulins (essential proteins) necessary to provide the calf with protection from disease. The colostrum also provides the newborn calf with high amounts of important vitamins and minerals.
Safety of the calf. We do not want the newborn calf to get stepped on (etc.) by its mother or any of the other mama cows in the maternity barn.
Mackinson Dairy is a family dairy farm. Our farm is a business which must be profitable to support three families. We sell milk and if we do not have milk, we don't make any money.
Whether a heifer or bull calf is born at Mackinson Dairy, it is an exciting time because we get to see the result of our hard work and dedication. We get to see with our own two eyes if the mating was successful and hopefully it was because we are always trying to do tomorrow better than today.
As a consumer you may have questions and you may want to get to know us, the people and lives behind the product. For this reason our barn door is always open.
Comments
comments