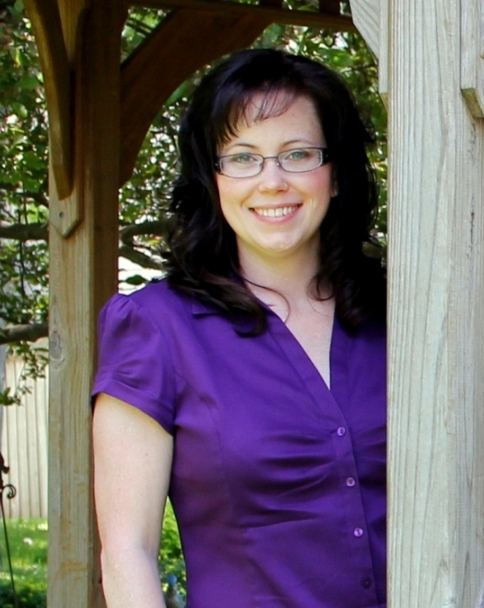 I would like to introduce Tara McIntosh (age 41) from Ontario, Canada!  Tara and Brad (age 44) have two teenage sons.  Brad is the dairy farmer and their operation is on the farm that he grew up on!  Brad was in the barn and helping milk at age 6 and always knew he always wanted to be a dairy farmer.  Brad's father, who is in his 70's, still comes out almost every morning and night to help with chores.  Currently they are milking 43 Registered Holstein cows in a tie stall barn.  Milk from their cows is sold to Dairy Farmers of Ontario.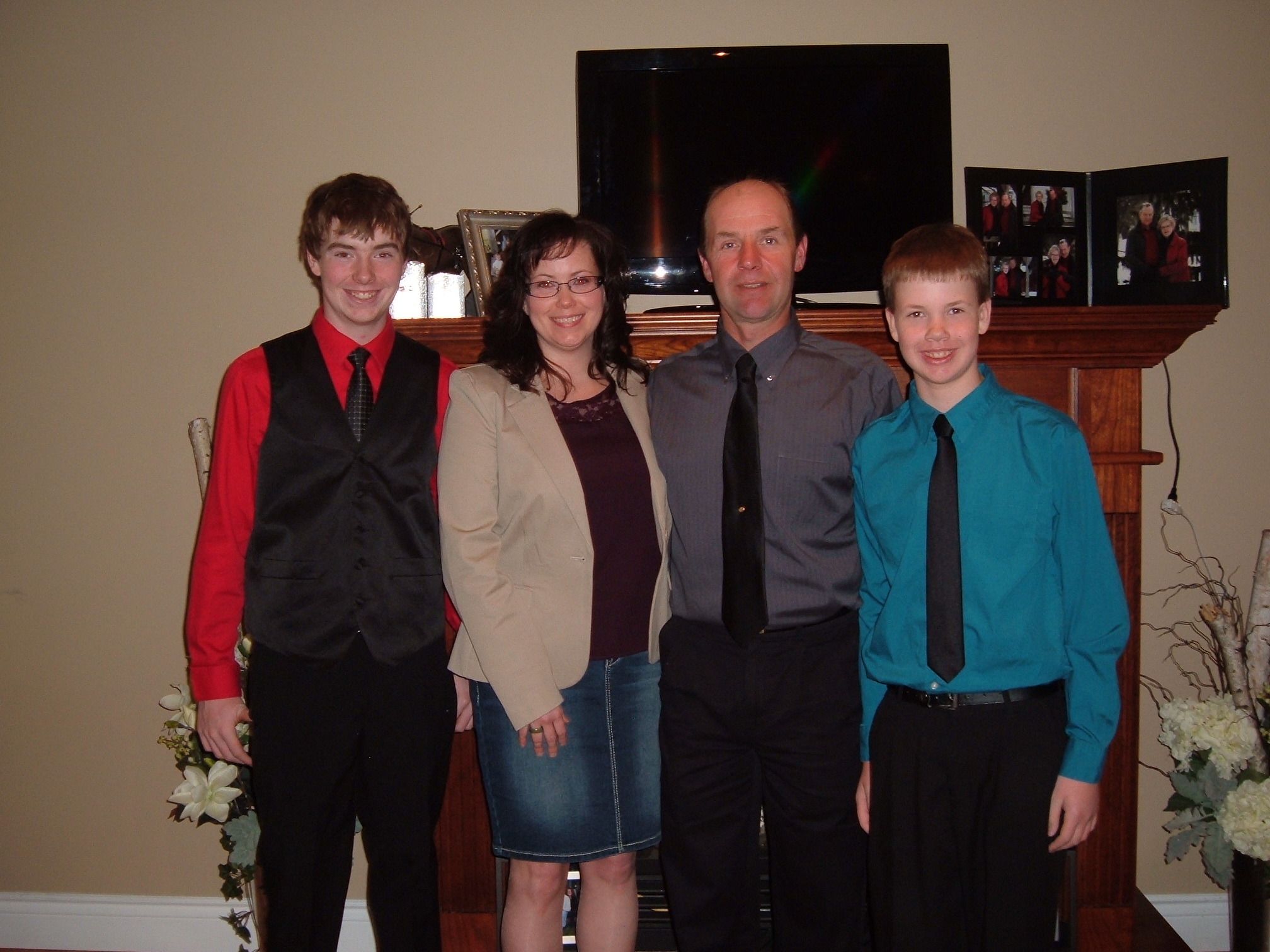 In addition to Tara's responsibilities on the farm, she works part-time as an accounting assistant at a company that manufactures natural ventilation equipment for agricultural applications.  Tara's hobby include running her boys to hockey and other sports, she is involved with the local Agricultural Society, helps with the church youth programs and enjoys reading and scrapbooking.  While she doesn't have a favorite Thanksgiving recipe that she makes, she loves when someone brings cheesecake (who doesn't)!
---
Tara's Story in her own Words:
When did you start farming?"I grew up in a small town and my main exposure to farming was through my Grandparents who I visited often.  My mom said when other little girls would say they were going to be a teacher or nurse when they grew up I said I was going to be a Farmer like my Gramma."  This reminded me of my School Treasures book that my mom used to keep and I remember checking off that I was going to be a farmer.  Interestingly in Grades 4, 5 & 6 I checked off Scientist.  If my Grade 10 science teacher could have directed my career path I would have taken biology and gone thru as a nurse or possible a vet tech as he saw potential there.  Funny how things can come full circle in a way.  Marriage brought me to the farm, but it's only been in the last few years that I have started working in the barn.  I have done the farm accounting book work for 13 years, taking over from my mother-in-law when we moved out to the farm.
Who do you farm with?  We are truly a multi-generational family farm!  Although we bought out my husband's parents, his father still enjoys coming out to the farm and being involved in the daily operations.  We are thankful for the extra set of hands during the busier harvest and planting seasons.  My husband does the majority of the farm work and is the one who milks the cows.  Our youngest son helps with caring for the calves and the oldest is now helping with milking and tractor work.  I help in the mornings, getting up early with Brad to get started so the boys and his dad don't have to.  I also look after all the farm accounting, paperwork and "office-type" errands.  And I think it's important to mention that as a farm wife I am always available at a moment's notice to run meals to the fields provide a delivery/pick-up service and lend a hand wherever needed.  They may be small jobs, but when the men need to keep moving it takes a team behind them to keep them going.
What has been the most rewarding part of farming for you? Raising our boys on the farm!  There is no better place for kids to learn the value of putting effort into all you do.  What has been the most challenging part of farming for you? The financial side.  There are so many things we would change to improve our operation if money weren't such an issue.
What is the biggest misconception about the dairy industry? There are far too many misconceptions out there and it is heartbreaking to read some of the comments people make about us.  Saying that we're heartless, abusive, money hungry people couldn't be further from the truth.  It takes a great deal of patience to work with animals and provide proper care.  And if profit was our only goal we would have sold out years ago as there is no financial wealth to be had.  It is a genuine labor of love.  We love our lifestyle and caring for the animals and producing a product that feeds a hungry world.
Who is your favorite cow?  Valerie.  She has a quiet nature, love nose rubs and giving kisses.
What is your greatest achievement thus far?  It may sound simple, but our number one goal is to continually improve cow comfort.  We were also excited recently to receive a Star Brood Cow award and hope to continue to improve our herd score.
What's one question you always receive about what you do? Last winter I had an acquaintance ask me if we dump the chemicals in the milk at the farm or if it's done at the factory.  I was shocked, speechless.  How could anyone think we would do that?  And that we would then feed it to our children?  I was not aware until that moment that anyone thought anything negative about farming.  I was not too involved in social media or following farming blogs, so this was a shocking thing to learn.  Since then I have tried to present facts to those that want to destroy the reputation of our industry, keeping an eye on Facebook and Twitter posts.
Tell me a unique story about your farm.  This farm has only been in our family for 2 generations, for 50 years as of this year, but we are only the second family to have owned this property.  In the late 1940's the Oxford County plowing match was hosted on this farm and thought there were a couple of tractors most plowed with horses.
What is one message you'd like to get across to the general public about what you do?  We really do take pride in what we do and want to produce the best possible product for the consumers.  We care for our animals and know that a happy, healthy cow is the only way to do that.
What do you hope for your kids or future generations on your dairy?  That they will continue to take pride in the dairy industry, always doing their best to care for the animals and produce a quality product.
What advice would you give to anyone interested in getting into farming? Be prepared to throw your whole life into it.  There is no part time or 40 hour week with farming.  Animal welfare is crucial and you will have to put aside your own needs from time to time to care for your animals.  But also know that what you are doing is very important as the world needs to eat.
---
Stay connected with Tara on Twitter and Instagram.
Tara, thank you for taking time to participate in our "Thirty Days of Dairy" series.  If you enjoyed this post, make sure you subscribe to our blog (no spam, just an email when we post a new blog) so you don't miss any posts
Earlier "Thirty Days of Dairy" features this month include:
Sarah & Andy Birch – Derby, VT – the dairy farmers that were my inspiration for the 30 Days of Dairy!
Melissa Collman – Boring, OR – an organic dairy farmer from the West Coast!
Macy Sarbacker – Belleville, WI – a blogger, editor and dairy farmer from American's Dairyland!
Karen Bohnert – East Moline, IL – a very talented writer, Mom and Jersey lover from my state!
Lisa Myers – Hamstead, MD – one of my best friends that moved back home to run their dairy!
Rebecca Schlehlein – Platteville, WI – a dedicated farm employee that loves her Brown Swiss!
Heather Moore – Maquoketa, IA – Special Events Coordinator turned Dairy Farmer!
Katie Dotterer-Pyle – Union Bridge, MD – Spanish teacher and dairy farmer that makes sure her cows enjoy their stay!
Brent Pollard – Rockford, IL – an innovative dairy farmer who loves to tinker with things.
Krista Stauffer – Washington – a 1st generation dairy farmer and very talented AGvogate for the dairy industry!
Diane Loew – Byron, MI – a writer, blogger and dairy farmer from Michigan!
Nicole Fletcher – Southampton, MA – a Cabot Creamery dairy that milks Holsteins & Jersey's!
Elinor Opitz – Maple Lake, MN – a young lady just starting her Ayrshire dairy!
Alise Sjostrom – Brooten, MN – one of the readheads behind Redhead Creamery!
For a listing of all the 30 Days Bloggers that Holly Spangler rounded up, visit here.
Comments
comments