I am so honored to include Andy (age 27) and Sarah (age 23) Birch of Maple Grove Farm in Derby, VT as my first Thirty Days of Dairy participant.  Andy & Sarah were my inspiration to do the Thirty Days Challenge (read more here)!  They are featured in a 2-minute video that appeared on USA Today.
Andy and Sarah are the growing number of Americans in their 20's and 30's that are running farms as their main occupation.  Growing up, both Andy and Sarah were active in 4-H.  Sarah did a variety of projects, including dairy cattle while Andy was involved with showing dairy cattle and also participated in FFA.  After high school, Andy received a degree in Animal Science from the University of Vermont.  Sarah says that she did not have a clear idea of what career she wanted during high school, so did not attend college.  Before starting their farm, Sarah was a Dairy Herd Improvement Association (DHIA) milk tester.  After growing up on a family farm, it was Andy's dream to go back and farm for himself.  When Sarah is not farming, she enjoys sewing, arts and crafts.  Her favorite dairy-filled side at Thanksgiving would be a tall glass of milk or whipped cream for her pie!
---
Andy & Sarah's Story in their own words:
Tell us about your operation.  We milk 50 cows, mostly Holsteins, but there are a few Brown Swiss and Jerseys as well. We have a stanchion barn that has 52 milking stalls. We are conventional and all of our cows are registered. We grow our own crops. Andy's parents have equipment for haying, but we hire out the corn cropping. Our milk is sold to Agri-Mark cooperative which makes cheese, and other dairy products under the Cabot brand. My favorite dairy product would have to be cheese. Vanilla milkshakes and ice cream are great too, but I could eat cheese every day of the week and not get tired of it. Sharp cheddar is my favorite!  As far as family goes, it's just Andy and I. Andy's parents and brother do help out with farm chores when needed. My parents were very helpful when we were doing work on the barn to get it ready for cows.
Who do you farm with?  I farm with my husband Andy, and the occasional help from his family. Machinery really isn't my thing, so Andy mixes feed, hauls manure, and other jobs involving large equipment. We share milking, AM milking is Andy's and PM is mine. We both share the young stock care depending on which person is milking. Andy also breeds cows, does repro shots, and any medical work with the cows.
Who is your favorite cow?  My favorite cow would have to be Bridget, my first Jersey. There are a few Holsteins who are friendlier than her, but overall she wins. Bridget was a birthday present from my husband back when we were engaged. I was so excited to have my very own calf, and it was fun to watch her grow and become a milk cow. She's not the fanciest in the barn, but she's my girl.
What is the biggest misconception about the dairy industry?  I think one of the biggest misconceptions about the dairy industry is that we pump our animals full of growth hormones and horrible antibiotics. Our cows receive vaccines as needed to prevent them from becoming ill, as kids are vaccinated to keep them healthy. The idea with antibiotics is similar. We only give them to cows who need them, and we do not let their milk go in the tank until it has tested free of the antibiotic. No milk ever enters the food supply that contains antibiotics.
What is one message you'd like to get across to the general public about what you do?  One message to the general public would be that farming is hard work. Andy and I put in a lot of hours in a day making sure that the cows are well fed and comfortable. It's certainly not a 9-5 type of job. When a cow is calving at 11:30 pm, you don't get to sleep until that calf is out and taken care of.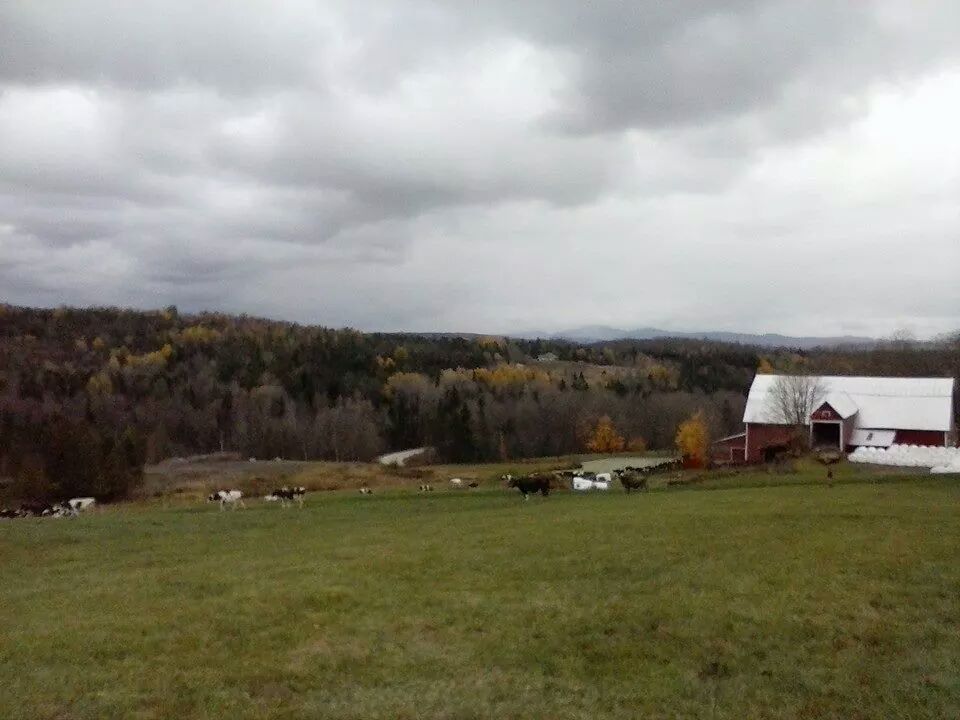 What do you hope for your kids or future generations on your dairy?  I hope that if our future kids would like to farm, that it will be there for them, but I also understand if they want a life off the farm. It's a hard life, and not everyone's preferred career.
What advice would you give to anyone interested in getting into farming?  To anyone who is interested in farming, it is not something to jump into without thorough consideration. Farming is a 365 day a year job, with little time off, or sleep for that matter. You really have to have a passion for it to work that hard.
---
Stay connected with Andy and Sarah on their Facebook page, Maple Grove Farm.  
Thank you Andy and Sarah for taking time to participate in our "Thirty Days of Dairy" series and for serving as my inspiration.  If you enjoyed this post, make sure you subscribe to our blog (no spam, just an email when we post a new blog) so you don't miss any posts.
Entire "Thirty Days of Dairy" Series:
Sarah & Andy Birch – Derby, VT – the dairy farmers that were my inspiration for the 30 Days of Dairy!
Melissa Collman – Boring, OR – an organic dairy farmer from the West Coast!
Macy Sarbacker – Belleville, WI – a blogger, editor and dairy farmer from American's Dairyland!
Karen Bohnert – East Moline, IL – a very talented writer, Mom and Jersey lover from my state!
Lisa Myers – Hamstead, MD – one of my best friends that moved back home to run their dairy!
Rebecca Schlehlein – Platteville, WI – a dedicated farm employee that loves her Brown Swiss!
Heather Moore – Maquoketa, IA – Special Events Coordinator turned Dairy Farmer!
Katie Dotterer-Pyle – Union Bridge, MD – Spanish teacher and dairy farmer that makes sure her cows enjoy their stay!
Brent Pollard – Rockford, IL – an innovative dairy farmer who loves to tinker with things.
Krista Stauffer – Washington – a 1st generation dairy farmer and very talented AGvogate for the dairy industry!
Diane Loew – Byron, MI – a writer, blogger and dairy farmer from Michigan!
Nicole Fletcher – Southampton, MA – a Cabot Creamery dairy that milks Holsteins & Jersey's!
Elinor Opitz – Maple Lake, MN – a young lady just starting her Ayrshire dairy!
Alise Sjostrom – Brooten, MN – one of the readheads behind Redhead Creamery!
Tara McIntosh – Ontario, Canada – our only dairy farmer featured from Canada!
Jenna Kilgus – Fairbury, IL – a Jersey dairy farmer that bottles their own homogenized milk!
Will Gilmer – Sulligent, AL – our only dairy farmer from the "south"!
Gene Zimmerman – Colby, WI – our only dairy goat farmer featured this month!
Darleen Moore-Sichley – Oregon – a Mom, AGvocate and Gurnsey dairy farmer!
Michelle Eilenstine – Mountain Grove, MO – a dairy farmer & University of Missouri grad!
Jenni Tilton-Flood – Clinton, Maine – a Cabot Creamery dairy that milks 3400 Holsteins!
Kalli Ehrhardt – Baldwin, MD – A Mom and dairy farmer!
Craig Swenson – River Fall, WI – a dairy farmer who loves his red & whites!
Katie Harris – Washington – a mom & dairy farmer from Western Washington!
Annaliese Wegner – Ettrick, WI – the Modern-day Farm Chick!
Morgan Kliebenstein – Darlington, WI – a dairy farmer, Genex employee, Mom & wife!
Matt & Joe Engel – Hampshire, IL – the brother behind Luck-E Holsteins!
Stephanie Aves – Popular Grove, IL – a dairy farmer & agriculture teacher!
Beverly Donovan – Benton, Maine – a dairy farmer & accountant!
Sadie Frericks – Melrose, MN – a dedicated AGvocate, dairy farmer, mom & wife!
Greg Schulte – Darlington, WI – the cheesemaker at Brunkow Cheese!
Katie Deslippe – St Mary Ontario – a young lady that loves everything about dairy!
Carrie Mess – Lake Mills, WI – the well-known AGvocate Dairy Carrie!
For a listing of all the Thirty Days Bloggers that Holly Spangler rounded up, visit here.
Comments
comments