Happy Thanksgiving!
Today, I am so thankful for dairy farmers, that I am sharing two stories with you today!  I would like to introduce Sadie Frericks (age 33) from Melrose, MN!  Sadie and her husband, Glen (age 35) have three children – Dan (7), Monika (5), and Daphne (1).  If you have followed along, you will find a common theme among our participants, as they were all involved in 4-H and/or FFA!  Sadie is no exception as she was very active in 4-H as a youth. She participated mostly in dairy – showing, judging, project bowl and was also a junior leader.  After high school, she headed to the University of Minnesota and earned a degree in agricultural communications and marketing.
When not working on the farm, Sadie tries to spend as much time with their children as possible – oftentimes this time is spent working together on the farm (or them playing alongside as she works). She also enjoys helping in their classrooms and squeezes in time for baking, candy making, reading, photography, and writing.  Sadie is actively involved in the Stearns County Breakfast on the Farm, Land O'Lakes' cooperative governance, and most recently, 4-H.
I hope Sadie had the opportunity to enjoy some Sweet Potato-Apple Gratin today.  This is made dairy delicious with half-and-half, Parmesan cheese, Muenster cheese, and butter.  Sadie has trouble answering with what her favorite dairy product is but enjoys milk, cheese, cultured dairy products, and butter every day.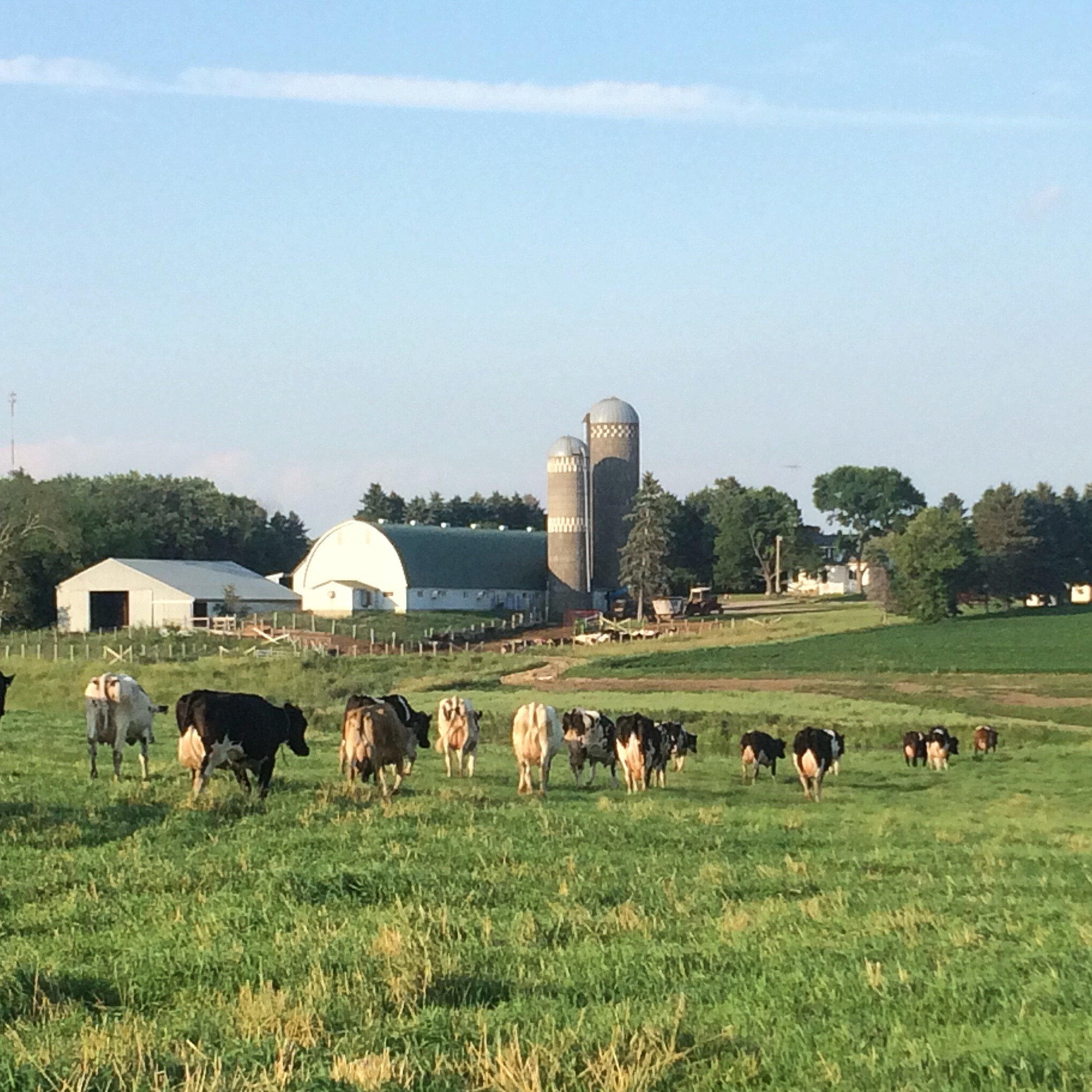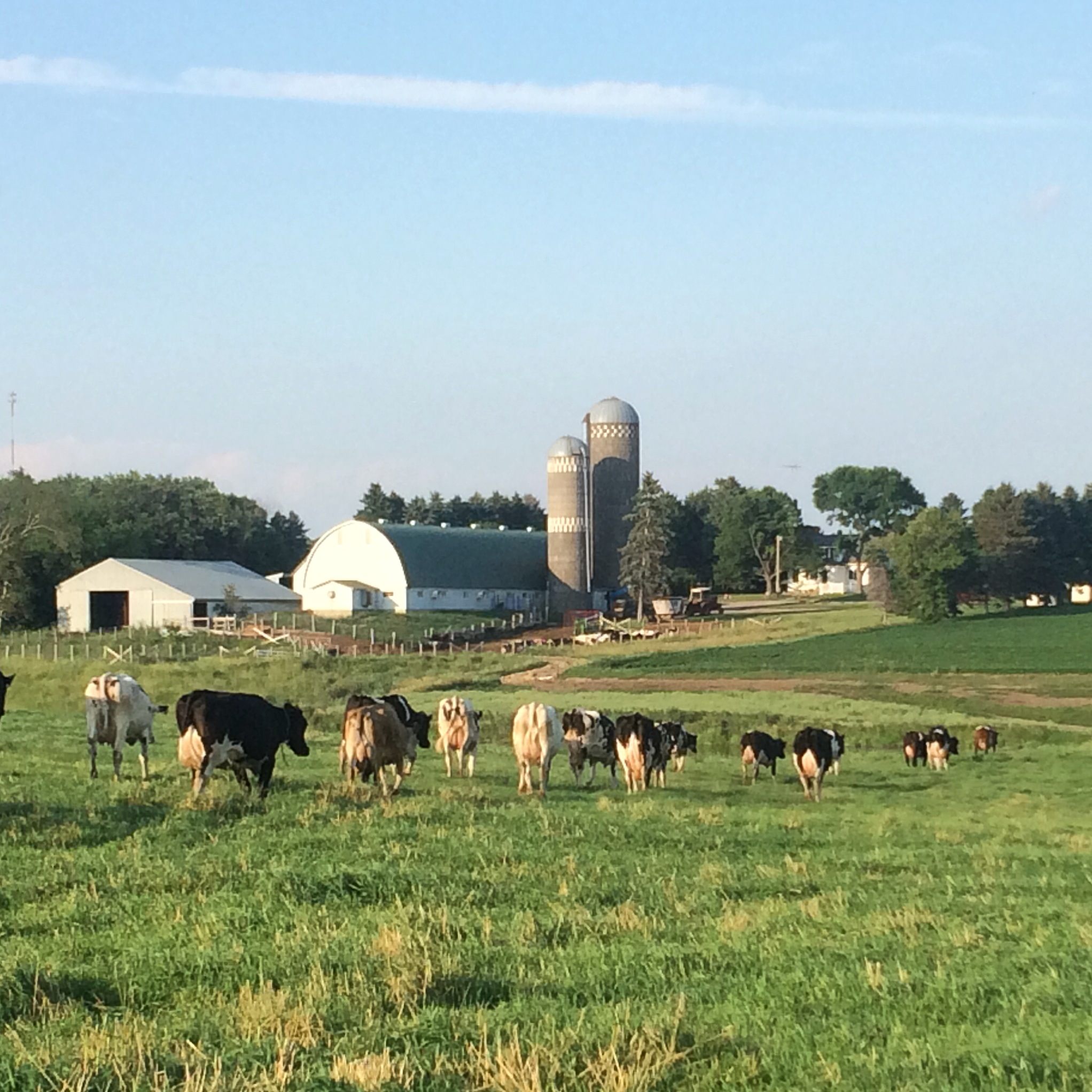 ---
Sadie's Story in her own words:
We milk 75 cows on what I call a hybrid dairy. For half the year (the warm half), our cows live in the pasture, graze, and are supplemented with a partial mixed ration, fed outside in bunks; they come into the barn only to be milked. For the cold half of the year, our cows live in a tie-stall barn and are fed a total mixed ration. Our herd is made up of Holsteins, cross-breds, Jerseys and Milking Shorthorns. Our kids do show our cattle, but they are not registered. We grow corn, alfalfa, and oats on 200 acres of cropland, which supplies us with enough corn silage, earlage, baleage, haylage, dry hay, and baled oatlage to feed our milking herd and replacement heifers. The cows and heifers graze 90 acres of pasture. We sell our milk to Land O'Lakes. Most of our milk is sent to the Twin Cities, to be used for bottling. Occasionally, our milk is made into cheese at the cheese plant near our farm.
Did you have another profession before you started farming? After college, and before we started farming, I worked for the Farm Service Agency and then a small-town, weekly newspaper. I continue to work part-time for the Dairy Star, a regional (upper Midwest) dairy newspaper. My husband, who worked for the Minnesota Department of Agriculture after college, and I had a post-college long term plan of one day dairy farming. We both grew up on dairy farms, love dairy cows, and felt called to return to this way of life. We started farming in 2005 on my father's farm in northern Minnesota, then moved our herd to Stearns County, where my husband grew up. We bought our farm in 2007. We own the 20-acre building site and rent all of our pasture and cropland.
Has your farm changed since you became involved?  Our farm changes constantly. We are always looking for improvements that make our farm better for our cows, for us, and for the environment. Since we started farming, we have switched to computerized herd records, converted our calf-rearing to group housing with automatic calf feeding, and made numerous changes to cattle housing and cow comfort. We installed a manure lagoon shortly after we bought our farm, which saves us a considerable amount of time and labor. The lagoon also allows the farm's manure to be injected into cropland, which has improved soil health and crop quality. We also take energy conservation seriously; we installed a plate cooler, a fre-heater, and converted our lighting to LEDs and energy-efficient fluorescent fixtures.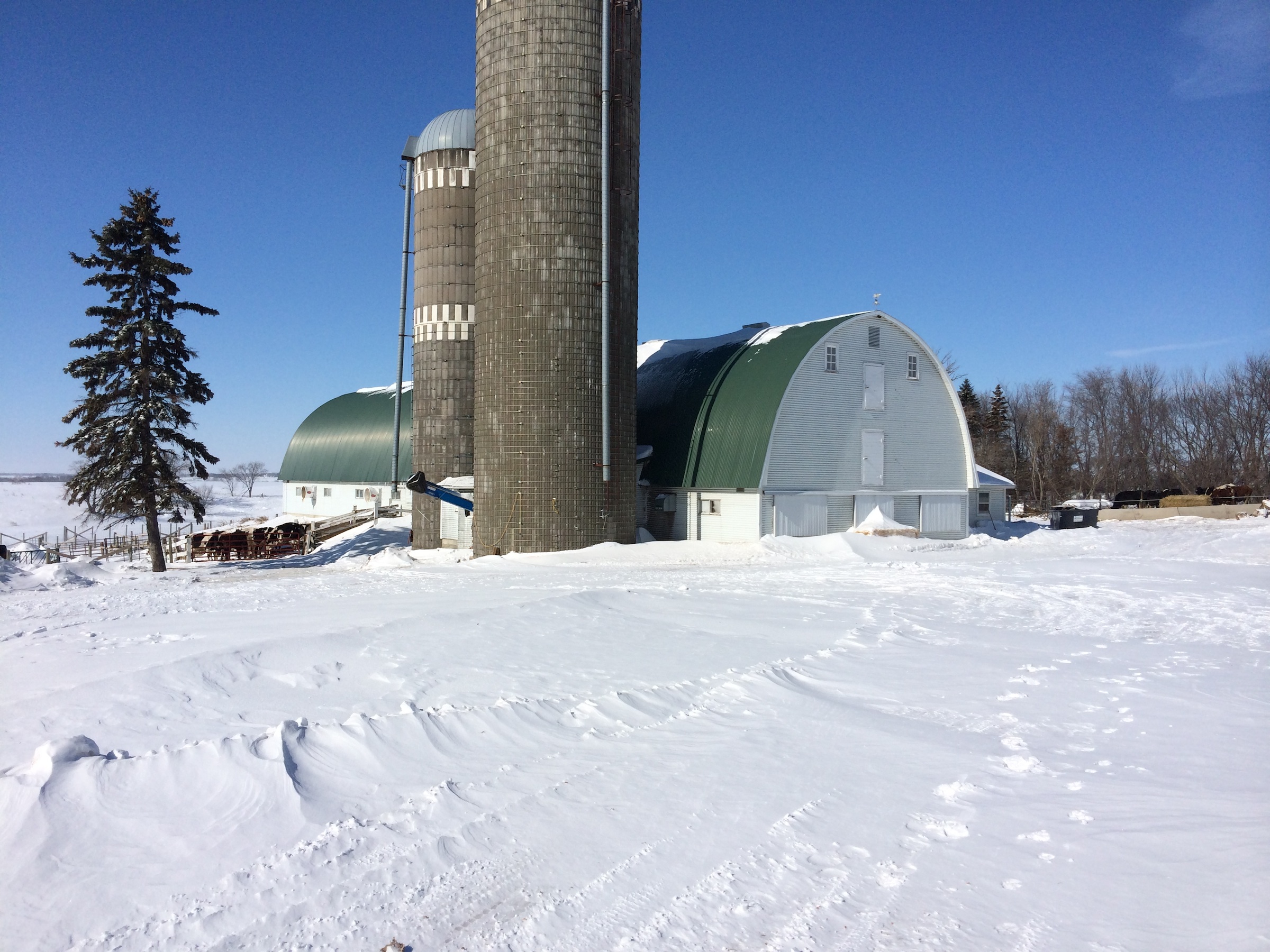 Who do you farm with? What are your responsibilities?  I farm with my husband, Glen. We provide 90% of our farm's labor needs. A gentleman from town milks one night a week for us. We rely on help from family, friends, and neighbors during busy times like planting and harvest. Glen and I share most responsibilities. We milk, feed, take care of calves, and do other chores together. We do decision making, record keeping and bookwork together. Glen handles all of the agronomy and fieldwork. I take care of most of the family-related work (homework, housework, cooking).
What has been the most rewarding part of farming for you? For me, the rewards of dairy farming are many: working together with Glen, being able to share our profession with our children, creating a successful business, working with animals everyday, working outside, having a front seat view of nature and the wildlife on our farm, providing society with a nutritious food, overcoming challenges, being required to think creatively, and the flexibility to participate in my children's activities and other community and industry activities. What has been the most challenging part of farming for you? The greatest challenge of farming, for me, is time. There never seems to be enough time to get everything – farm chores, house chores, blogging, etc. – done in a day. Our farm is not quite big enough to hire employees to help with some of the farm chores, but it's too big for us to get everything done ourselves. The second greatest challenge for us is land security. Since we own only 20 acres, we rely on rented land to grow our crops and graze our cattle. Long term planning is almost impossible to do without a secure land base.
Who is your favorite cow? Just like it is really hard to pick a favorite child, it is really hard to pick a favorite cow. But, one cow who is extra special to me is Glory. Glory is 7-year-old blue roan, Holstein-Milking Shorthorn cross. I have loved blue roan cattle since I was a small girl. Glory is the first and only blue roan female born since my husband and I started farming. I showed her mother at the MN State Fair and her great-grandmother was one of my dad's first cows. In addition to her beauty and heritage, Glory is a gentle cow who doesn't require a lot of extra attention.
Do you open your farm for tours or agro-tourism opportunities? We try to host at least one on-farm tour or event each year, as a way to promote better understanding of dairy farming. One year a troop of Girl Scouts from the Twin Cities camped in our yard for a weekend. Another year, we gave tours to our children's classes from school. Last year, we hosted a food bloggers' event for Land O'Lakes – The Pioneer Woman (Ree Drummond) and eight other national food bloggers toured our farm, milked cows and enjoyed a picnic lunch. We have also opened our farm for training events, video and photography projects, and newspaper/magazine articles. One video of our farm can be viewed on YouTube.
---
Stay connected with Sadie on her Blog (Dairy Good Life), Farm Website (Blue Diamond Dairy), Facebook Page, Twitter and Instagram.  
Sadie, thank you for taking time to participate in our "Thirty Days of Dairy" series.  If you enjoyed this post, make sure you subscribe to our blog (no spam, just an email when we post a new blog) so you don't miss any posts
Earlier "Thirty Days of Dairy" features this month include:
Sarah & Andy Birch – Derby, VT – the dairy farmers that were my inspiration for the 30 Days of Dairy!
Melissa Collman – Boring, OR – an organic dairy farmer from the West Coast!
Macy Sarbacker – Belleville, WI – a blogger, editor and dairy farmer from American's Dairyland!
Karen Bohnert – East Moline, IL – a very talented writer, Mom and Jersey lover from my state!
Lisa Myers – Hamstead, MD – one of my best friends that moved back home to run their dairy!
Rebecca Schlehlein – Platteville, WI – a dedicated farm employee that loves her Brown Swiss!
Heather Moore – Maquoketa, IA – Special Events Coordinator turned Dairy Farmer!
Katie Dotterer-Pyle – Union Bridge, MD – Spanish teacher and dairy farmer that makes sure her cows enjoy their stay!
Brent Pollard – Rockford, IL – an innovative dairy farmer who loves to tinker with things.
Krista Stauffer – Washington – a 1st generation dairy farmer and very talented AGvogate for the dairy industry!
Diane Loew – Byron, MI – a writer, blogger and dairy farmer from Michigan!
Nicole Fletcher – Southampton, MA – a Cabot Creamery dairy that milks Holsteins & Jersey's!
Elinor Opitz – Maple Lake, MN – a young lady just starting her Ayrshire dairy!
Alise Sjostrom – Brooten, MN – one of the readheads behind Redhead Creamery!
Tara McIntosh – Ontario, Canada – our only dairy farmer featured from Canada!
Jenna Kilgus – Fairbury, IL – a Jersey dairy farmer that bottles their own homogenized milk!
Will Gilmer – Sulligent, AL – our only dairy farmer from the "south"!
Gene Zimmerman – Colby, WI – our only dairy goat farmer featured this month!
Darleen Moore-Sichley – Oregon – a Mom, AGvocate and Gurnsey dairy farmer!
Michelle Eilenstine – Mountain Grove, MO – a dairy farmer & University of Missouri grad!
Jenni Tilton-Flood – Clinton, Maine – a Cabot Creamery dairy that milks 3400 Holsteins!
Kalli Ehrhardt – Baldwin, MD – A Mom and dairy farmer!
Craig Swenson – River Fall, WI – a dairy farmer who loves his red & whites!
Katie Harris – Washington – a mom & dairy farmer from Western Washington!
Annaliese Wegner – Ettrick, WI – the Modern-day Farm Chick!
Morgan Kliebenstein – Darlington, WI – a dairy farmer, Genex employee, Mom & wife!
Matt & Joe Engel – Hampshire, IL – the brothers behind Luck-E Holsteins!
Stephanie Aves – Popular Grove, IL – a dairy farmer & agriculture teacher!
For a listing of all the 30 Days Bloggers that Holly Spangler rounded up, visit here.
---
Comments
comments