I would like to introduce Rebecca Schlehlein Hilby (age 25) from Platteville, WI. Rebecca is the Calf Manager at Weigel Dairy. Her responsibilities include raising the calves from birth until a few months after weaning but is also very involved in other activities on the farm ranging from herd health to bookkeeping. Weigel Dairy, where Rebecca works, milks around 300 head– mostly grade Holsteins. It is a conventional herd and the cows are milked in a swing 10 parlor. Rebecca states that they have a very good relationships with both their veterinarian and nutritionist who both play a vital role in having good producing cows! Their milk is sold to Wapsie Valley Creamery located in Independence, Iowa where it is made into edible lactose and whey products along with cheese, and dry, condensed, and evaporated products.
Rebecca knows that she is very fortunate to have her cows housed at the farm where she has worked for over five years. Rebecca owns six Brown Swiss cows, two Holstein cows, two Holstein heifers, and five Brown Swiss heifers. She also owns a Milking Shorthorn with her boss. Rebecca's herd is all registered and a few carry the RebAnn prefix, something she is very proud of!
Growing up, Rebecca was involved in Brookfield Blazers 4-H from when she was eight until she aged out. 4-H got Rebecca started in the dairy industry, something she will forever be grateful for. Besides dairy, she was involved in other projects ranging from showing chickens to photography to arts and crafts. Just like me, Rebecca's high school, Arrowhead High School, did not have an FFA program. During her senior year, she decided to join the Slinger FFA chapter. While she was only involved for one year, she was able to participate on the dairy judging team. After high school Rebecca attended the University of Wisconsin – Platteville and majored in Animal Science with a Dairy emphasis. While in Platteville, she was a member of the Dairy Club and the dairy judging team and graduated in 2011.
When she is not working, Rebecca loves to show cattle. She admits that even if it is technically still farming, it is a vacation! While she doesn't get to too many shows because she don't like to take off work, she enjoys every minute of it – win or lose. Aside from that, Rebecca enjoys bow hunting, fishing, keeping active, seeing old friends, and enjoying life!
---
Rebecca's Story in her own words:
My family is wonderful and so supportive of me! My mom and dad (Mark and Marisa) live in Waukesha County where I grew up. I also have a brother (Ben) who is 27. While sometimes it is hard living away from them, they know I am in good hands over on this side of the state and they support me and my cows 100%! I will have a new addition to my "family" June 13th next year as I get married to my fiancé Joey! I also have to say the people I work for and my co-workers are like a second family to me as well! When you're around people that often, it just happens! Weigel Dairy is truly a family farm – regardless if you're blood related!
When did you start farming? I guess you could say I started farming full-time after I graduated college. I had worked at Weigel Dairy throughout school and was offered a position after graduation. Before that I had helped out at Cozy Nook Farm in Waukesha since I started showing cows at eight years old. I remember my first year helping out and showing very clearly. I was given a Holstein heifer named Kathy. Looking back, she was far too big for me, but I never gave up. At county fair she stepped on my foot right before I went into the ring. I remember I was crying and crying, but I still wanted to show. I don't know what it was, but I never for one second thought I was going to quit. The next year after that, I had a much nicer Brown Swiss spring calf and ever since that moment I fell in love with the big brown cow and farming. I've never looked back and I've never questioned my future in agriculture. It is such a rewarding and accepting field.
Who is your favorite cow? My favorite cows name was Sunshine. I showed her for the first year when she was a spring yearling. We had a bond that I don't think I will ever have with another cow. She was like a dog – followed me everywhere, knew what I wanted her to do, and was always there for me when I had a bad day. She had such an attitude with other people too, but she would rarely act up for me when I was on the halter. She led me to many showmanship wins and awards. She sadly passed away a few years ago, but I will treasure my memories with her for many years to come.
What is your greatest achievement thus far? My greatest achievement thus far would have to be just owning my own cows. It was a dream for so many years and when my boss brought up the fact that I could buy some I was ecstatic. Yes, I love working for others and I treat those cows as my own, but there is just something about being able to have that registration paper say your name on it. In ways, it shows how hard I've worked and how far I've come. It gives me that extra oomph to come to work every day and give it my all. My goals in the future will be to keep growing and improving my herd. Eventually I would love to farm on my own with my fiancé and raise a family on the farm. While I didn't exactly grow up directly on a farm, I think it's the best place to raise kids! It teaches them so much and to be able to be around them all the time would be wonderful.
What is one message you'd like to get across to the general public about what you do? I think it is most important for consumers/the public to know that all farmers are different. There are a million different ways to do things. Some are 'better' than others, some screw up, some care more, and some have different goals. At the end of the day, we just need to support agriculture as a whole. I see too many videos of farmers 'abusing' their cows and it irks me in a way I can't describe because then people think that all farmers are like that. Just like there are bad parents, there are bad farmers. This doesn't mean that we assume all parents are bad though. It is important for the public to visit farms and learn more about where their food comes from and how well the animals are taken care of. The more that happens, the greater chance we can spread more positivity about the dairy industry and agriculture.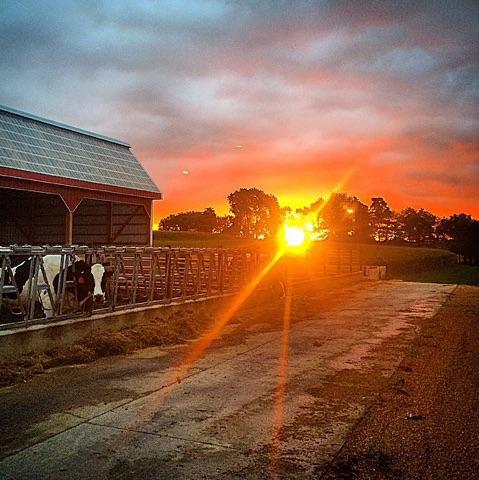 What is your favorite dairy product? Anyone that knows me can tell you it is ice cream. While cheese is a close second place, I LOVE ice cream. I could eat it every day no matter how cold it is outside
What is your favorite dairy-filled Thanksgiving recipe? Now you're just making me hungry! I am going to have to go with cheesy hashbrowns! The more cheese the better!
---
Stay connected with Rebecca on Twitter and Instagram and Weigel Dairy on Facebook.
Thank you Rebecca for taking time to participate in our "30 Days of Dairy" series. If you enjoyed this post, make sure you subscribe to our blog (no spam, just an email when we post a new blog) so you don't miss any posts.
Entire "Thirty Days of Dairy" Series:
Sarah & Andy Birch – Derby, VT – the dairy farmers that were my inspiration for the 30 Days of Dairy!
Melissa Collman – Boring, OR – an organic dairy farmer from the West Coast!
Macy Sarbacker – Belleville, WI – a blogger, editor and dairy farmer from American's Dairyland!
Karen Bohnert – East Moline, IL – a very talented writer, Mom and Jersey lover from my state!
Lisa Myers – Hamstead, MD – one of my best friends that moved back home to run their dairy!
Rebecca Schlehlein – Platteville, WI – a dedicated farm employee that loves her Brown Swiss!
Heather Moore – Maquoketa, IA – Special Events Coordinator turned Dairy Farmer!
Katie Dotterer-Pyle – Union Bridge, MD – Spanish teacher and dairy farmer that makes sure her cows enjoy their stay!
Brent Pollard – Rockford, IL – an innovative dairy farmer who loves to tinker with things.
Krista Stauffer – Washington – a 1st generation dairy farmer and very talented AGvogate for the dairy industry!
Diane Loew – Byron, MI – a writer, blogger and dairy farmer from Michigan!
Nicole Fletcher – Southampton, MA – a Cabot Creamery dairy that milks Holsteins & Jersey's!
Elinor Opitz – Maple Lake, MN – a young lady just starting her Ayrshire dairy!
Alise Sjostrom – Brooten, MN – one of the readheads behind Redhead Creamery!
Tara McIntosh – Ontario, Canada – our only dairy farmer featured from Canada!
Jenna Kilgus – Fairbury, IL – a Jersey dairy farmer that bottles their own homogenized milk!
Will Gilmer – Sulligent, AL – our only dairy farmer from the "south"!
Gene Zimmerman – Colby, WI – our only dairy goat farmer featured this month!
Darleen Moore-Sichley – Oregon – a Mom, AGvocate and Gurnsey dairy farmer!
Michelle Eilenstine – Mountain Grove, MO – a dairy farmer & University of Missouri grad!
Jenni Tilton-Flood – Clinton, Maine – a Cabot Creamery dairy that milks 3400 Holsteins!
Kalli Ehrhardt – Baldwin, MD – A Mom and dairy farmer!
Craig Swenson – River Fall, WI – a dairy farmer who loves his red & whites!
Katie Harris – Washington – a mom & dairy farmer from Western Washington!
Annaliese Wegner – Ettrick, WI – the Modern-day Farm Chick!
Morgan Kliebenstein – Darlington, WI – a dairy farmer, Genex employee, Mom & wife!
Matt & Joe Engel – Hampshire, IL – the brother behind Luck-E Holsteins!
Stephanie Aves – Popular Grove, IL – a dairy farmer & agriculture teacher!
Beverly Donovan – Benton, Maine – a dairy farmer & accountant!
Sadie Frericks – Melrose, MN – a dedicated AGvocate, dairy farmer, mom & wife!
Greg Schulte – Darlington, WI – the cheesemaker at Brunkow Cheese!
Katie Deslippe – St Mary Ontario – a young lady that loves everything about dairy!
Carrie Mess – Lake Mills, WI – the well-known AGvocate Dairy Carrie!
For a listing of all the 30 Days Bloggers that Holly Spangler rounded up, visit here.
Comments
comments