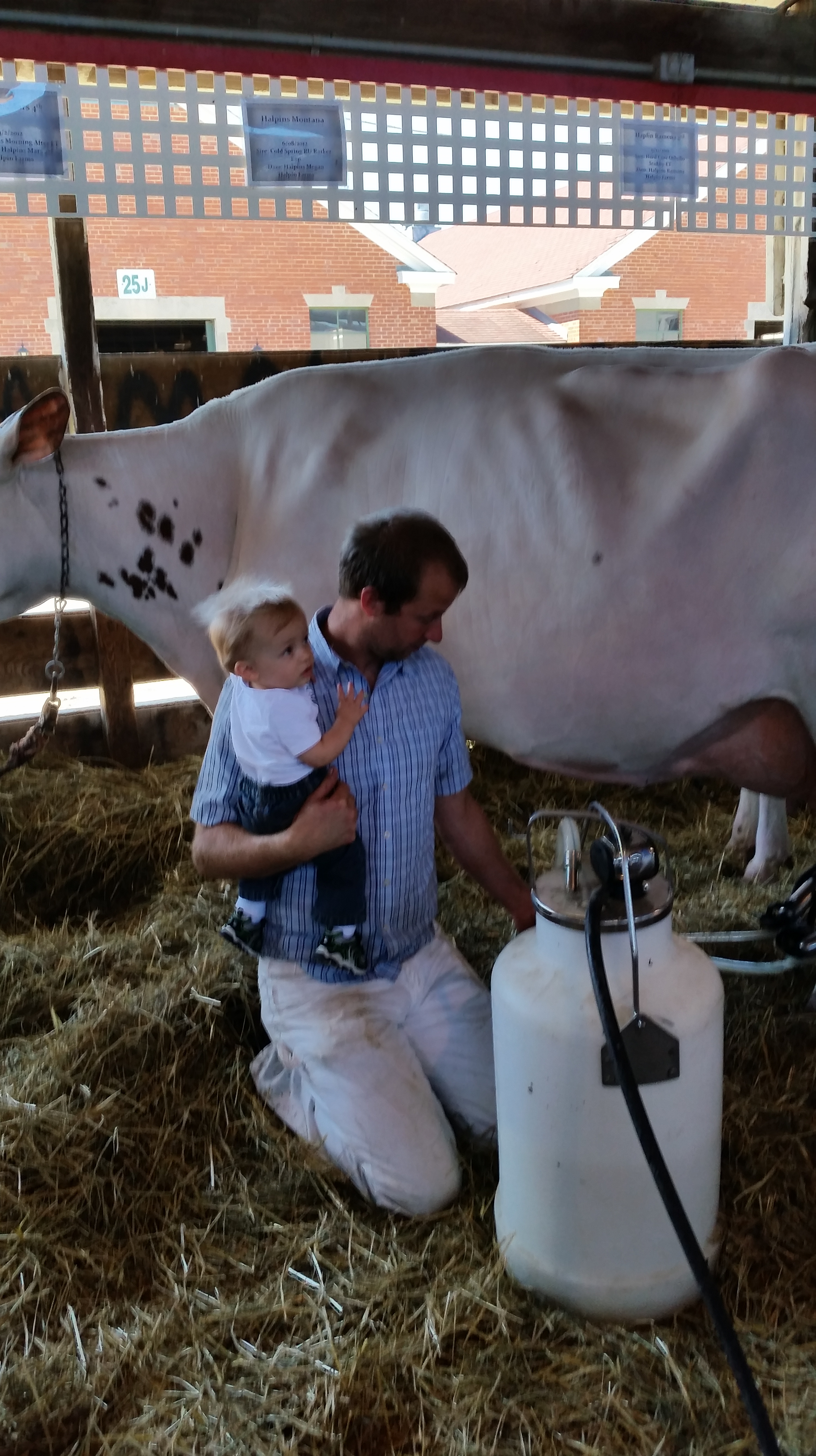 It's November 30th, so I am writing my last 30 Days of Dairy introduction.  It's a little bittersweet but am excited to introduce my brother, Matthew Mackinson (age 30) of Pontiac, IL.  Matt and his wife, Amy have one son,Isaac.  Our parents are Donald & Rita.  I am the older, Matt is the middle child and David is the youngest. Mackinson Dairy Farm is a conventional dairy that milks 160 head of Registered Holsteins with a few Ayrshires and Milking Shorthorns.  The cows are milked in a double 6 herringbone parlor. We raise all our own feed besides protein meal and corn by products that are fed.  Our crops include corn, soybeans,alfalfa, wheat, rye and oats.  Our milk is sold to Prairie Farms Dairy and goes to either Peoria  as fluid milk or to Joliet where it's made into cheese.
Growing up, Matt was involved in 4-H with dairy and crops as his main projects.  After high school, Matt headed up to Madison, WI and attended the University of Wisconsin Farm Industry Short Course.  Farming is Matt's life and if he has any free time left, he spends it with his wife & son, enjoys building stuff and is involved with the Livingston County Young Leaders.  Before returning to the farm full-time, Matt worked at our local John Deere dealership, KSR as a mechanic but we always knew that all he wanted to do is farm with our Dad.  What's Matt's favorite dairy product, chocolate milk!
---
Matt's Story in his own words:
When did you start farming? I've worked on the farm growing up,but after I graduated high school and came home from college, I took over the cows.
Has your farm changed since you became involved? It has changed drastically. In the last ten years, we have remodeled the parlor from a double 4 to a double 6, put up a 140 cow coverall with sand free stalls, dug a lagoon (that holds 2.8 million gallons of manure), built a corn silage bunker, 2 heifer barns, a maternity barn and we just finished the calf shed.  We also utilize AI24 system (electronic heat detection system) and I can access all of our cows records via pocket dairy on my phone.  In coordination with Dr. Justin Powell, we are actively using embryo transfer and in-vitro fertilization on a few of our elite animals.  With regards to the grain portion of the farm, we use GPS, autosteer and mapping.
Who do you farm with? I farm with my Dad (Don), Uncle (Roy) and Dan. I am in charge of the cows.  I do everything from milking, feeding the calves, mating, general herd health and vaccinations to their ration and everything else I forgot to mention.
What has been the most rewarding part of farming for you? The most rewarding is seeing a calf being born, when you exhibit a grand champion, hauling a bumper crop to the elevator and being able to raise my kid the way I was raised, through hard work. What has been the most challenging part of farming for you? The to do list never gets shorter, dealing with and accepting what God and mother nature deal you…from an et heifer born dead,  to a field of hay getting rained on, a drought etc.
What is the biggest misconception about the dairy industry? That our cows are full of drugs, hormones and we abuse our cows.  At our farm, we only administer antibiotics when our animals are sick.  We also do not use the synthetic hormone rBST.  We abuse ourselves caring for our cows.
Who is your favorite cow? Growing up it was always Rita 3…she wasn't a show cow. Now…. it would be Darcy, Shania and Mona.
What is your greatest achievement thus far? Greatest achievement has to be, being given the reigns to run a successful dairy farm. Shipping quality milk that qualifies for the maximum amount of premiums to selling animals that go on to be successful, caring for animals that win purple banners and breeding and developing animals that are successful.
Do you open your farm for tours or agro-tourism opportunities? Yes, we give tours and welcome visitors.
What's one question you always receive about what you do? A lot of people think we're like grain farmers and go to the coffee shop daily and people don't truly grip that it's a 24/ 7 /365 job.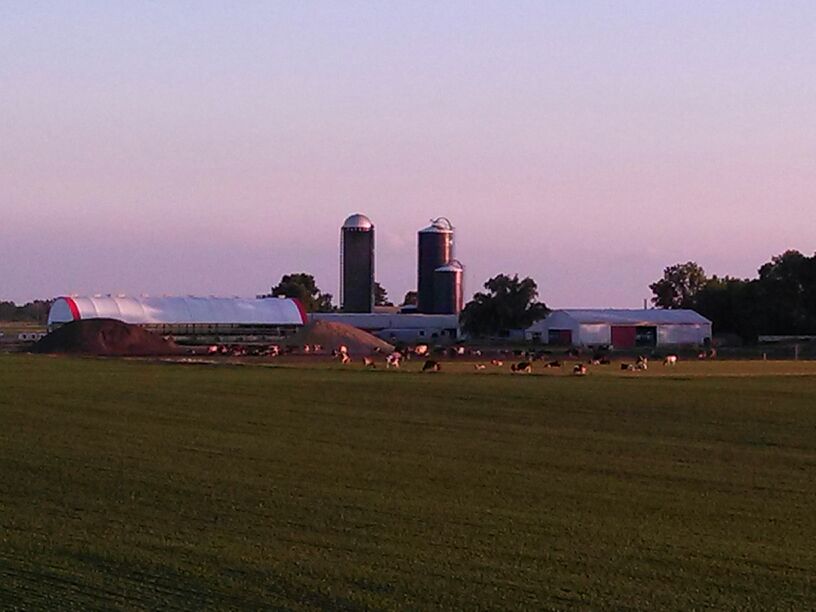 What is one message you'd like to get across to the general public about what you do? If you choose to buy organic food or all natural food for your family, that is totally your choice and I respect that. But don't be someone who is uninformed and think our products aren't safe. Everyone says gmos are terrible, but I bet 95% of those people have no idea what a gmo even is.
What do you hope for your kids or future generations on your dairy? That they are given a fair chance to market their product to the general public and care for their animals the way they were raised and not the way people assume we do.
What advice would you give to anyone interested in getting into farming? I would first suggest to work for a dairy farm first and not only do the manual labor but also all the book work. I understand as well as anyone that it's born in you. It's a lot of work bu tI wouldn't trade it for anything.
---
Matt, thank you for taking time to participate in our "Thirty Days of Dairy" series.  If you enjoyed this post, make sure you subscribe to our blog (no spam, just an email when we post a new blog) so you don't miss any posts.
As I conclude my Thirty Days of Dairy, I need to thank a few people.  First, I would like to thank the 34 dairy farmers that shared their story with us this month.  I would also like to thank my family as this project as been very time consuming but worth every minute.  Finally, I would like to thank each one of you that has read, commented or shared one of these stories.  I hope you have enjoyed my Thirty Days of Dairy!  ~Mary
Entire "Thirty Days of Dairy" Series:
Sarah & Andy Birch – Derby, VT – the dairy farmers that were my inspiration for the 30 Days of Dairy!
Melissa Collman – Boring, OR – an organic dairy farmer from the West Coast!
Macy Sarbacker – Belleville, WI – a blogger, editor and dairy farmer from American's Dairyland!
Karen Bohnert – East Moline, IL – a very talented writer, Mom and Jersey lover from my state!
Lisa Myers – Hamstead, MD – one of my best friends that moved back home to run their dairy!
Rebecca Schlehlein – Platteville, WI – a dedicated farm employee that loves her Brown Swiss!
Heather Moore – Maquoketa, IA – Special Events Coordinator turned Dairy Farmer!
Katie Dotterer-Pyle – Union Bridge, MD – Spanish teacher and dairy farmer that makes sure her cows enjoy their stay!
Brent Pollard – Rockford, IL – an innovative dairy farmer who loves to tinker with things.
Krista Stauffer – Washington – a 1st generation dairy farmer and very talented AGvogate for the dairy industry!
Diane Loew – Byron, MI – a writer, blogger and dairy farmer from Michigan!
Nicole Fletcher – Southampton, MA – a Cabot Creamery dairy that milks Holsteins & Jersey's!
Elinor Opitz – Maple Lake, MN – a young lady just starting her Ayrshire dairy!
Alise Sjostrom – Brooten, MN – one of the readheads behind Redhead Creamery!
Tara McIntosh – Ontario, Canada – our only dairy farmer featured from Canada!
Jenna Kilgus – Fairbury, IL – a Jersey dairy farmer that bottles their own homogenized milk!
Will Gilmer – Sulligent, AL – our only dairy farmer from the "south"!
Gene Zimmerman – Colby, WI – our only dairy goat farmer featured this month!
Darleen Moore-Sichley – Oregon – a Mom, AGvocate and Gurnsey dairy farmer!
Michelle Eilenstine – Mountain Grove, MO – a dairy farmer & University of Missouri grad!
Jenni Tilton-Flood – Clinton, Maine – a Cabot Creamery dairy that milks 3400 Holsteins!
Kalli Ehrhardt – Baldwin, MD – A Mom and dairy farmer!
Craig Swenson – River Fall, WI – a dairy farmer who loves his red & whites!
Katie Harris – Washington – a mom & dairy farmer from Western Washington!
Annaliese Wegner – Ettrick, WI – the Modern-day Farm Chick!
Morgan Kliebenstein – Darlington, WI – a dairy farmer, Genex employee, Mom & wife!
Matt & Joe Engel – Hampshire, IL – the brother behind Luck-E Holsteins!
Stephanie Aves – Popular Grove, IL – a dairy farmer & agriculture teacher!
Beverly Donovan – Benton, Maine – a dairy farmer & accountant!
Sadie Frericks – Melrose, MN – a dedicated AGvocate, dairy farmer, mom & wife!
Greg Schulte – Darlington, WI – the cheesemaker at Brunkow Cheese!
Katie Deslippe – St Mary Ontario – a young lady that loves everything about dairy!
Carrie Mess – Lake Mills, WI – the well-known AGvocate Dairy Carrie!
For a listing of all the 30 Days Bloggers that Holly Spangler rounded up, visit here.
Comments
comments