Today, it is time to meet Morgan Kliebenstein (age 28) from Darlington, WI. Morgan and her husband, Nate have a beautiful 13 month old daughter, Evelyn Kay. Morgan admits that she owes a huge part of who she is, the drive to be involved and meet new people to the years she spent in 4-H and FFA. Morgan grew up in northeast Iowa and was actively involved in the Allamakee County 4-H program. She began her 4-H career as an associate member and took it all the way through graduation, serving on both the District and County Councils. As for projects, you name it, she took it! Pies, steers, horticulture, woodworking, photography, horses. One year she put together a scrapbook of the Milk Mustache campaign….. that was the year she learned about copyright laws 🙂 The highlight of her 4-H career was the opportunity to serve on the Iowa State 4-H Council and attend the National Congress in Atlanta. In high school, Morgan's school had a great FFA program and served as Chapter President her senior year. The FFA projects she mainly participated in where Dairy Judging and Parli-Pro. After high school, she went to the other ISU, Iowa State University and graduated in 2008 with a major in Dairy Science.
---
Morgan's Story in her own words:
My husband Nate and I milk 175 head of holsteins and red & whites in the rolling hills of the driftless region in southwestern WI. While Nate is on the farm full time, I hold a full-time job as a sire analyst with Genex- a job that keeps me in front of a home office desk as much as it puts me on the road away from home. We are currently milking in a double 10 parabone parlor retro-fitted into the former tie-stall barn. We are grade A conventional with a big emphasis on milk quality. We are currently a mix of grade and registered, moving toward 100% registered. We have a unique situation relative to growing our feed and farming our land. Initially, Nate did not intend to take over the farm as he was attending college for pre-law. Once that decision was made, my father-in-law, not having anybody else to pass the farm onto, decided to retire. The milking herd was dispersed and the farm listed for sale. Luckily (for us) he was not able to sell it, so instead he enrolled the majority of our tillable acreage in the 15 year (yes, I said 15) long government CREP (Conservation Reserve Enhancement Program). When Nate decided 4 years of school was enough and came back to take over, it was already enrolled. Because of this factor, we actually purchase about 90% of our feed to supplement the corn silage and hay produced by the 50 acres we are still able to farm. We purchase the majority of our feed (hay and corn silage) from our close neighbors and over the years it has become a joint operation where everyone is always participating in the harvest, no matter what field it's taking place on. The 220+ acres of CREP land comes out in 2016 and we will be able to farm it in 2017. Needless to say, we are excited for that day to come. Our milk has been shipped to Rolling Hills Dairy Producer's Cooperative in Monroe, WI since 2009. Our milk is primarily made into high-end cheeses at Emmi Roth/Roth Kase as well as yogurt and hispanic cheese.
When you are not farming, what are your hobbies/interests? Since I don't think "doing laundry and registering calves" is the answer you're looking for…. I enjoy canning, gardening, cooking, writing, baking, blogging (when I have time) and crafting. (man am I channeling my inner farm-wife or what?!) As a transplant to the area, I find it extra important to get involved and network on the local level. I take part in our Rolling Hills meetings and activities, participate in an Ag-Women's regional peer group, and am active with the LaFayette county Dairy Promotion Board activities. I also plan on getting involved with the local 4-H program now that life has settled into a routine for us.
When did you start farming? Nate became the 4th generation to farm the land when he took over the operation after college in 2004. I grew up on a farm myself and always wanted to marry a farmer and have the same lifestyle with which I grew up. Nate and I actually met on the internet dating site FarmersOnly.com. We were married in September of 2012 and I got my wish of having a farm of my own.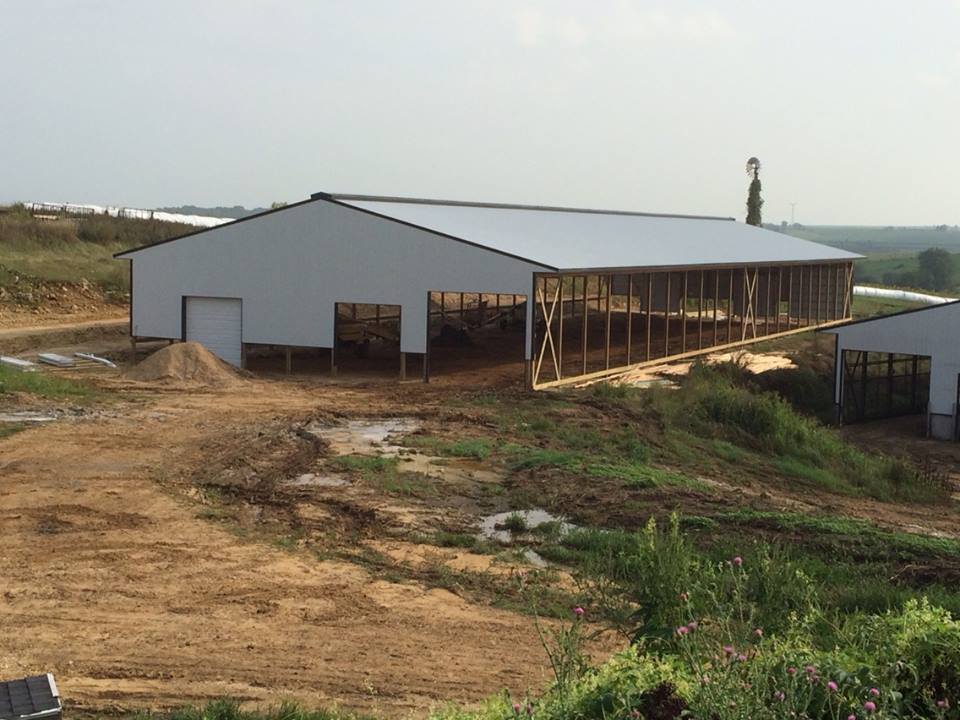 Has your farm changed since you became involved? Lots of changes are taking place at Kliebenstein Farms. Besides the constant rotation of tractors, TMR mixers and other equipment, we are making some major updates to our facilities. We've added 4 more milking units to our parlor to expand it from a double 8 to a double 10 and we are also putting in a crowd gate for our holding area. Up till now, our dry cows and bred heifers have resided in a pasture and lot system- not the friendliest place to be during a cold polar vortex Wisconsin winter. We are excited to be building a new free-stall barn and calving pack that will house those animals as well as our breeding group of heifers. I'm sure they'll all appreciate moving up with their stations in life. Because of the excavating needed to be done for the new barn, we essentially ended up with our own working on-site rock quarry that provided us enough fill for some other projects including a new road, a new silage bag pad and headlocks/feed alley for a shed we are retro-fitting to house younger heifers. The last step of the process will involve an addition of 40 more stalls onto our milking cow free-stall barn which we plan to make into a fresh cow pen and help us expand to 210 head. We've dabbled in some genomic testing as well but are waiting until our herd's genetics can progress another generation before we begin testing all of our replacement females.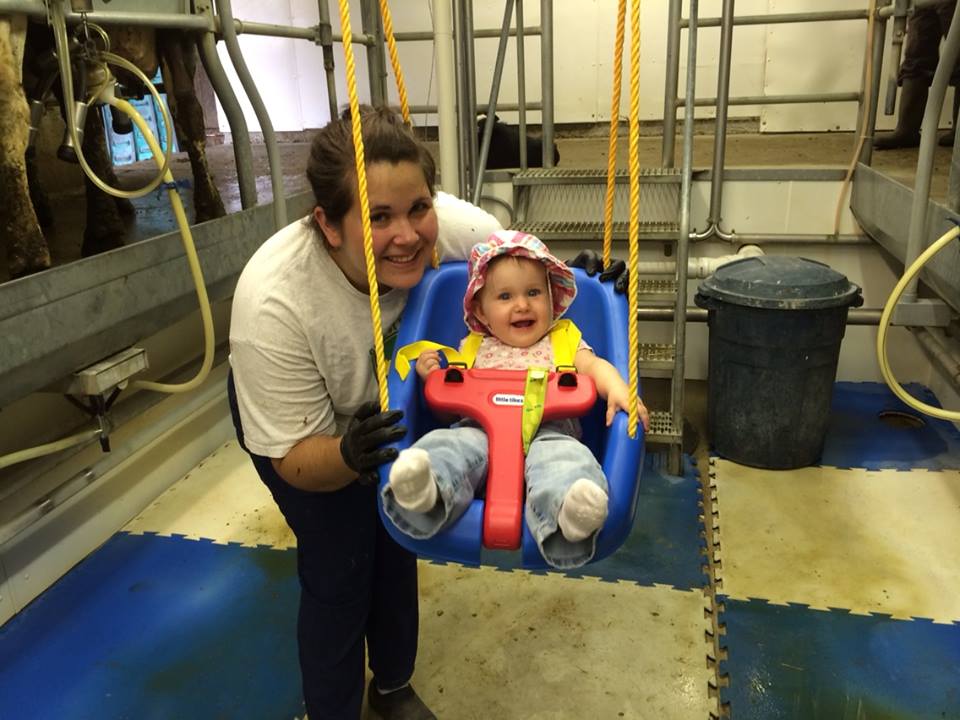 What has been the most rewarding part of farming for you? For my particular situation, farming is both the reward as well as the challenge. It's so rewarding to build and develop something up alongside my husband and family and to raise my daughter in the kind of lifestyle that instills such important values and ethics. I also love the fact that while still having a full-time job, I can pop outside to breed a heifer in the morning before my work day starts, run out to pull a calf over my lunch break, or be able to eat a quick lunch with my husband- a perk that a full-time "town job" could never offer. What has been the most challenging part of farming for you? On the other side of the coin, farming does present its challenges for us. As a young family with a young child, we are in a constant state of learning and adjusting. "how can Morgan milk cows with the baby? Solution- swing seat hung from the parlor pipes". It's challenging to achieve the work-life balance that makes for a positive lifestyle, while still being productive. We take things day by day and don't let ourselves get too overwrought. I also sometimes struggle with the fact that I am less involved with our operation than I was before I became a mother and a wife, but also feel a great sense of pride for what I am able to accomplish in all of the roles that I play. Wife, mother, chef, maid, geneticist, nurse, gardener…. you get the idea.
What is your greatest achievement thus far? I know it sounds corny, but I would say that my life is my greatest achievement thus far. I have an amazing farmer husband, a beautiful healthy daughter, a promising operation, a job that I love and the sense of accomplishment and satisfaction in my bones when I go to bed at night. Our house may be tiny and messy and at times, there's a manure tanker parked right out my front door, but we all know those are not the things that make up what life is about. I suppose my goals are to continue to meet and fellowship with other Ag women and farmwives out there and make a difference by promoting our industry and educating the public, and positively impacting the next generation.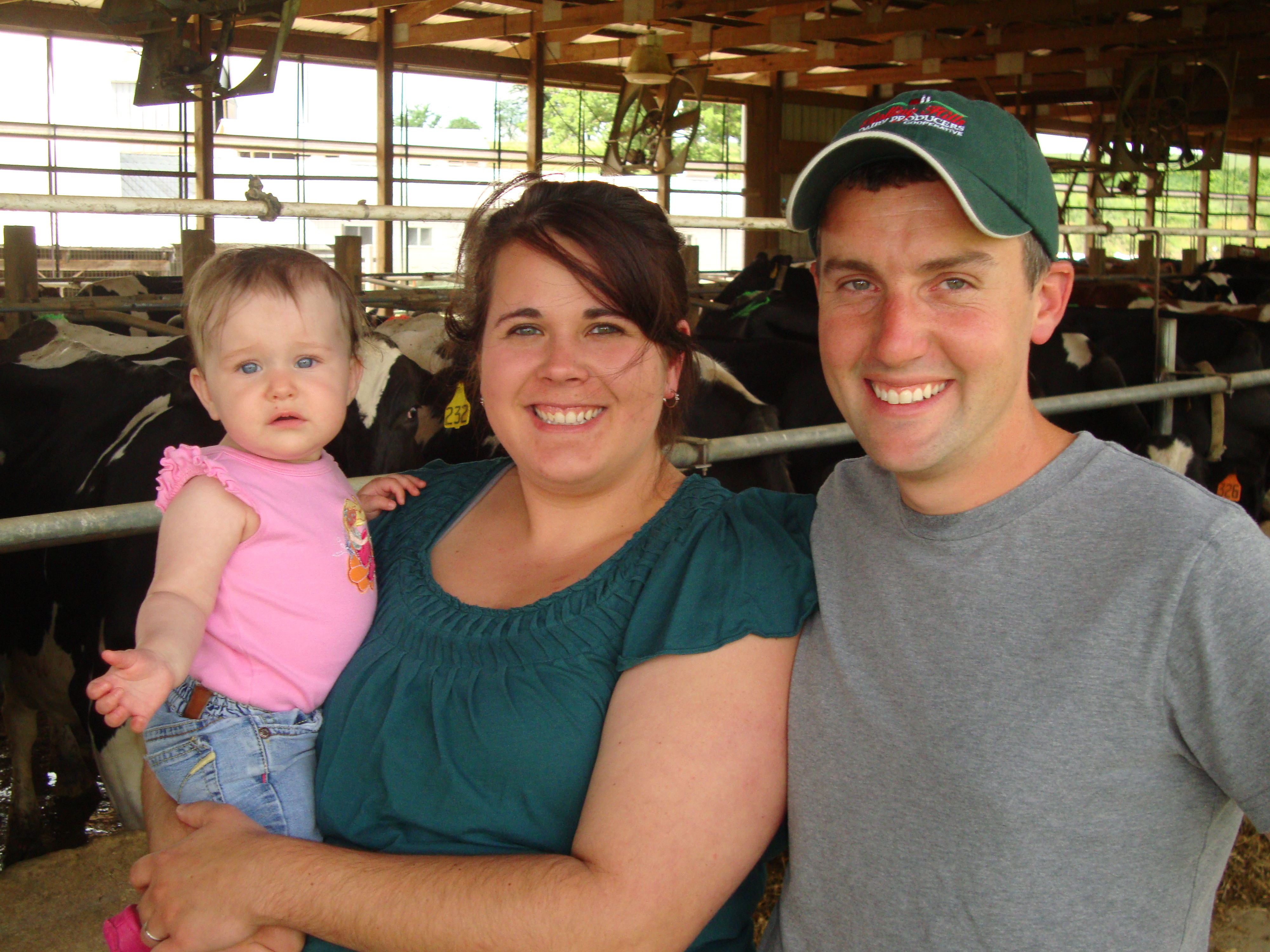 What is your favorite dairy-filled Thanksgiving recipe? I channel my inner butter-crazed Paula Deen with this cake. Always gets rave reviews.
Fresh Apple Cake with Browned Butter Frosting
Cake:
1 cup butter softened
2 cups granulated sugar
3 eggs
1/2 tsp vanilla
2 1/2 cups flour
2 teaspoons baking soda
1/2 teaspoon salt
2 teaspoons ground cinnamon
3 cups coarsely chopped peeled baking apples (3 medium)
1 cup chopped walnuts
Frosting:
1/2 cup butter
3 1/4 cups powdered sugar
1 teaspoon vanilla
1-3 Tbl Milk
1 Heat oven to 350°F. Spray 12-cup fluted tube cake pan with baking spray with flour.
2 In large bowl, beat 1 cup butter and the granulated sugar with electric mixer on medium speed until light and fluffy. Beat in eggs, one at a time, until blended. Stir in 1/2 teaspoon vanilla. Stir in flour, baking soda, salt and cinnamon. Stir in apples and walnuts. Spoon into pan.
3 Bake 50 to 65 minutes or until toothpick inserted in center of cake comes out clean. Cool 10 minutes. Remove from pan to cooling rack. Cool completely, about 1 hour 30 minutes.
4 In 2-quart saucepan, heat 1/2 cup butter over medium heat, stirring constantly, until golden brown. Gradually beat in powdered sugar with spoon. Stir in 1 teaspoon vanilla and enough milk until frosting is smooth and desired spreading consistency. Generously spread frosting over top and partially down side of cake. To serve, cut cake with serrated knife.
---
Stay connected with Morgan on her blog, Real Farmwife of Lafayette County.
Morgan, thank you for taking time to participate in our "Thirty Days of Dairy" series. If you enjoyed this post, make sure you subscribe to our blog (no spam, just an email when we post a new blog) so you don't miss any posts
Earlier "Thirty Days of Dairy" features this month include:
Sarah & Andy Birch – Derby, VT – the dairy farmers that were my inspiration for the 30 Days of Dairy!
Melissa Collman – Boring, OR – an organic dairy farmer from the West Coast!
Macy Sarbacker – Belleville, WI – a blogger, editor and dairy farmer from American's Dairyland!
Karen Bohnert – East Moline, IL – a very talented writer, Mom and Jersey lover from my state!
Lisa Myers – Hamstead, MD – one of my best friends that moved back home to run their dairy!
Rebecca Schlehlein – Platteville, WI – a dedicated farm employee that loves her Brown Swiss!
Heather Moore – Maquoketa, IA – Special Events Coordinator turned Dairy Farmer!
Katie Dotterer-Pyle – Union Bridge, MD – Spanish teacher and dairy farmer that makes sure her cows enjoy their stay!
Brent Pollard – Rockford, IL – an innovative dairy farmer who loves to tinker with things.
Krista Stauffer – Washington – a 1st generation dairy farmer and very talented AGvogate for the dairy industry!
Diane Loew – Byron, MI – a writer, blogger and dairy farmer from Michigan!
Nicole Fletcher – Southampton, MA – a Cabot Creamery dairy that milks Holsteins & Jersey's!
Elinor Opitz – Maple Lake, MN – a young lady just starting her Ayrshire dairy!
Alise Sjostrom – Brooten, MN – one of the readheads behind Redhead Creamery!
Tara McIntosh – Ontario, Canada – our only dairy farmer featured from Canada!
Jenna Kilgus – Fairbury, IL – a Jersey dairy farmer that bottles their own homogenized milk!
Will Gilmer – Sulligent, AL – our only dairy farmer from the "south"!
Gene Zimmerman – Colby, WI – our only dairy goat farmer featured this month!
Darleen Moore-Sichley – Oregon – a Mom, AGvocate and Gurnsey dairy farmer!
Michelle Eilenstine – Mountain Grove, MO – a dairy farmer & University of Missouri grad!
Jenni Tilton-Flood – Clinton, Maine – a Cabot Creamery dairy that milks 3400 Holsteins!
Kalli Ehrhardt – Baldwin, MD – A Mom and dairy farmer!
Craig Swenson – River Fall, WI – a dairy farmer who loves his red & whites!
Katie Harris – Washington – a mom & dairy farmer from Western Washington!
Annaliese Wegner – Ettrick, WI – the Modern-day Farm Chick!
For a listing of all the 30 Days Bloggers that Holly Spangler rounded up, visit here.
Comments
comments