It's time to meet Michelle Eilenstine (age 40) from Mountain Grove, Missouri. Michelle and her husband, Loren (age 33) have one son, Chase who is 18 months old. They have 30 head of Registered Holstein and Jersey cows that they milk in a double 4 herringbone parlor. Their farm is a conventional dairy that grows their own corn silage. Milk from their cows is sold to DMCI where they make cottage cheese and yogurt with the surplus milk being sold as fluid milk. Michelle admits that her favorite dairy product is ice cream and loves cheesecake on Thanksgiving.
Growing up, Michelle was active with her dairy projects in 4-H and FFA and attended the University of Missouri where she majored in Animal Science. When she is not farming, she enjoys spending time with her family, camping and horseback riding. Other activities Michelle is involved with include the Ashley Cowboy Church, Tri-County Fairboard and serves as the Missouri Holstein Association Secretary. Before returning to the farm full-time, Michelle worked as a veterinary technician and at a feed story. She always knew she wanted to return to the farm.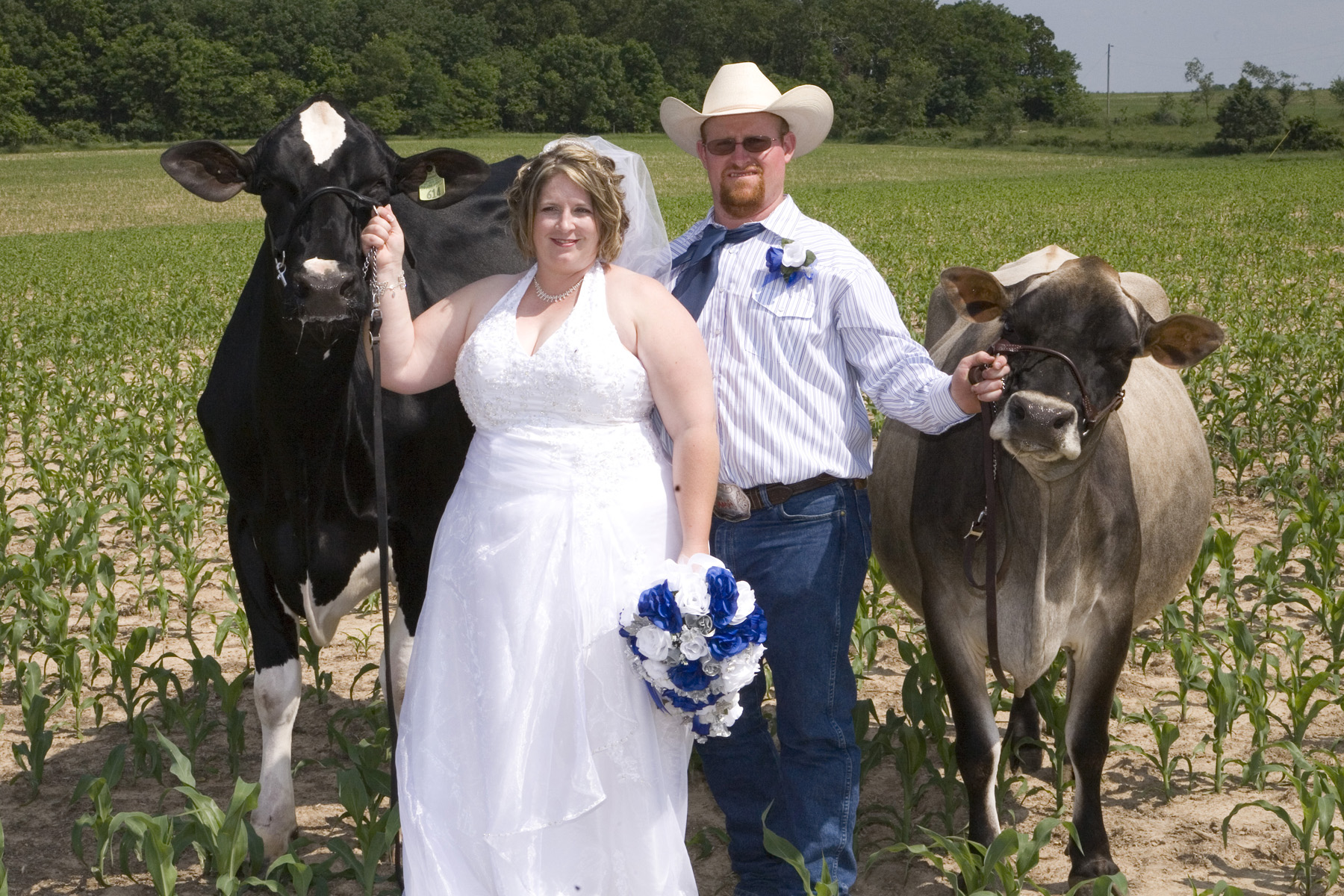 ---
Michelle's Story in her own words:
Has your farm changed since you became involved? Yes, we grow our own corn silage and feed a total mixed ration (TMR), built a freestall barn and are improving genetics of the herd.
Who do you farm with? My husband, who also works off the farm, and my father. I do everything except mix milk cow feed Their responsibilities include feeding the milk cows.
What has been the most rewarding part of farming for you? The independence it gives me to be my own boss. What has been the most challenging part of farming for you? Managing finances in hard times when the milk price is low and feed costs are high.
Who is your favorite cow? Ram-Elle Durchan Jaylo-ET. My first home-bred national show winner
Tell me a unique story about your farm. It has been the home farm since 1978 and I grew up dairy farming. I began in 4-H at 10 years old with a Holstein heifer named Bessie I showed at county fairs. This began my love of dairy cows.
What is one message you'd like to get across to the general public about what you do? We work very hard to produce a quality, healthy product for consumers. We make taking care of the animals our #1 priority.
What do you hope for your kids or future generations on your dairy? I hope that my child grows up learning the same values from the farm that I did.
What advice would you give to anyone interested in getting into farming? Find someone who is willing to be your mentor to teach you.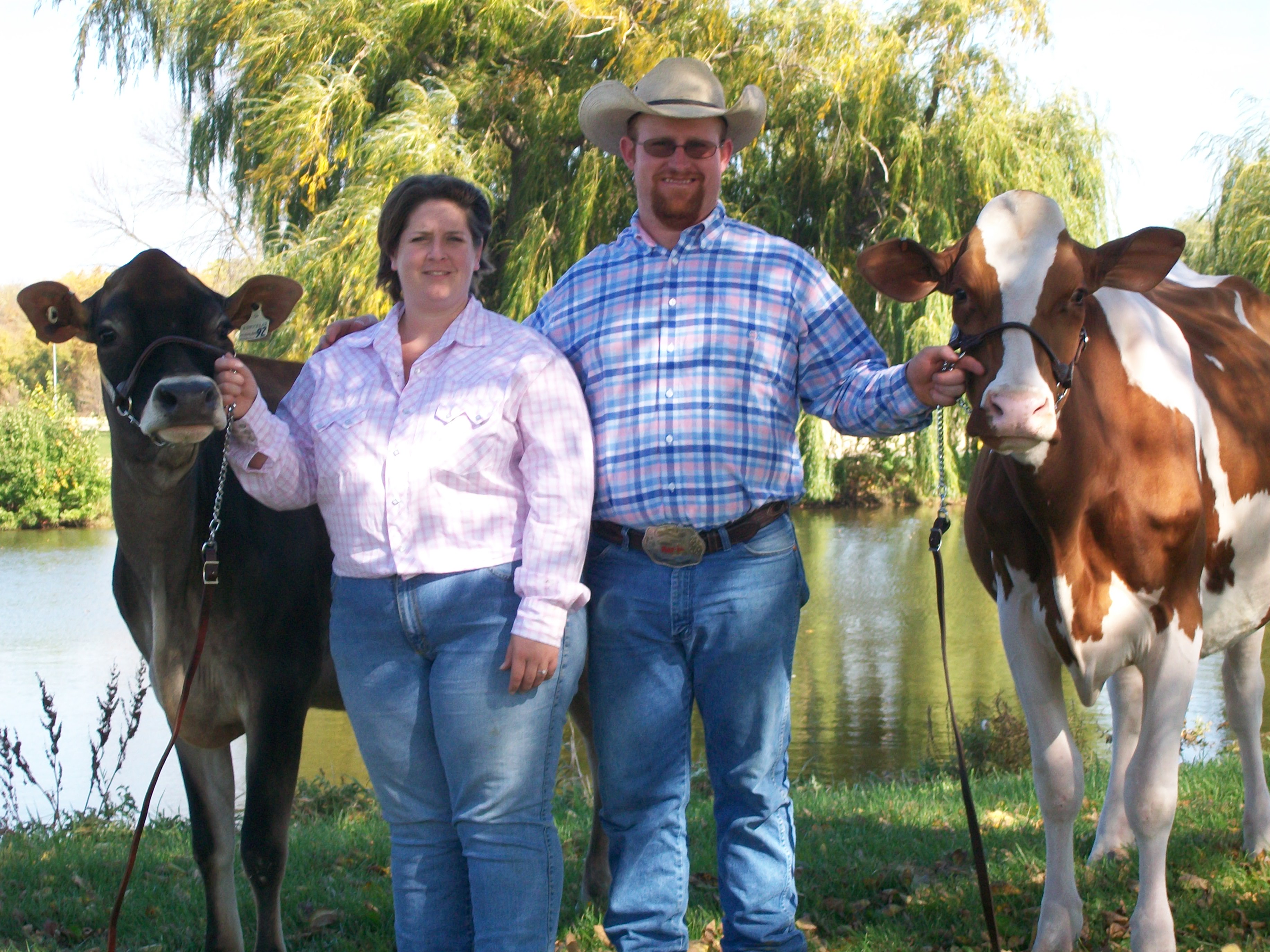 ---
Michelle, thank you for taking time to participate in our "Thirty Days of Dairy" series. If you enjoyed this post, make sure you subscribe to our blog (no spam, just an email when we post a new blog) so you don't miss any posts
Earlier "Thirty Days of Dairy" features this month include:
Sarah & Andy Birch – Derby, VT – the dairy farmers that were my inspiration for the 30 Days of Dairy!
Melissa Collman – Boring, OR – an organic dairy farmer from the West Coast!
Macy Sarbacker – Belleville, WI – a blogger, editor and dairy farmer from American's Dairyland!
Karen Bohnert – East Moline, IL – a very talented writer, Mom and Jersey lover from my state!
Lisa Myers – Hamstead, MD – one of my best friends that moved back home to run their dairy!
Rebecca Schlehlein – Platteville, WI – a dedicated farm employee that loves her Brown Swiss!
Heather Moore – Maquoketa, IA – Special Events Coordinator turned Dairy Farmer!
Katie Dotterer-Pyle – Union Bridge, MD – Spanish teacher and dairy farmer that makes sure her cows enjoy their stay!
Brent Pollard – Rockford, IL – an innovative dairy farmer who loves to tinker with things.
Krista Stauffer – Washington – a 1st generation dairy farmer and very talented AGvogate for the dairy industry!
Diane Loew – Byron, MI – a writer, blogger and dairy farmer from Michigan!
Nicole Fletcher – Southampton, MA – a Cabot Creamery dairy that milks Holsteins & Jersey's!
Elinor Opitz – Maple Lake, MN – a young lady just starting her Ayrshire dairy!
Alise Sjostrom – Brooten, MN – one of the readheads behind Redhead Creamery!
Tara McIntosh – Ontario, Canada – our only dairy farmer featured from Canada!
Jenna Kilgus – Fairbury, IL – a Jersey dairy farmer that bottles their own homogenized milk!
Will Gilmer – Sulligent, AL – our only dairy farmer from the "south"!
Gene Zimmerman – Colby, WI – our only dairy goat farmer featured this month!
Darleen Moore-Sichley – Oregon – a Mom, AGvocate and Guernsey dairy farmer!
For a listing of all the 30 Days Bloggers that Holly Spangler rounded up, visit here.
Comments
comments