I would like to introduce Melissa Collman (age 32) from Boring, OR.  While they may be from Boring, I doubt their life is!  Melissa and Andy have four children; ages 9(Liz), 6(Autumn), 5(Hailey), and 2(William).  Cloud Cap Farms is the home to 200 head of Registered Holsteins with just a couple of Brown Swiss.  Their cows are milked in a 6×6 herringbone parlor.  Melissa's family proudly produces organic fluid milk for Organic Valley, she also works for them part-time.
Following Melissa's Facebook Page, you will notice that she welcomes numerous field trips.  Every year, over 400 students to their farm through field trips!  Melissa is also involved in their local 4-H program and loves horses even if her schedule does not allow much time for that.
---
Melissa's Story in her own words:
When did you start farming?   I started farming when I was 3, that was when I was adopted. It has been the best thing to happen to me other than my children. The passion I see in my dad and the realization that there still might be a future in farming has kept me around.
Has your farm changed since you became involved?  Our dairy has changed in many ways and stayed the same in many. We are now Organic and have been for 10 years. This is probably the biggest change for us. We are constantly looking for ways to improve cow comfort. We were one of the first in our area to install moving brushes for the cows to brush themselves. We are also looking in to milking robots.
Who do you farm with?  I co-farm with my parents and husband. I do all our bookwork.  (Melissa attended college and received a B.A. in Accounting.)  I feed calves, I'm also the go to grunt person. Anything that we need help with, from shuttling wagons, to milking, to moving cows. My husband and my father are the main workers. Splitting up jobs. My husband does all mechanical work and 90% of breeding. They both cover daily chores and crop work.
Where you active in 4-H or FFA?  I was active in both 4-H and FFA and I still am in a way. I participated in judging, showing, speaking and won a scholarship in FFA for drawing competition at the state FFA Convention. Now I let a few local kids lease(for free) our animals and teach them about dairy cows and farming.
Melissa's favorite dairy-filled Thanksgiving recipe:
Creamy Mashed Potatoes
-5-6 large potatoes
-6-8oz of cream cheese
-1/2 cup milk
-4 tbls of butter
-boil potatoes, mash and add all ingredients then mix.
What is one message you'd like to get across to the general public about what you do? We strive every day to make sure our cows have a happy life, so that can keep bringing good nutritious milk to you and your family.
What advice would you give to anyone interested in getting into farming?  If you are looking to get into farming you must love what you are doing because it is HARD, but so rewarding. I would suggest working on someone else's farm or find a farm that allows working growth. So that at the end you already have your own small herd.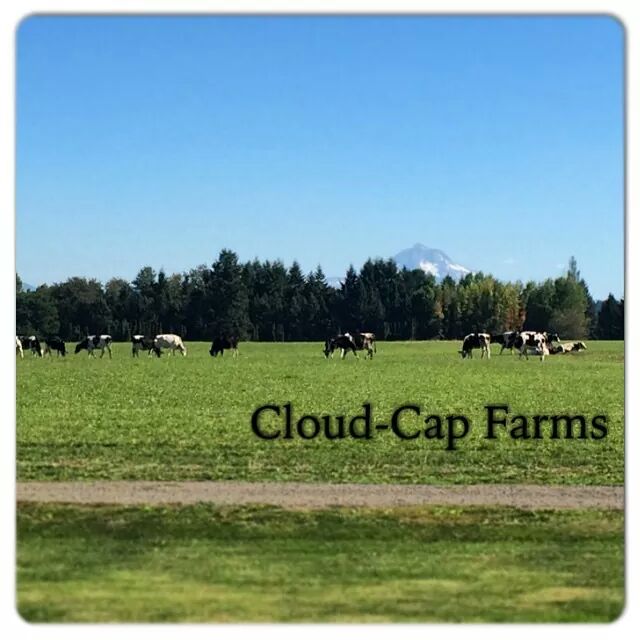 ---
Stay connected with Melissa on her Facebook page, Cloud Cap Farm and on Instagram.  
Thank you Melissa for taking time to participate in our "30 Days of Dairy" series.  The next time you are at the grocery store and see Organic Valley milk, make sure you think about Melissa and her family in beautiful Oregon.
Entire "Thirty Days of Dairy" Series:
Sarah & Andy Birch – Derby, VT – the dairy farmers that were my inspiration for the 30 Days of Dairy!
Melissa Collman – Boring, OR – an organic dairy farmer from the West Coast!
Macy Sarbacker – Belleville, WI – a blogger, editor and dairy farmer from American's Dairyland!
Karen Bohnert – East Moline, IL – a very talented writer, Mom and Jersey lover from my state!
Lisa Myers – Hamstead, MD – one of my best friends that moved back home to run their dairy!
Rebecca Schlehlein – Platteville, WI – a dedicated farm employee that loves her Brown Swiss!
Heather Moore – Maquoketa, IA – Special Events Coordinator turned Dairy Farmer!
Katie Dotterer-Pyle – Union Bridge, MD – Spanish teacher and dairy farmer that makes sure her cows enjoy their stay!
Brent Pollard – Rockford, IL – an innovative dairy farmer who loves to tinker with things.
Krista Stauffer – Washington – a 1st generation dairy farmer and very talented AGvogate for the dairy industry!
Diane Loew – Byron, MI – a writer, blogger and dairy farmer from Michigan!
Nicole Fletcher – Southampton, MA – a Cabot Creamery dairy that milks Holsteins & Jersey's!
Elinor Opitz – Maple Lake, MN – a young lady just starting her Ayrshire dairy!
Alise Sjostrom – Brooten, MN – one of the readheads behind Redhead Creamery!
Tara McIntosh – Ontario, Canada – our only dairy farmer featured from Canada!
Jenna Kilgus – Fairbury, IL – a Jersey dairy farmer that bottles their own homogenized milk!
Will Gilmer – Sulligent, AL – our only dairy farmer from the "south"!
Gene Zimmerman – Colby, WI – our only dairy goat farmer featured this month!
Darleen Moore-Sichley – Oregon – a Mom, AGvocate and Gurnsey dairy farmer!
Michelle Eilenstine – Mountain Grove, MO – a dairy farmer & University of Missouri grad!
Jenni Tilton-Flood – Clinton, Maine – a Cabot Creamery dairy that milks 3400 Holsteins!
Kalli Ehrhardt – Baldwin, MD – A Mom and dairy farmer!
Craig Swenson – River Fall, WI – a dairy farmer who loves his red & whites!
Katie Harris – Washington – a mom & dairy farmer from Western Washington!
Annaliese Wegner – Ettrick, WI – the Modern-day Farm Chick!
Morgan Kliebenstein – Darlington, WI – a dairy farmer, Genex employee, Mom & wife!
Matt & Joe Engel – Hampshire, IL – the brother behind Luck-E Holsteins!
Stephanie Aves – Popular Grove, IL – a dairy farmer & agriculture teacher!
Beverly Donovan – Benton, Maine – a dairy farmer & accountant!
Sadie Frericks – Melrose, MN – a dedicated AGvocate, dairy farmer, mom & wife!
Greg Schulte – Darlington, WI – the cheesemaker at Brunkow Cheese!
Katie Deslippe – St Mary Ontario – a young lady that loves everything about dairy!
Carrie Mess – Lake Mills, WI – the well-known AGvocate Dairy Carrie!
For a listing of all the 30 Days Bloggers that Holly Spangler rounded up, visit here.
Comments
comments