Today, I would like to introduce Macy Sarbacker (age 22) from Belleville, Wisconsin.  Macy is participating in the Thirty Days Series with her posts dedicated to "Lessons Learned on the Farm" so make sure you check her blog out!  Macy is the oldest of five children.  Her parents are John and Michelle Sarbacker, siblings are Mackenzie, 19, Molly, 17, Montana, 13, and Jake, 6. and together they own and operate Sarbacker Cattle Company in southern Wisconsin.  Sarbacker Cattle Company is a heifer-raising and show cattle operation that consists of Registered Holstein cattle, mainly Red & White on about 200 acres of land.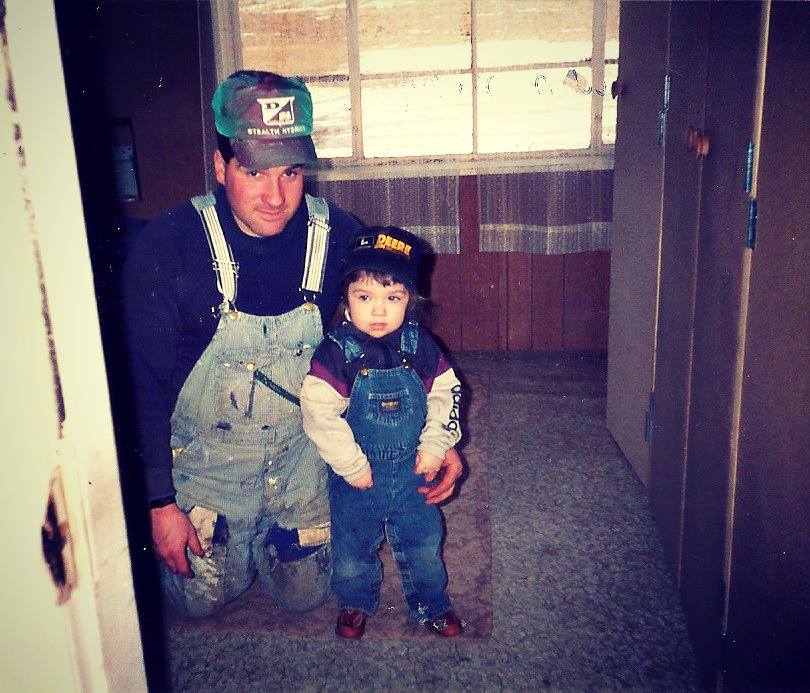 Growing up in Southern Wisconsin, Macy was very active in 4-H and am still involved as a youth leader for her local 4-H club.  Her projects included dairy, sewing, arts and crafts, wood working, archery… or pretty much anything she could get my hands on. Her passion though was dairy and having the opportunity to exhibit cattle at local, district, state and national levels through 4-H.  After high school Macy headed to Iowa State University and graduated in May with a degree in Agriculture Journalism and Mass Communications.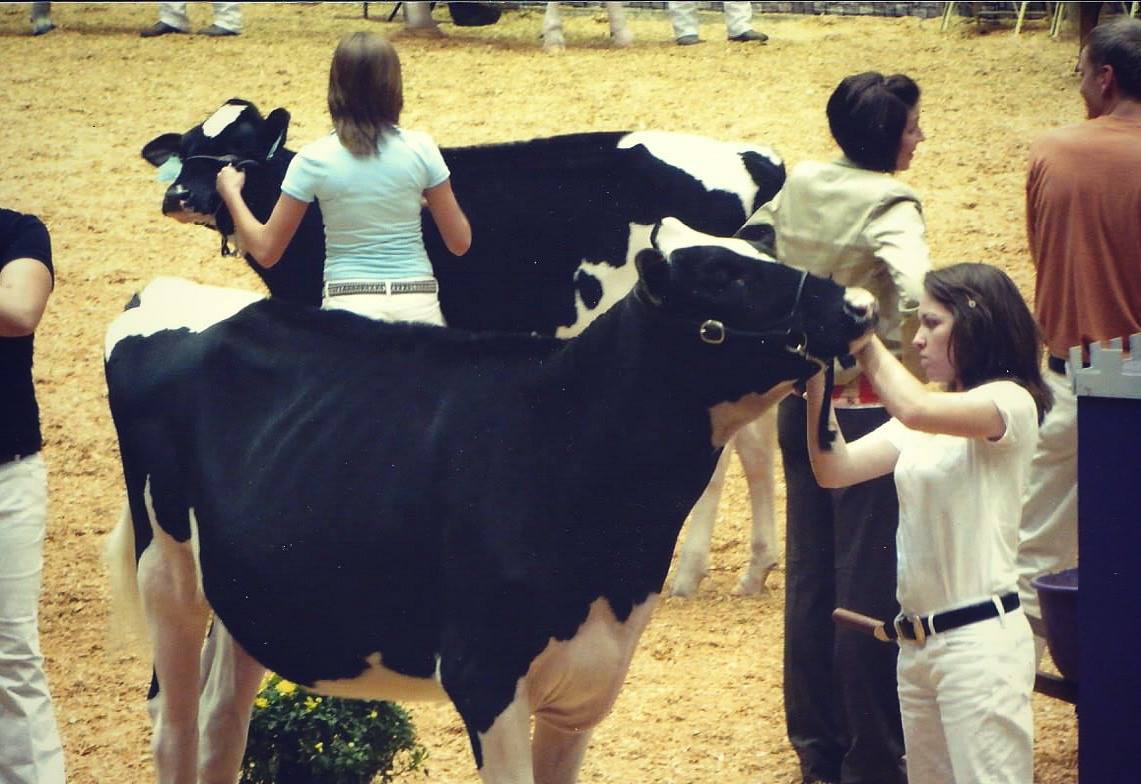 When Macy is not farming she is very passionate about health and fitness, loves to read, take pictures and wants to learn more about photography.  You can read her bi-monthly column in the Verona Press.  The toughest question for Macy might have been, what is your favorite dairy product?  But if forced to pick it would be chocolate milk with cheese a close second.  Macy's favorite dairy-filled Thanksgiving recipe would have to be homemade pumpkin pie with a tall glass of milk!
---
Macy's Story in her own words:
What has been the most rewarding part of farming for you?  The most rewarding part of farming for me is the lessons I've learned along the way. Getting up and milking before school taught me how to manage my time, working with my family on a daily basis taught me how to problem solve and work with others, the list could go on. What has been the most challenging part of farming for you? The most challenging part of farming for me has been finding my place in the dairy industry. When I was growing up, my role was simple. I did chores and found comfort in that routine that happened daily. During the summers, I showed cattle across the state. When I went to college out of state, I had to find different ways to stay involved in the industry. Now, with the changes on our operation and working a full-time job, I still struggle with my place in the industry. The real problem is that I want to do it all. I want to be a journalist, farm full-time and be involved every way possible.
What is the biggest misconception about the dairy industry?  One misconception that I wish the general public would understand is that I love my cows and my family loves our cows. In a world reliant on social media, where messages spread fast, the general consumers tend to believe the first thing that they read. Sure, I fully admit there are cases of animal abuse. But just like every parent does not abuse their children, not every farmer abuses their cows. We love our cows like members of our family.
Who is your favorite cow?  My absolute favorite cow, is a Dundee daughter named Marshmallow. She's large and in charge and was my show heifer and cow for years. This June she will be 10-years-old! Marshmallow and I have been through a lot together. From the selling of our milking herd, to the celebration of rebuilding after our barn fire, Marshmallow has been a faithful companion though it all. She pretty much runs the farm, recognizes our vehicles and is fully-aware when someone new or a strange vehicle pulls onto the farm.
What is your greatest achievement thus far?  My greatest achievement so far is graduating college and obtaining a career as an ag journalist. I am the Dairy Editor at Agri-View, Wisconsin's leading agriculture newspaper. My goals for the future include paying off my college loans, settling down and having a family, building my blog and Facebook presence and publishing a book.
What is one message you'd like to get across to the general public about what you do?  It's important for me to be involved in my family's dairy operation because I believe in the future of agriculture. I grew up immersed in agriculture and sincerely wish that everyone had the opportunity to do so. I also think it is important for me to be involved in my family's operation because it provides me with the opportunity to educate others. The average person today is several generations removed from agriculture, that they don't have any idea what goes on in the agriculture world. Being involved on our cattle raising operation allows me to live out my passion and explain my passion to the general public.
---
Stay connected with Macy on her Blog, on Facebook, and Twitter.    
Thank you Macy for taking time to participate in our "30 Days of Dairy" series.  If you enjoyed this post, make sure you subscribe to our blog (no spam, just an email when we post a new blog) so you don't miss any posts.
Entire "Thirty Days of Dairy" Series:
Sarah & Andy Birch – Derby, VT – the dairy farmers that were my inspiration for the 30 Days of Dairy!
Melissa Collman – Boring, OR – an organic dairy farmer from the West Coast!
Macy Sarbacker – Belleville, WI – a blogger, editor and dairy farmer from American's Dairyland!
Karen Bohnert – East Moline, IL – a very talented writer, Mom and Jersey lover from my state!
Lisa Myers – Hamstead, MD – one of my best friends that moved back home to run their dairy!
Rebecca Schlehlein – Platteville, WI – a dedicated farm employee that loves her Brown Swiss!
Heather Moore – Maquoketa, IA – Special Events Coordinator turned Dairy Farmer!
Katie Dotterer-Pyle – Union Bridge, MD – Spanish teacher and dairy farmer that makes sure her cows enjoy their stay!
Brent Pollard – Rockford, IL – an innovative dairy farmer who loves to tinker with things.
Krista Stauffer – Washington – a 1st generation dairy farmer and very talented AGvogate for the dairy industry!
Diane Loew – Byron, MI – a writer, blogger and dairy farmer from Michigan!
Nicole Fletcher – Southampton, MA – a Cabot Creamery dairy that milks Holsteins & Jersey's!
Elinor Opitz – Maple Lake, MN – a young lady just starting her Ayrshire dairy!
Alise Sjostrom – Brooten, MN – one of the readheads behind Redhead Creamery!
Tara McIntosh – Ontario, Canada – our only dairy farmer featured from Canada!
Jenna Kilgus – Fairbury, IL – a Jersey dairy farmer that bottles their own homogenized milk!
Will Gilmer – Sulligent, AL – our only dairy farmer from the "south"!
Gene Zimmerman – Colby, WI – our only dairy goat farmer featured this month!
Darleen Moore-Sichley – Oregon – a Mom, AGvocate and Gurnsey dairy farmer!
Michelle Eilenstine – Mountain Grove, MO – a dairy farmer & University of Missouri grad!
Jenni Tilton-Flood – Clinton, Maine – a Cabot Creamery dairy that milks 3400 Holsteins!
Kalli Ehrhardt – Baldwin, MD – A Mom and dairy farmer!
Craig Swenson – River Fall, WI – a dairy farmer who loves his red & whites!
Katie Harris – Washington – a mom & dairy farmer from Western Washington!
Annaliese Wegner – Ettrick, WI – the Modern-day Farm Chick!
Morgan Kliebenstein – Darlington, WI – a dairy farmer, Genex employee, Mom & wife!
Matt & Joe Engel – Hampshire, IL – the brother behind Luck-E Holsteins!
Stephanie Aves – Popular Grove, IL – a dairy farmer & agriculture teacher!
Beverly Donovan – Benton, Maine – a dairy farmer & accountant!
Sadie Frericks – Melrose, MN – a dedicated AGvocate, dairy farmer, mom & wife!
Greg Schulte – Darlington, WI – the cheesemaker at Brunkow Cheese!
Katie Deslippe – St Mary Ontario – a young lady that loves everything about dairy!
Carrie Mess – Lake Mills, WI – the well-known AGvocate Dairy Carrie!
Comments
comments